Eat your way across Korea: pork breaded cutlets
The delicious world of Korean cuisine is broad and deep. From the vast vegetable varieties in kimchi, through to the three pillars of Korean cuisine — red pepper paste, soy sauce and soybean paste — Korean cooking encompasses the expansive geography and habitats native to the Korean Peninsula and is the result of this nation's millennia-long history.
However, Korean cuisine is no longer limited to its geographic bounds. During early Joseon times (1392-1910), new crops began to appear from the New World: chili peppers, corn, tomatoes, squash or zucchini, sweet potatoes, potatoes. The generic kimchi we know today would not be the same without chili peppers. More recently, Korean cuisine has adopted many dishes from around the world, and breaded cutlets are one of the most delicious.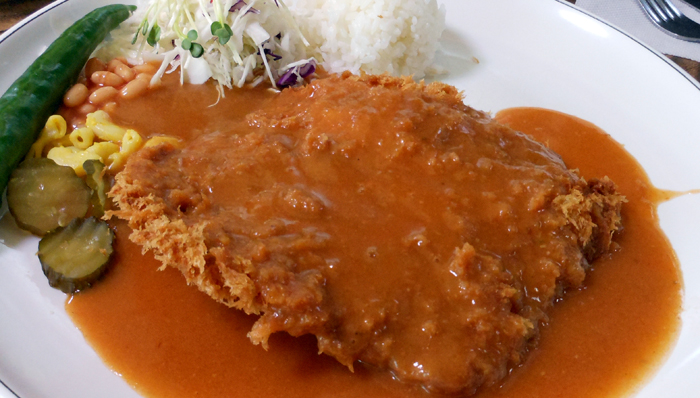 Breaded pork cutlets are a mainstay of modern Korean dining.
Chefs in kitchens all around the world take slices of meat and roll them in a breaded batter, whether it be chicken fingers, chicken fried steak or Korean donkkaseu, the word for pork breaded cutlet. The recipe is simple. Take a slice of meat. It can be beef, pork, fish, chicken, lamb or even turkey. Beat it with a mallet a few times. Dip it in a flour-and-egg concoction with bread crumbs. Fry it until it's golden brown. Serve and enjoy. What is it about a breaded, fried slice of meat that's so globally captivating? It seems that every cuisine around the world has some sort of breaded cutlet. Similarly, Korea has made breaded pork cutlets its own.
Though Korean cuisine is broadly based on rice and vegetables, a significant portion of modern Korean cuisine includes seafood and meat, and donkkaseu plays an important part in the rubric of modern Korean dining.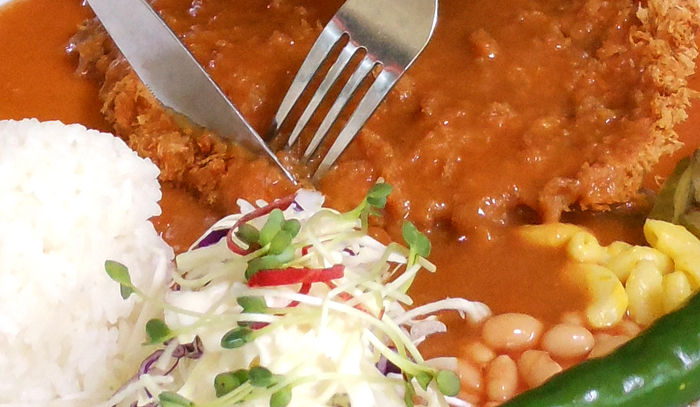 First popular in the 1970s and 1980s, breaded pork cutlets are served with sides of rice, lettuce, canned beans and corn from a can.
As we eat our way across Korea, there are many, many restaurants around the country and across the capital that serve breaded pork cutlet. Some of the more famous ones are located just south of Myeongdong on the northern slopes of Namsan Mountain. Representing the heyday of recent Korean modernization, these first-adopters of Western cuisine bloomed when "Western-style dining," or gyeong yang shik (경양식), became popular in the 1970s and 1980s. Building on this trend, it's commonly believed that the first breaded cutlet restaurant opened along the Namsan ring road in 1977. Its main target clientele were taxi drivers. The taxi drivers wanted to eat quickly and then get back on the road, and fried donkkaseu was the perfect solution.
Whereas some other East Asian breaded cutlets are generally served with the sauce on the side, Koreandonkkaseu is served with the sauce on the cutlet. Then, to help balance the taxi drivers' diets, these first Namsan breaded cutlet restaurants also offered up rice, cabbage, pickled radish and some canned vegetables as sides.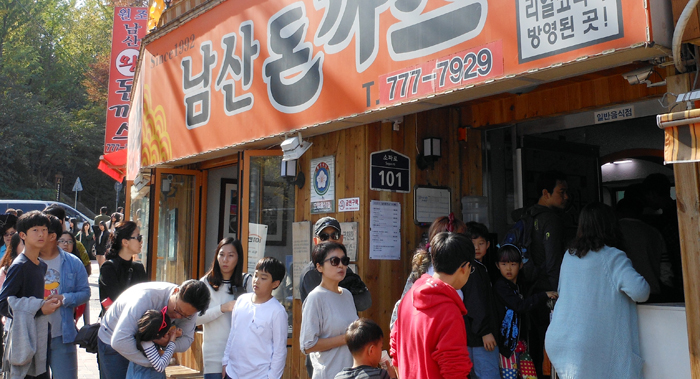 Namsan Donkkaseu is just one of the many delicious breaded pork cutlet restaurants found along the northern arc of the Namsan ring road.
The northern arc of the Namsan ring road is still home to breaded cutlet restaurants. Aptly, one of them is even called Namsan Donkkaseu, or "South Mountain Pork Breaded Cutlets," and it claims to be the original one, though it only opened in 1992. It's near the cable car that brings you up to the N Seoul Tower. Namsan Donkkaseu's address is Seoul, Jung-gu District, 49-24 Namsan-dong 2-ga (tel: 02-777-7929).
The restaurant offers the standard pork breaded cutlet, but also has a fish breaded cutlet and a hamburger patty in breaded cutlet sauce. The sides include a scoop of canned beans, a spoonful of macaroni salad, a cream of corn soup that tastes like it was made from powder and a small pinch of lettuce.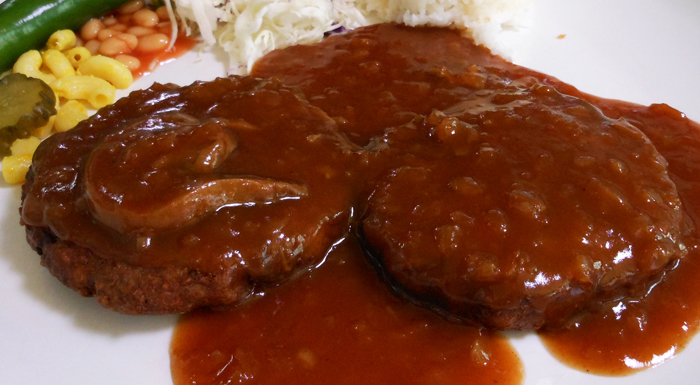 As well as breaded pork and breaded fish, hamburger patties are also common at donkkaseu restaurants.
Let breaded pork cutlets, or
donkkaseu
, be your introduction to Korean cuisine, and it's doubtful you'll ever want to eat anything else.
By Gregory C. Eaves
Korea.net Staff Writer
Photos: Gregory C. Eaves
gceaves@korea.kr