Korean cultural traditions served up in Paris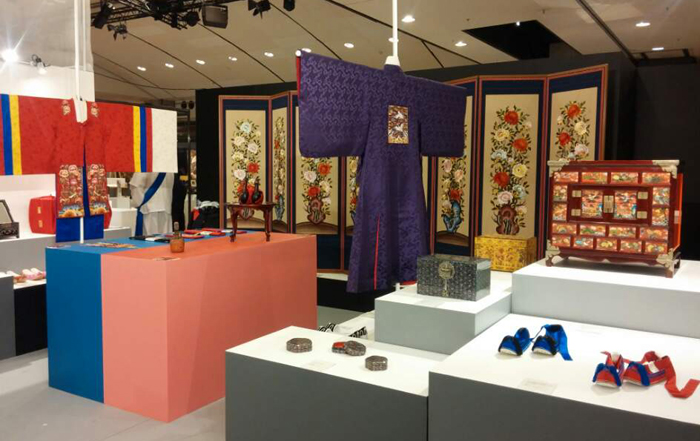 A wide variety of craftworks created by artisans welcomes visitors to the International Heritage Show at the Louvre Museum in Paris as the exhibit kicks off on Nov. 4.
The International Heritage Show, an annual event that kicked off at the Louvre Museum in Paris on Nov. 4, spotlighted a set of Korean cultural heritage items that have been crafted by some of Korea's top artisans.
Running until Nov. 8, Ateliers D'art de France, the host of the show, invited Korea to be the Honor Country this year, as 2015 marks the 130th anniversary of the establishment of diplomatic ties between Seoul and Paris.
The five-day show put under the spotlight part of the nation's traditions, including traditional shoes made by shoe-making artisans, known as hwahyejang (화혜장, 靴鞋匠), royal cuisine, garments and furniture.
The Korea Pavilion, set up under the theme of "Joyous Day," wowed visitors with a range of works of art. Thehwahyejang artisans demonstrated how to make pairs of traditional shoes, called hwahye (화혜, 靴鞋), shoes that date back to Joseon times. Hwa (靴) refers to high-top shoes, while hye (鞋) are ankle-high shoes.
A demonstration of how to make some royal food items enjoyed at court during Joseon times captured the eyes of visitors, too. Artisans demonstrated the making of royal confectionery and rice cakes, or byeonggwa, snacks only served at the royal court. Viewers sampled the foods and soon found themselves experiencing the never-before-tasted sweetness unique to royal Joseon cuisine.
By Sohn JiAe
Korea.net Staff Writer
Photos: the National Intangible Heritage Center
jiae5853@korea.kr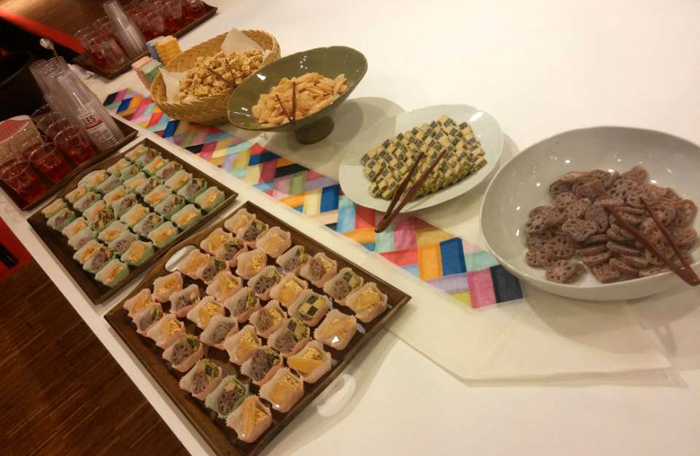 Trays of royal confectionery, or byeonggwa, entertain both the eyes and the taste buds at the International Heritage Show in Paris.
People browse the exhibits at the Korea Pavilion during the International Heritage Show in Paris.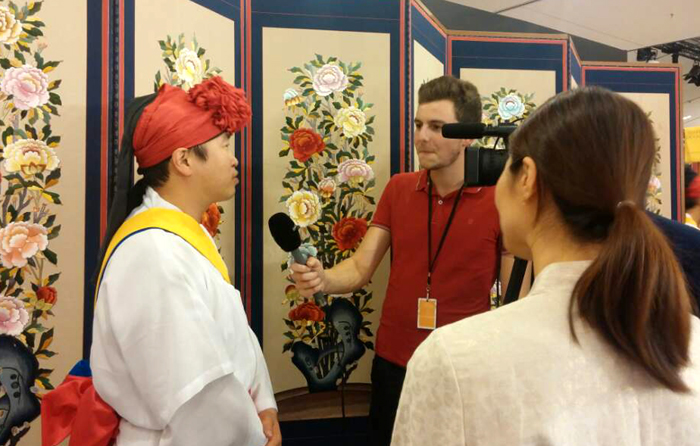 One of the dancers who performed the 'Jinju Samcheonpo Nongak,' a traditional farmer's dance from Gyeongsangnam-do Province (South Gyeongsang Province), is interviewed by French media.
RELATED TOUR
The Art of Tea ceremony & Making Kimchi Tour