King Jeongjo constructed filial piety and new hope in Suwon Hwaseong
Fortress
Nowadays the Korean movie 'The Throne(Sado)'(introduced in latter half of writing)  has been a box office hit and thanks to it, people are more interested in Korean history, especially in Late Joseon Dynasty, 18th century when King Yeongjo who is King Jeongjo's grand father and King Jeongjo have sit in the throne. So I took part in Suwon Hwaseong Fortress(UNESCO Cultural Heritage) Tour.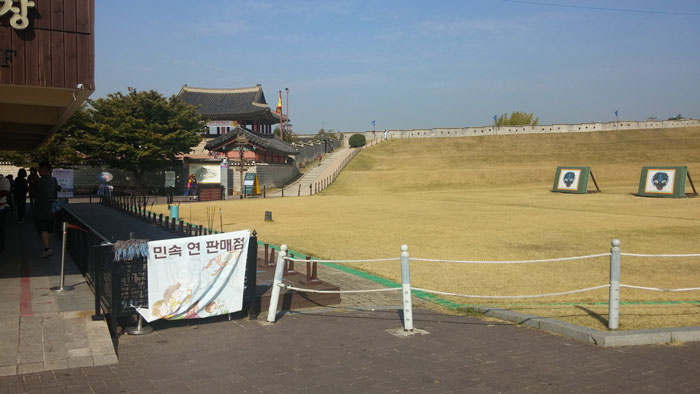 Archery Experience spot. You can shoot an arrow here and on the left can buy a Korean traditional kite.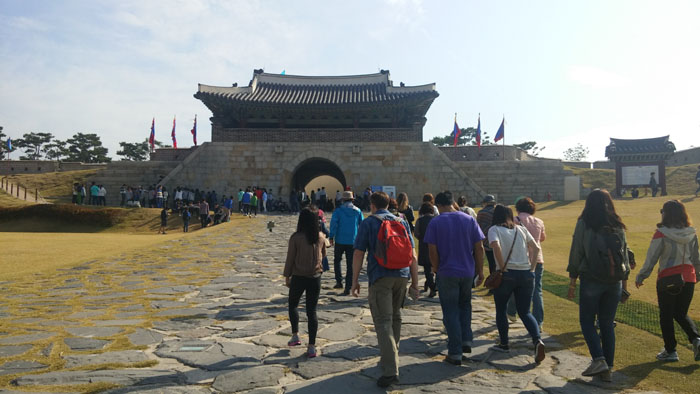 Let't hit the road!!
Hwaseong Fortress was built over two and a half years, from 1794 to 1796, according to the designs of the architect Jeong Yak-yong, who would later become a renowned leader of the Silhak movement. Silhak, which means practical learning, encouraged the use of science and industry, and Jeong incorporated fortress designs from Korea and China along with contemporary science into his plans. Use of brick as a building material for the fortress and employment of efficient pulleys and cranes were also due to the influence of Silhak.
The fortress took 700,000 man-hours to build and cost the national treasury 870,000 nyang, the currency at the time, and 1500 sacks of rice to pay the workers. In the past, government work had been carried out by corvée labour, but in this case workers were paid by the government, another sign of Silhak influence.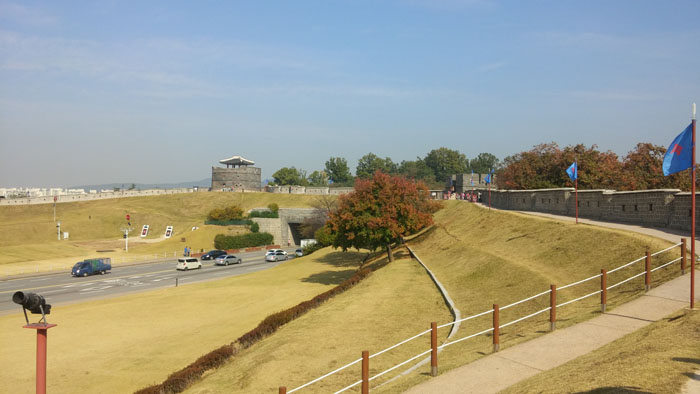 We walked around the fortress enclosed by ramparts.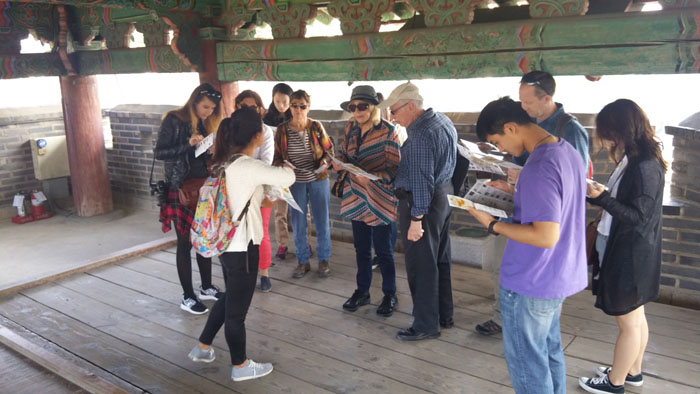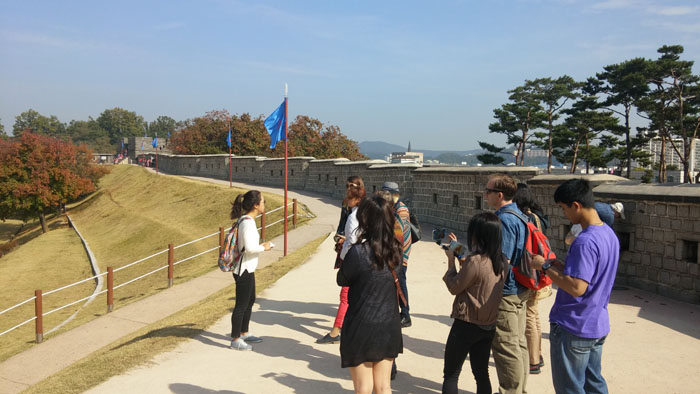 Our guide explained to us about the function of each part of the fortress and what ingredient included in the stones there.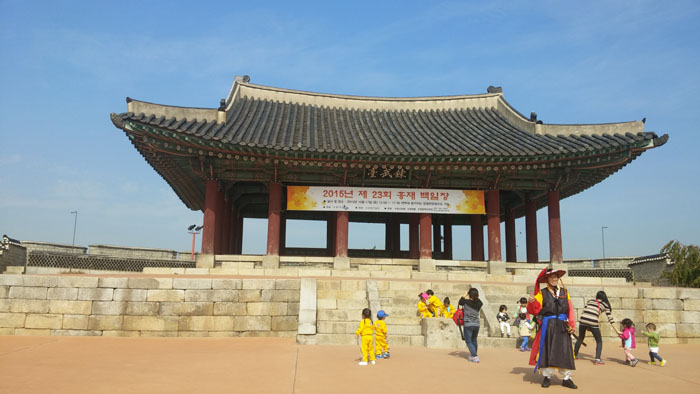 A small palace with a military attach in Joseon Dynasty
ㅓㅓ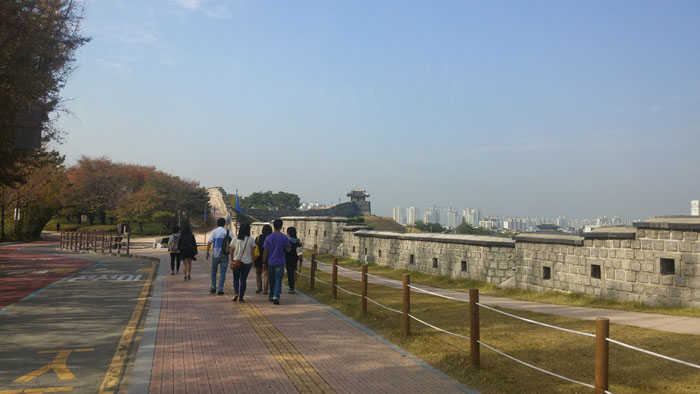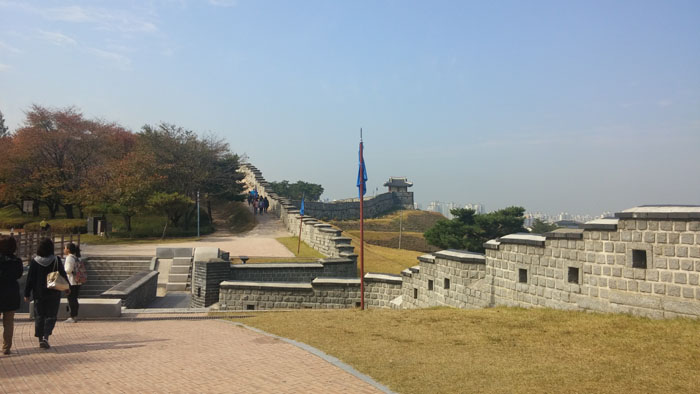 King Jeongjo apparently built this fortress to prepare for a move of the capital from Seoul to Suwon. And people barely know that he built the fortress in Suwon to move his father's grave. Anyway,  Suwon was purported to be strategically positioned to connect Seoul with the West Sea (Yellow Sea) and China. The king wanted to leave the fracticious strife of the court to carry out reforms and believed that Suwon had the potential to grow into a new and prosperous capital. To encourage growth, he ordered people to move to Suwon at considerable expense and exempted them from taxes for ten years. King Jeongjo also ordered public works, such as the building of educational facilities to better facilitate the city as a capital.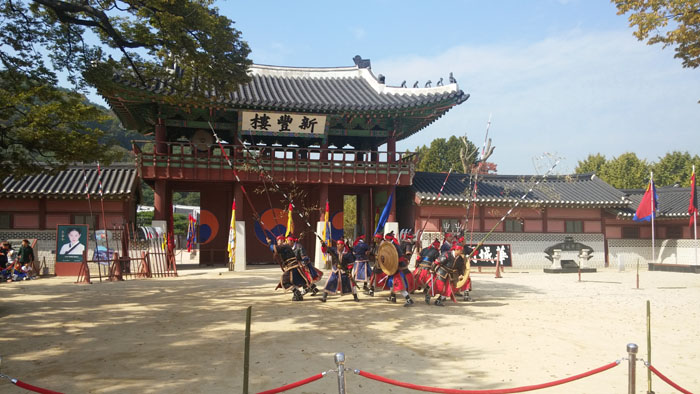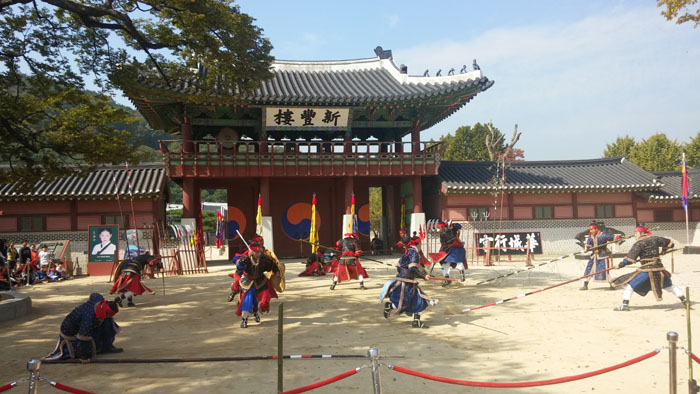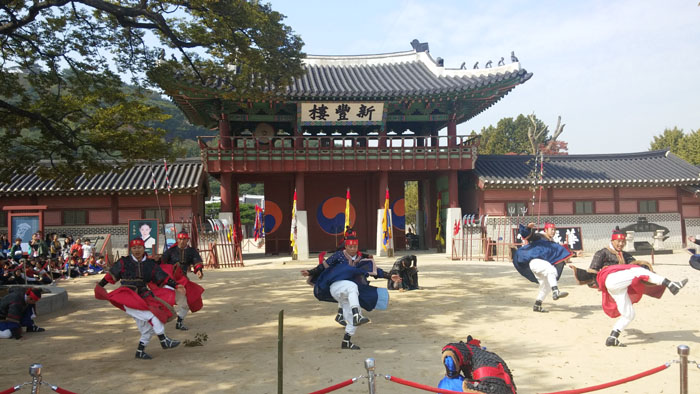 A martial arts performance was taking place in a temporary palace square.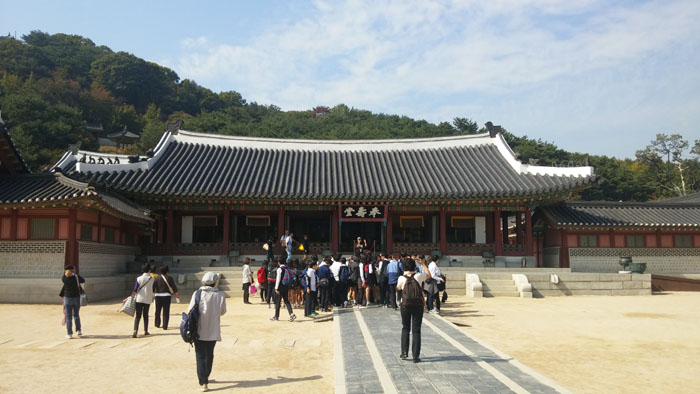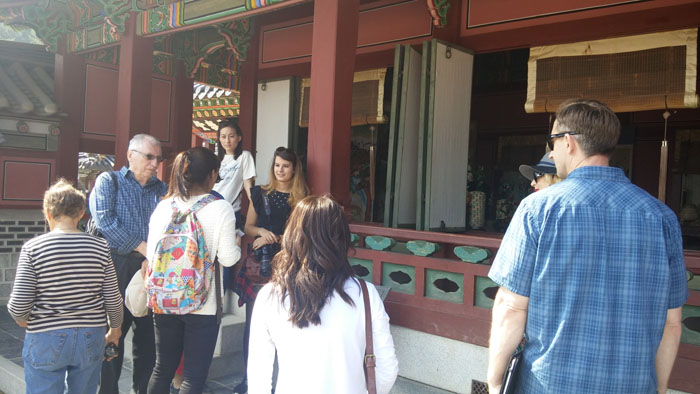 Inside the temporary palace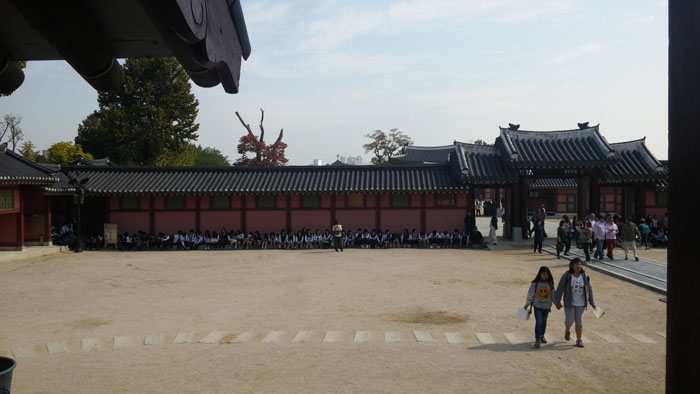 A lot of Korean students visited Hwaseong.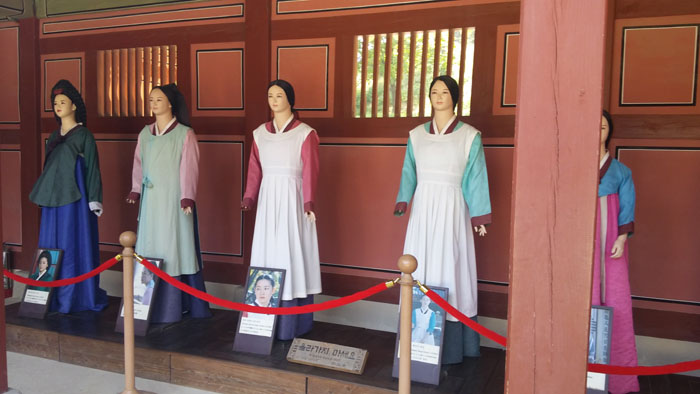 Costumes of a maid of honor which has been shown in Korean dramas
Lastly, I would like to talk about the saddest story of royal family in Joseon. Unloved by his father who is King Yeongjo, Crown Prince Sado of Korea (1735-1762) grew up as a sadly disturbed man. His superstitious nature and an obsession with clothes induced him to burn whole sets of new silken clothes. When he felt agitated or depressed, murdering servants brought him relieve. Daily, several dead bodies were carried out of the palace. Raping court ladies was another of his pastimes, and, after murdering his concubine, Sado started harassing his own sister, too. Finally, the King decided upon a very drastic measure, involving a rice chest.
Prince Sado had been locked in a rice chest for 9 days and after 9 days he died of starvation inside the rice chest. His son, King Jeongjo watched the bizarre execution and vassals who did not like the Prince insulted him in public like peeing on the rice chest etc. A little later King Jeongjo rose to the throne and he planed to move the grave of his father, Prince Sado to Suwon.  With this story, you can feel the sad history of Joseon more vividly.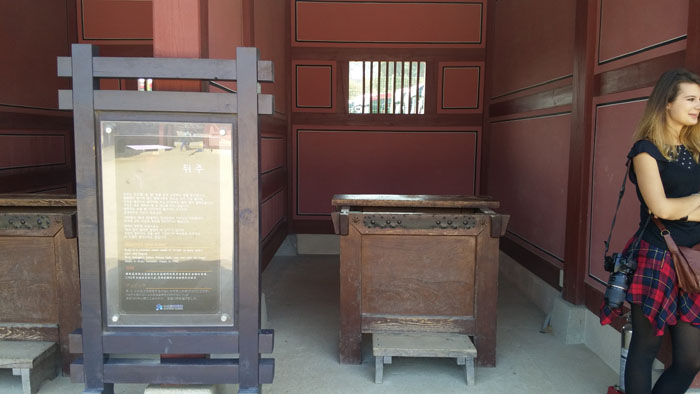 A rice chest where Prince Sado was locked in for 9 days.
RELATED TOUR
Full Day Worlds Cultural Heritage Tour
Full Day Suwon Hawsung Fortress & Korean Folk Village
Teddy Lee
Photos by Teddy Lee
www.koreatourinformation.com Staff Writer
mail@koreatourinformation.com