Artwork draws visitors to Jeju village
Gimnyeong, a small town in northeastern Jeju, now has a series of metal craftworks to welcome visitors to this corner of the southern holiday island.
The walls and rooftops of many buildings in the town have been outfitted with outdoor works of metal art. There is a female diver, a Haenyo, picking abalone and other shellfish, made out of an iron frame on the white wall of a rundown home. On one side of a roof is a dolphin swimming across the sky. The creature was made of metal and modeled after Jedol, an Indo-Pacific bottlenose dolphin who was released back into nature in 2013. At the town beach, there's a metal boy flying a paper airplane.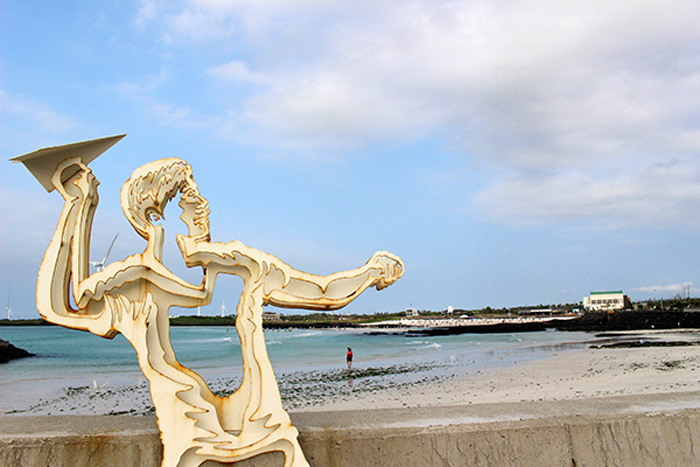 A metal statue of a boy flying a paper airplane stands at Seongsaegi Beach.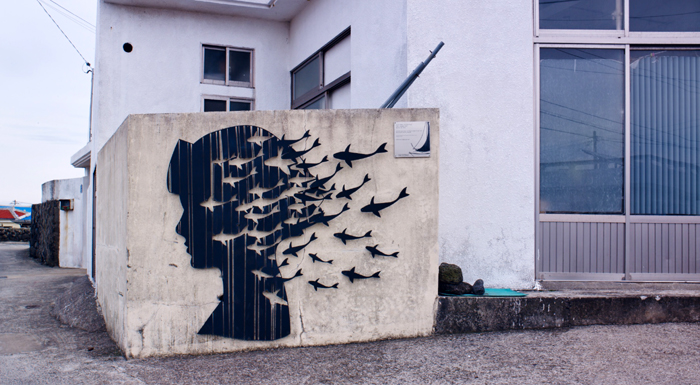 'Cantabile,' a metal work of art on a wall in Gimnyeong, is created by artist Lee Hyeon-jeong.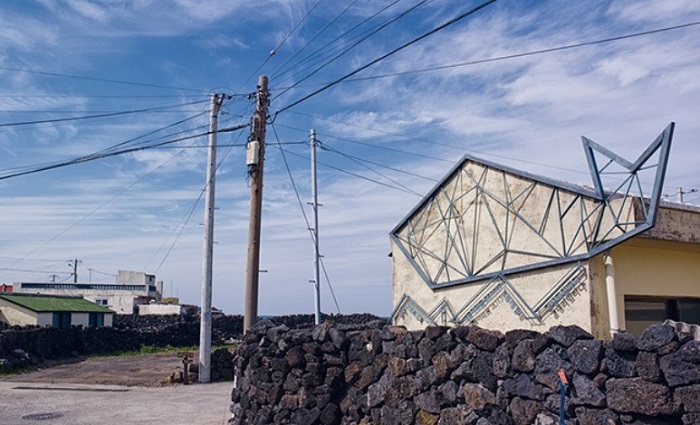 A metal whale swims along the side of a small home, welcoming people to Gimnyeong in northeastern Jeju.
The works of art were created by 20 artists' hands, all based on the island. With the goal of attracting more tourists to the northeastern town, the artists came up with the project to install a total of 29 works of art on the town's buildings, covering three kilometers from the edge of the town straight through to Seongsaegi Beach.
The installation works focus on themes related to the island, such as female divers, the blue sea, dolphins and the wind.
"We [the artists] tried hard to turn a town that you might otherwise just indifferently pass by into a must-visit destination," said the head of the Dasibang Project art group, Nam Hyeon-kyeong. "We prepared these works of art in an effort to reveal the true value of the town. The craftworks embrace stories of the town and visitors coming here will feel the beauty indigenous to this sole location, too."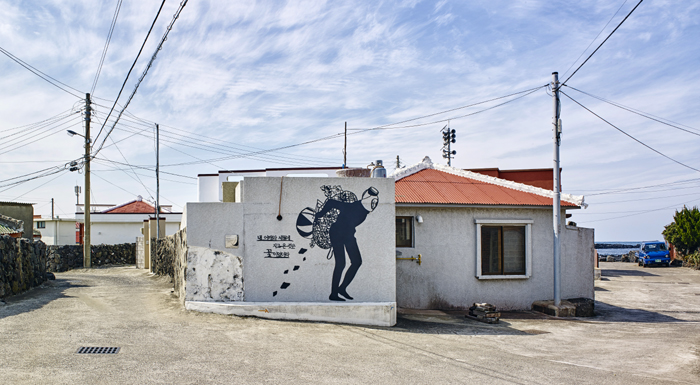 Artist Kim Seon-young's 'Blossom Wave' depicts one of the famous Jeju female divers, a Haenyo.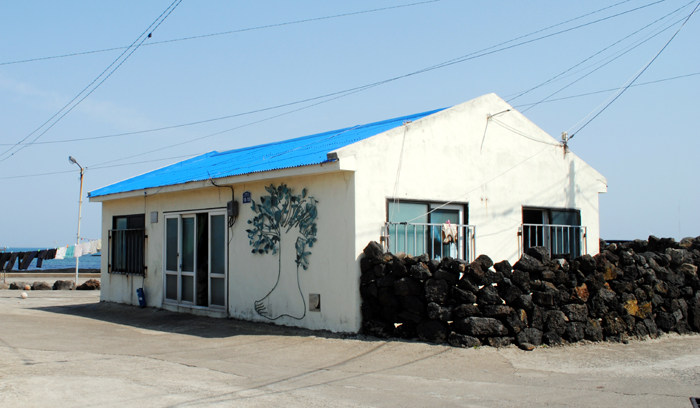 A metal tree and foot is installed on the side of a home in Gimnyeong, Jeju Island.
* How to get to Gimnyeong?
Address: 497-9 Gimnyeong-ri, Gujwa-eup, Jeju-si, Jeju By bus: Get on bus No. 38 at Jeju International Airport. Transfer to the Dongilju bus No. 701, bound for Sehwa High School, at the Jeju Intercity Bus Terminal. Get off at the Gimnyeong-ri Bus Stop.
By Sohn JiAe
Korea.net Staff Writer
Photos: Dasibang Project
jiae5853@korea.kr