Jeju Dining: A Delicious Journey
The local food in Jeju Island had been difficult to share with other provinces, because that is an Island being far away from the land. So they have their own region features unlike the foods from the land. For those reasons, when travelers visit Jeju Island, they try to go to restaurants which are famous for local food and delicious. So I would like to introduce you three restaurants which lots of travelers visit and love. The restaurants have not only delicious foods, but also interesting story in the foods.
Tak-Ei Noodle (탁이국수) in Jeju Island: The noodle soup which boiled pork slices put on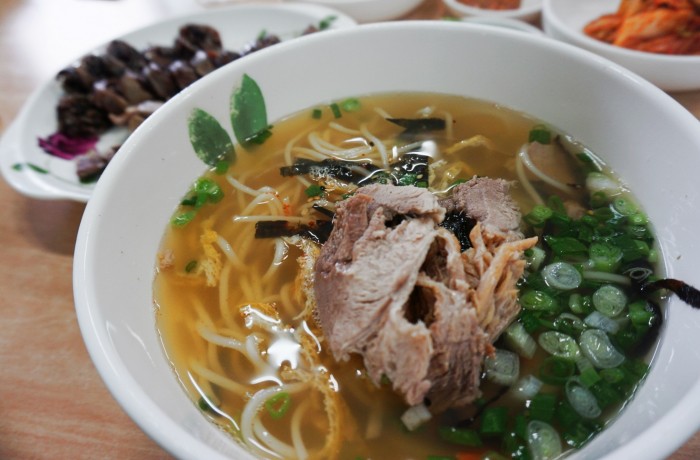 The noodle soup with pork is representative food in Jeju Island which is made from black pork stock and the boiled pork is put on the soup. Also, the seasoning is not used in this soup, only use ingredients, which the flavor is preserved. Those reputations, there are streets noodle soup restaurants are gathered in Jeju Island.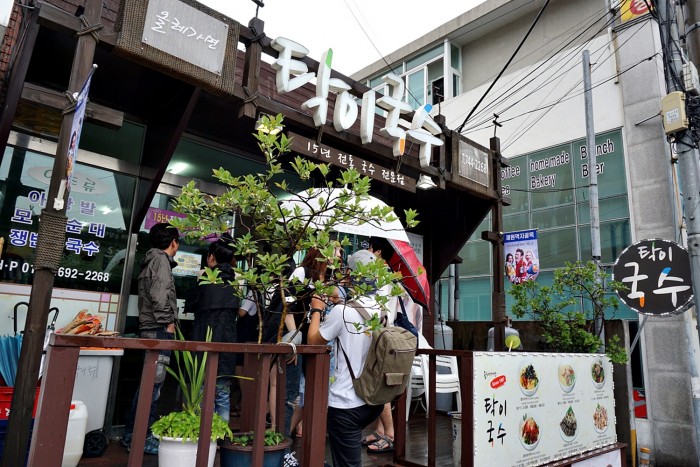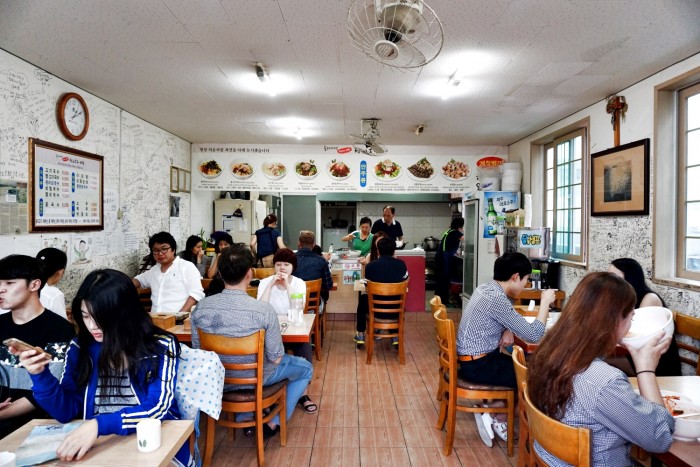 'Tak-Ei Noodle (탁이국수)' is one of the restaurants which is cooking the noodle soup with pork.
It's located near Jeju International airport. It's been 15-year, since they opened the restaurant. The main menu is 'Noodle soup with pork'. In addition, they have different kinds of noodle soups as well.
Although the restaurant is small, that space is filled to capacity. Especially, on the rainy day, you might be stand in line to have the noodle soup. (Korean likes to have noodle soup especially on a rainy day.)
As you know, if you order the Korean food, four or five different types of side dishes come with. Try the noodle, pork and kimchi altogether. You must admire from the harmony with main food and side dishes. Not only the restaurant has tasty food, but also has generous servings, you must be satisfied with this noodle soup.
There are pictures every menu; it would be easier to choose the menu.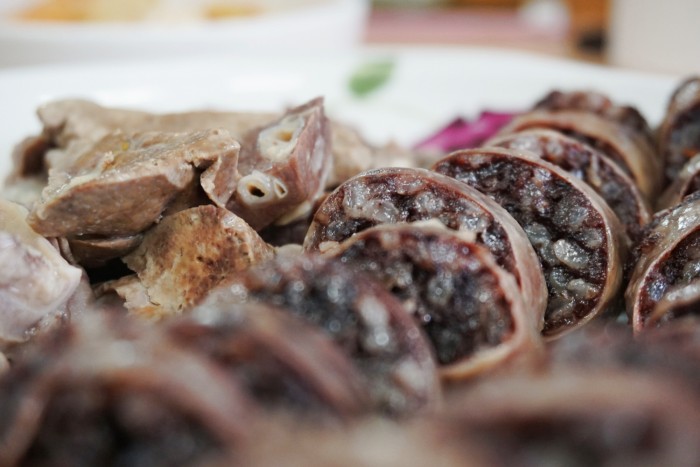 Also, 'the assorted Korean-style pork blood sausages' is the representative menu in this restaurant. The name is 'Soondae' in Korean. This Korean dish is made generally by boiling or steaming cow or pig's intestines that are stuffed with various ingredients. The 'Soondae', in this restaurant, has nice distinctive taste and a bit of bite.
Information
Address 261-60 Yeon-dong, Jeju-si, Jeju-do, Korea
Tel. +82-64-744-2268
Map
The Black Pork Restaurant by Ms. Bok-Ja (복자씨 연탄구이) in Jeju Island: The Black pork restaurant near Seongsan Sunrise Peak (Seongsan Ilchul Bong)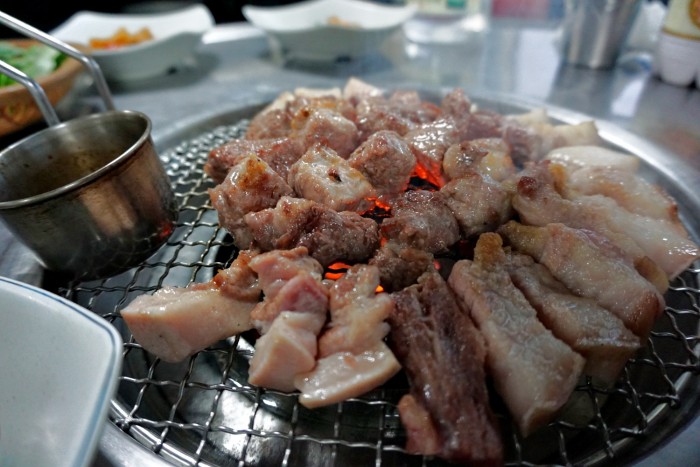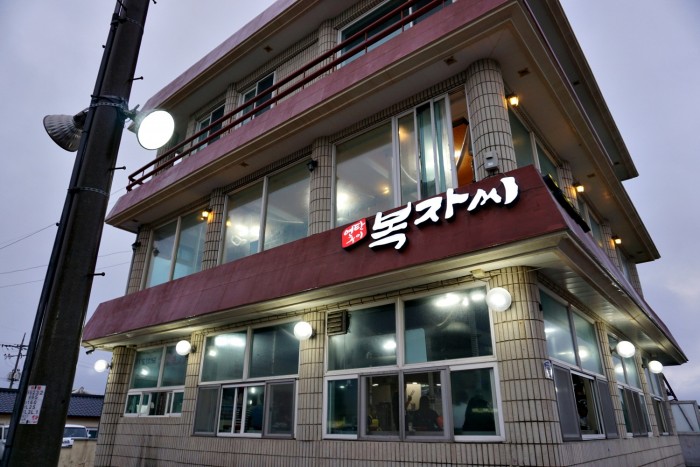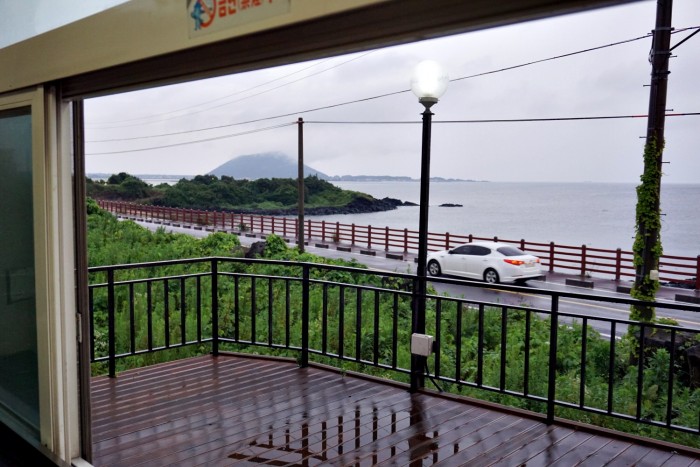 In Jeju Island, the black pork is the most famous menu for epicurean journey. There are tens of hundreds of black pork restaurants in Jeju Island. Among them, let me introduce the famous black pork restaurant located near Seongsan Sunrise Peak. If you stay near Seongsan Sunrise peak, it must be convenient to visit this restaurant. Or, after visiting Seongsan Sunrise peak, you can stop by for your lunch or dinner.
This restaurant cooks the meat on a briquette, so the black pork is very tender and juicy. Also, if you have Kimchi stew (Kimchi Jjigae) with the pork together, you must be satisfied with the harmony of oily pork and spicy kimchi Stew.
The restaurant also presents a beautiful ocean view. You can enjoy your meal with such beautiful scenery.
For you information, I would like to recommend you to visit here early evening or lunch time. Or, you must stand in line.
Information
Address 367-1, Ojo-ri, Seongsan-eup, Seogwipo-si, Jeju-do, Korea
Tel. +82-64-782-7330
Map
'Pungwon (풍원)' famous for 'Hallasan fried rice' in Jeju Island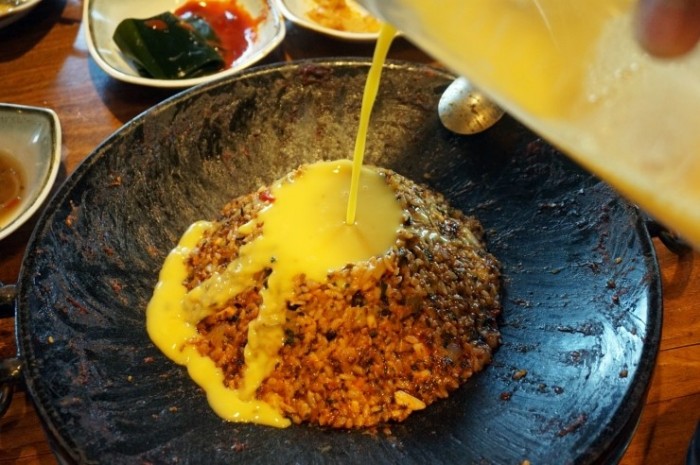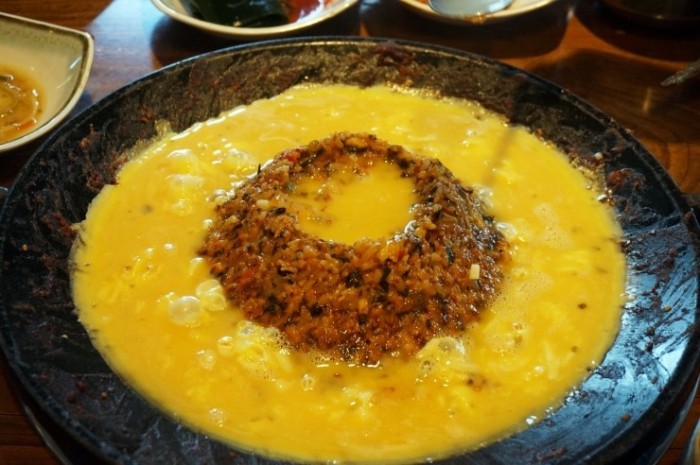 Have you heard 'Hallasan fried rice'? The fried rice is Hallasan Mountain figure and the egg scramble surrounding the fried rice shows Jeju Island. It's such an interesting restaurant which is not only the food is very tasty, but also they have interesting visual effects.
The Pungwon restaurant is located in Udo Island right next to Jeju Island. Udo is usually called 'the small island in the island'. Although it's really small one, that has such a beautiful scenery and cool beach. For these reasons, Udo is always filled with traveler.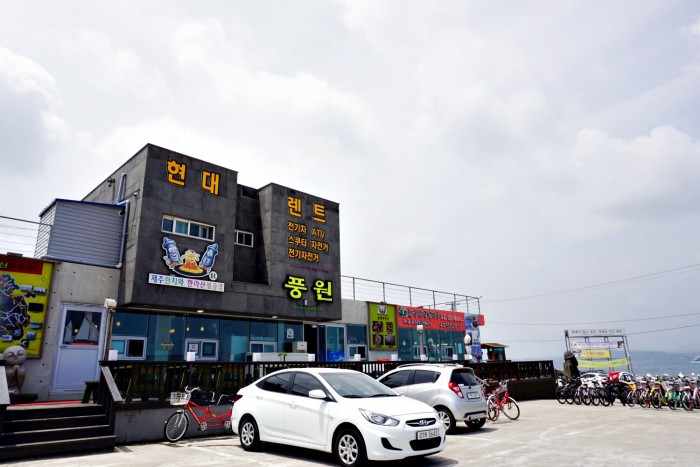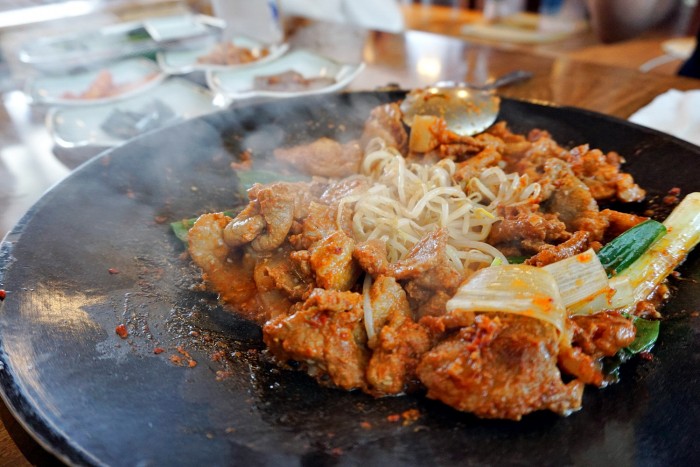 The 'Pungwon' restaurant is the most famous restaurants in Udo Island. The reason why they are famous is because of the Hallasan Fried rice. After having main dish such as marinated grilled black pork, if you order the fried rice, they staff makes that Hallasan Mountain with explanation of interesting story of Hallasan Mountain. (Explanation by English is also available!) Also, the taste of food is really nice.
Because of this kind of fame, you must stand in line to have a meal for around 30minutes, maybe 1 hour during peak season. I would like to recommend you to visit there early lunch time around 10~11am. Then you can have a seat right after you arrive.
If you travel Udo Island, I would like to recommend you to visit there. You won't be disappointed by the interesting foods!
Information
Address 2427-1, Yeonpyeong-ri, Udo-myeon, Jeju-si, Jeju-do, Korea
Tel. +82-64-784-1894
Map
In Jeju Island, there are tens of restaurants which have tasty food for both travelers and citizens. The three restaurants which I introduced is just a tiny part of the Jeju Island's restaurants. There are many restaurants which are more famous and delicious. Just check out the KTI web site for you information. But, the one thing that I would like to mention is you will not be disappointed from these restaurants.
By Hanna, Kwak
Photos by Hanna Kwak
www.koreatourinformation.com Staff Writers
lee2@seoulcitytour.net