Fall in love with flowers of April in Seoul
April in Seoul is the season for flowers. You will be very lucky, if you visit Seoul in April. But in May, to the effects of climate change, it gets hotter than April. Where are the popular destinations for viewing flowers during spring in Seoul? In fact, there are too many places to talk about.
From the tree-lined street, located in age-long residential area, to the newly prepared garden, many parks are filled with springtime flower. Seoul has long history over 500 years. It is filled with variety of architectures such as Korean traditional houses and even modern buildings as well.
If you visit in Seoul in lovely April, what should you do?
From now on, I will suggest you the specific places to go when you visit in Seoul, especially in April.
Before starting, there's something to tell you. If you are a single, it could be lonely a little bit. The places where people enjoy flowers are always crowded with many couples. You might feel alone among many couples. You don't have to be worries, though. There're also many people who come alone like you. If you would like to be lucky the most, travel alone. It could be two people after finishing traveling.
Now, let me suggest where you should go.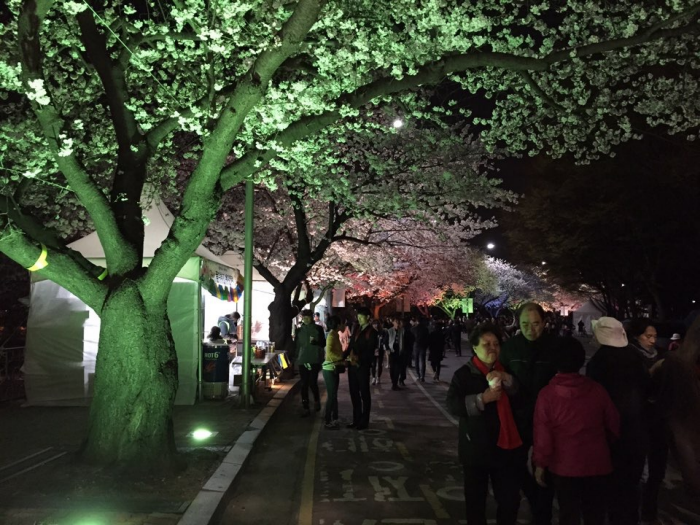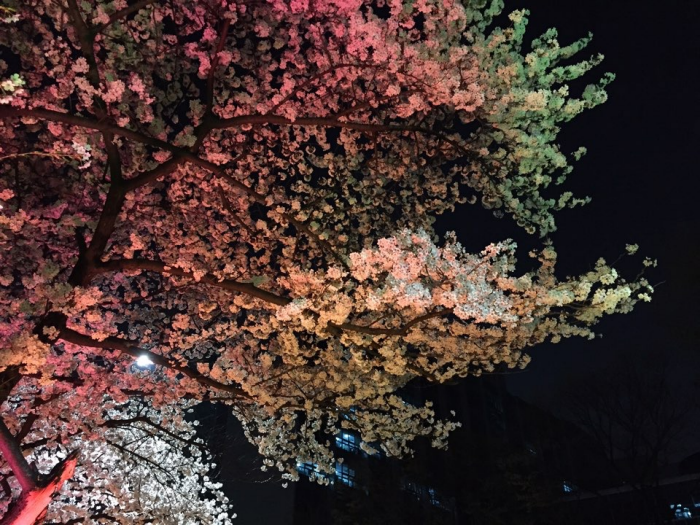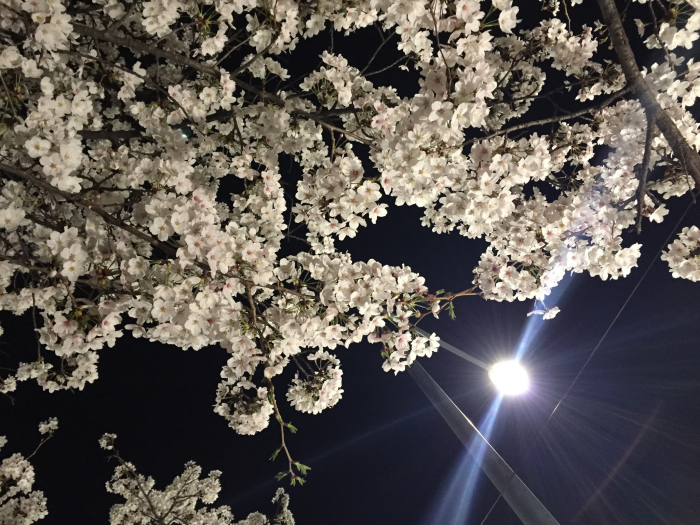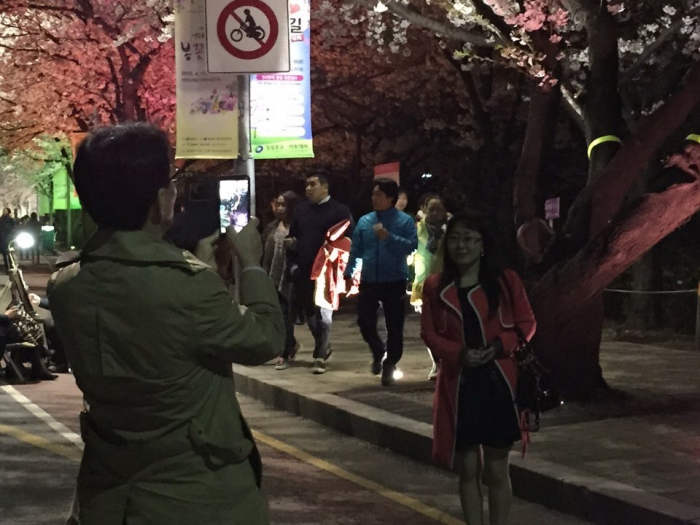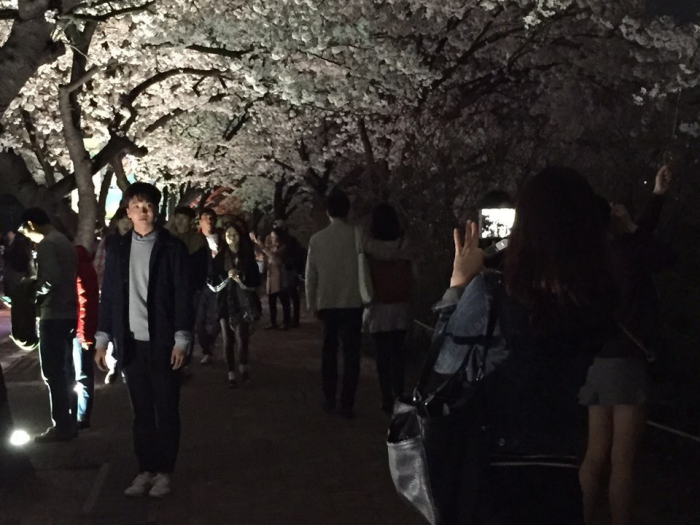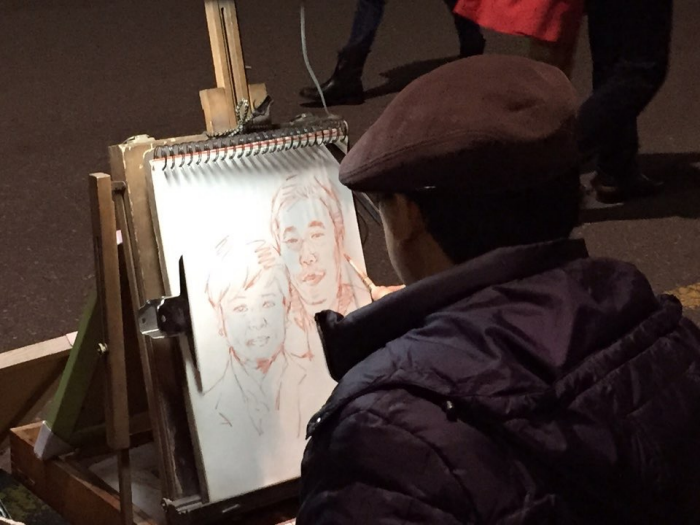 First of all, it's Yunjungno in Seoul. That is located in Yeouido which is called Manhattan of Korea. In Yunjungno, there is a capitol gathered by politicians who doesn't have work like other ones in common over the world. Anyway, it's the most popular flower street in Seoul.
Springtime flower comes to the climax in second week of April. Actually, about this time of spring, you can see the view that is full of flowers anywhere in Korea. And one more thing, I highly recommend you to go to Yunjungno in the night. The beautiful scenes of cherry blossom being in harmony with colorful lighting might make you delude that you are in the paradise.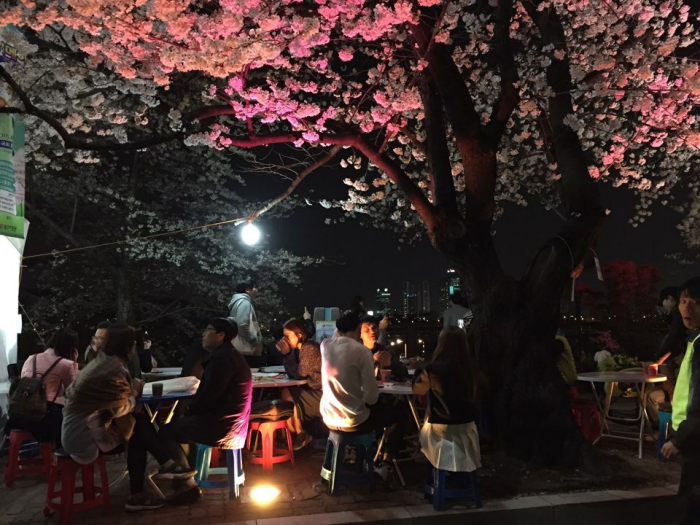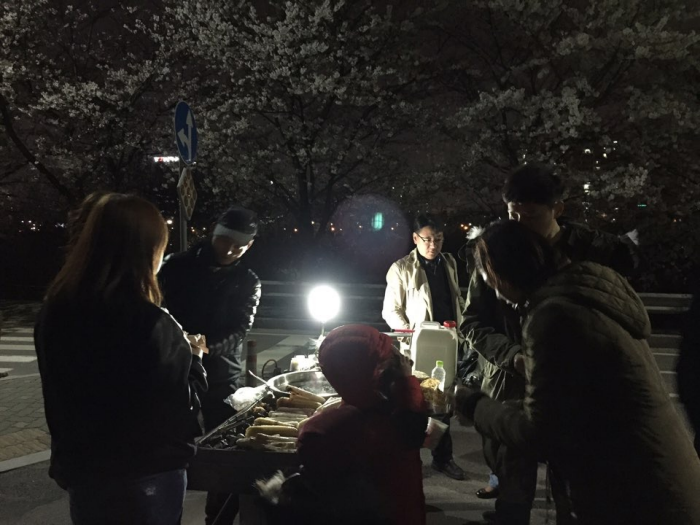 You can also enjoy the street food. It's familiar to Korean, but it might be unusual tastes for foreigners. I will introduce only two street foods above all. One is chicken yakitori and another one is cotton candy.
First, it's chicken yakitori which is similar with Kebab. But, Koreans enjoy having spicy one. If you like spicy food or would like to challenge one, try this. But, BE CAREFUL! You might drink a big bottle of water to remove the spicy taste
Second, it's cotton candy which has delighted children to adults. Imagine sharing a cotton candy with your sweetheart. One romance movie would be filmed. A cotton candy is sweet like a kiss. I highly recommend you.
The cherry blossom festival in Yunjungno, Yeouido, it might be crowded with people because it's one of the popular places for spring time flower. You'd better go there at evening during weekdays.
After that, you go to 'Hong-Dae' across the Seogang Bridge by taxi (It costs just $4~5.) Buzzing 'Hong-Dae' area is famous for club which many young people enjoy and there are a lot of guest houses also. It must be fun there for your night life! If you are three of four people, getting a taxi would be better. Take a taxi and just tell to driver "Hong-Dae, please" That is the simply way to go there.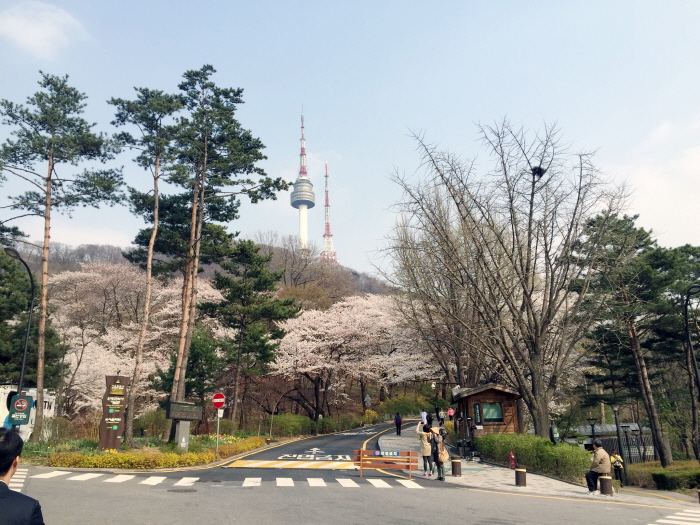 The second place good for springtime flower is 'N Seoul Tower' as I posted before. From Namdaemun Market, on the way to Grand Hyatt Seoul, you can see the perfect cheery blossom which is in full bloom. If you go up to N Seoul Tower, you can enjoy the view of Seoul and Flowers together. But, you ought to walk uphill road.
If it's possible, it would be better going there before evening to take a picture of flowers and go up to the N Seoul tower to see the wonderful sunset.
Going up to the tower by yourself would be tough. So, you'd better contacting a travel agent or using a shuttle bus.
Let me give you a tip for you. This area is close to Itaewon which is known as "Western Town", so if you want to experience the small Western town in Korea, let's visit there! You can take a taxi or walk there. The way to take a taxi is just waving your hand toward a taxi.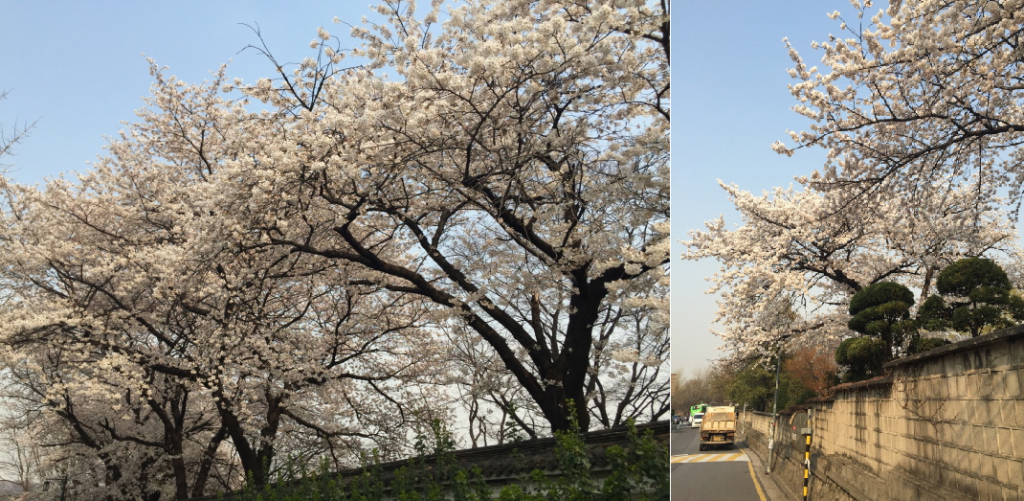 Cherry Blossom trees in front of Grand Hyatt Seoul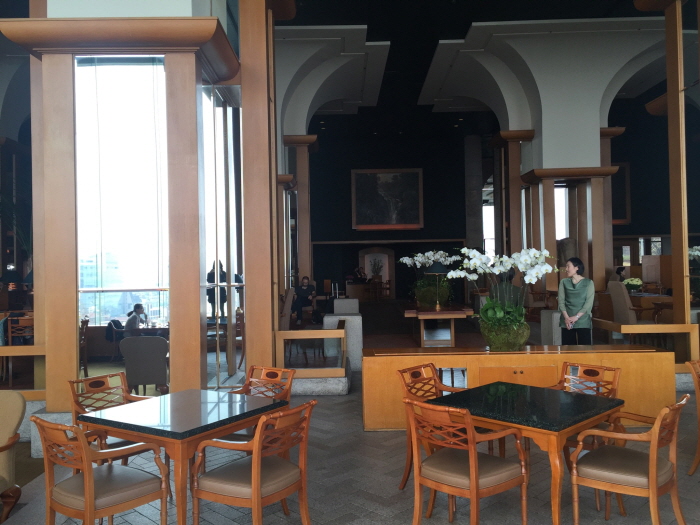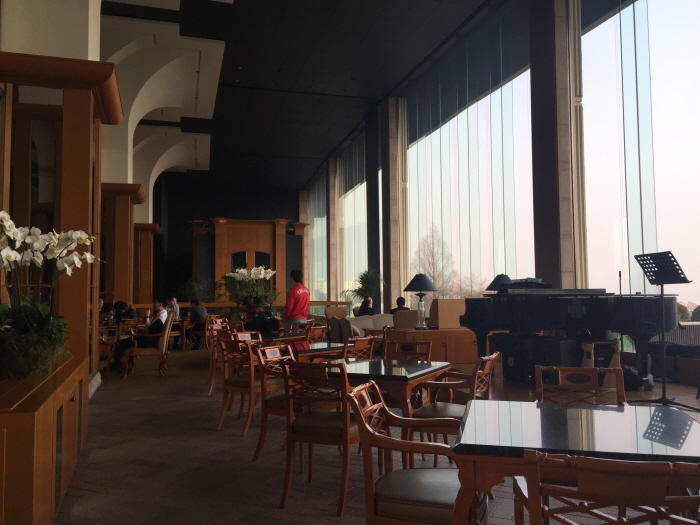 'Lobby Lounge' in Grand Hyatt Seoul
If you arrived at Grand Hyatt Seoul, while walking along the street in full of bloom, stop by 'Lobby Lounge'. It's a hidden place which the night view is good. If you go there, you would know what I mean. You can have a cup of coffee with night view, but it's expensive as you know. If you don't want to spend much money for them, just take pictures for night view and flowers.
You can go other places for enjoying springtime flowers such as Mongchontoseong (몽촌토성) in Olympic Park, Achasan Mountain (아차산). But, throughout every case, Yeouido and N Seoul tower is the best. The reason is as follows.
It's the place where Koreans love.
The most popular festival is held.
Other attractions such as Hongdae, Itaewon are not far from Yeouido and N Seoul tower.
There's no additional admission fee. (except the observatory in N Seoul Tower)
There are a lot of tour programs which pass by that place.
How can you get there?
 The easiest way is using the tour program from the travel agency. And you will be dropped off where you want such as Hongdae, Itaewon, and City Hall. After that, you can go back your hotel as you want. You can go to your hotel alone or with new another traveler or go to his/her hotel whatever you want.
In case of city tour program of Seoul, it would be good using daily tour. You don't have to search transportations in detail because the travel agency picks you up and drops you off by bus. You can see Seoul and take pictures more, while other people are wandering. Don't miss the good opportunity. If I were you, I would save money for the accommodation and choose the daily Seoul city tour program instead.
If you don't want to be exhausted by walking too much, just apply for Seoul city tour.
Seoul is the historic city which is more than 500years. There are many places you should visit. I just introduced springtime flowers of April.
For your information, the April of Seoul has many things you can make new memories. Don't waste your time while wandering in the subway line.
Written by Tae-il, Kim
Translated by Hanna Kwak
Photo by Hanna Kwak
Lee2@seoulcitytour.net
Pictured by iPhone6