Korea attracts UK tourists with tradition, technology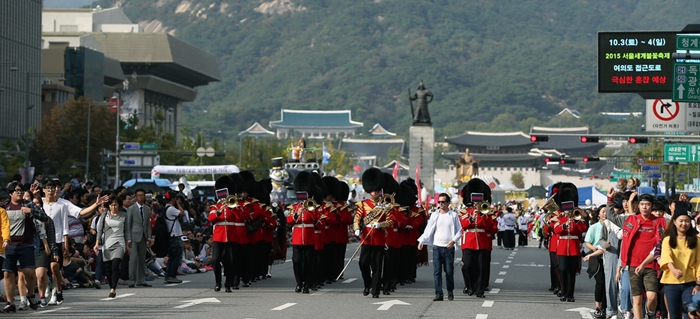 British guards march down Sejong-daero in central Seoul as part of the Hi Seoul Festival hosted by Seoul Metropolitan City. (Korea.net DB)
By Min Yea-Ji and Hahm Hee-eun
For tourists from the U.K., Korea has become a destination of unique charm where tradition and technology coexist, and the potential for an increase in British tourism to the Korean market is quite high.
The Korea Tourism Organization released the results of a survey on May 8. The goal of the survey was to investigate and diversify potential European markets for Korea-bound tourists. The outcomes showed that among Europeans, young people in the U.K. had a clearly positive perspective of Korea, especially regarding high-tech and pop music.
Potential tourists from the U.K. said that the presence of the Demilitarized Zone (DMZ), mountains, temples and high-tech in Korea was enough to attract them, but that the lack of publicity needs to be urgently improved. Moreover, British residents in Korea said that Korea's dynamic and safe nightlife could appeal to young Brits.
However, compared to its neighboring countries of Japan and mainland China, Korean tourism had certain weaknesses. For instance, Korea is not well-known as a long-distance travel destination, and despite weaker publicity and attractiveness in terms of tourism resources, the travel costs to Korea were similar to its neighbors.
The survey included data gathered by local tour agencies, online surveys for local consumers, and interviews with British tourists and residents in Korea.
jesimin@korea.kr
RELATED TOUR 
DMZ Tour
Top Attractions of Seoul Tour
Most Popular Tour