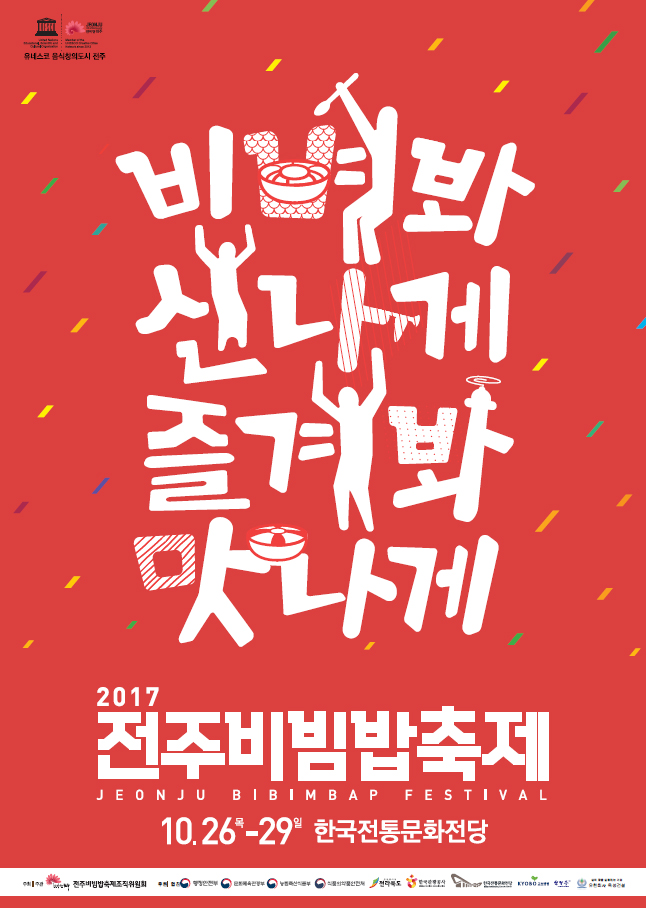 The city of Jeonju in Jeollabuk-do Province is celebrating its world-famous bibimbap mixed rice!
Visitors will be able to help mix a giant bowl of bibimbap mixed rice, sample 33 different bibimbap varieties prepared in 33 different neighborhoods of Jeonju, and even enjoy a bibimbap-making competition. There will also be a treasure hunt for bibimbap ingredients and tourists will be invited to enjoy the many different varieties of the famous delicacy.
A range of delicious street food, including snacks made from bibimbap like Jeonju bibimbap bread, deep fried bibimbap balls, bibimbap croquettes, bibimbap cheese sticks and roasted bibimbap, will all be sold at the Yummy Garden at the festival venue.
Visitors can sample traditional desserts, such as pyeongang sweetened ginger slices (편강) and yakgwa cinnamon-honey cookies (약과), or try making traditional alcoholic drinks, such as soju liquor (소주) and moju, a crude grain liquor.
See you in Jeonju!
Period
Oct. 26, 2017 ~ Oct. 29, 2017
Location
Korean Cultural Heritage Hall of Fame
20, Hyeonmu 1-gil, Wansan-gu, Jeonju-si, Jeollabuk-do
Contact
1330 Travel Hotline: +82-2-1330 (Korean, English, Japanese, Chinese)
For more info: +82-63-231-8969
Transportation
[Train]
Take a train to Jeonju from Seoul Station or Yongsan Station
From the bus stop (31-109) in front of Jeonju Station
take buses number 119, 535, 522 or 543 to Dongbu market (동부시장)
Korean Cultural Heritage Hall of Fame is 5 minutes away in walking distance from Dongbu market bus stop
Website
https://www.bibimbapfest.com/en/inner.php?sMenu=main 
(Korean, English, Chinese, Japanese)
Map