World's best airport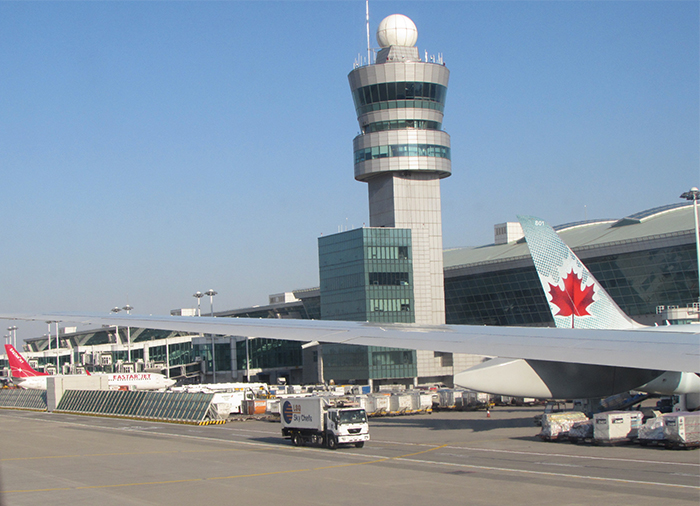 Incheon International Airport is one of the best airports in the world.
By Korea.net Honorary Reporter Salwa Elzeny
Photos = Salwa Elzeny
As someone unknown once said, "Travel is the only thing you buy that makes you richer."
Airports are the first gateway to your adventures. Airports are a place of both happiness and sadness. We feel happiness when our family and friends arrive and feel sadness when they leave, but all of these feelings are honest and truthful.
Incheon International Airport (ICN) is one of the best airports that I have ever seen. It's the largest airport in Korea, the primary airport serving the capital city of Seoul, and one of the largest and busiest airports in the world.
Since 2005, it has been rated as the best airport in the world by Airports Council International every year.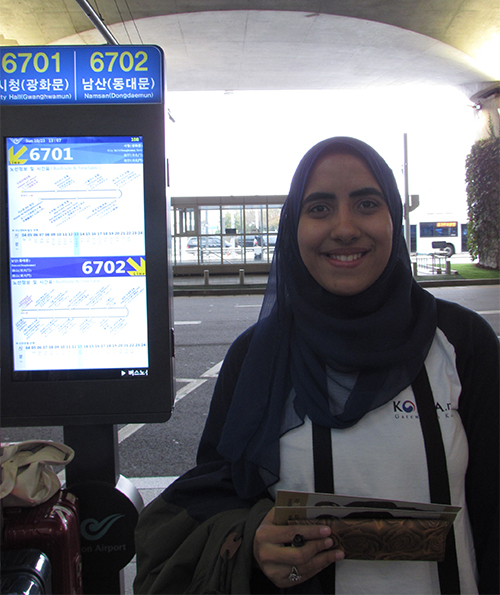 Travelers can use convenient transportation systems at the airport.
What is Airports Council International?
Airports Council International (ACI) is the only global trade representative of the world's airports. Established in 1991, the ACI represents airports' interests with governments and international organizations, such as the ICAO. It develops standards, policies and recommended practices for airports, and provides information and training opportunities to raise standards around the world.
In March 2017, Incheon International Airport won the world's best airport award for a record 12th consecutive year.
Korea's largest airport scored 4.98 points out of 5, winning the title given by the annual Airport Service Quality Award, presented by the ACI.
The airport was also named the best large airport — with at least 40 million passengers annually — the best airport in the Asia-Pacific and the best large-scale airport in the Asia-Pacific.
Today, airport assessments have become an essential part to improving the performance of airports, the facilities that are provided by an airport, which means saving money and stress for travelers. It is also important that they provide comfort to those who have to spend long transit times in the airport. Of the many criteria on which airports are ranked, the security aspect may be highlighted in light of recent attacks, bombings and hijackings.
In spite of the importance of security, it's not the only factor when classifying airports. The number of passengers, the quality of services, the facilities offered and the speed of reception all play a part in ranking the best airports around the world.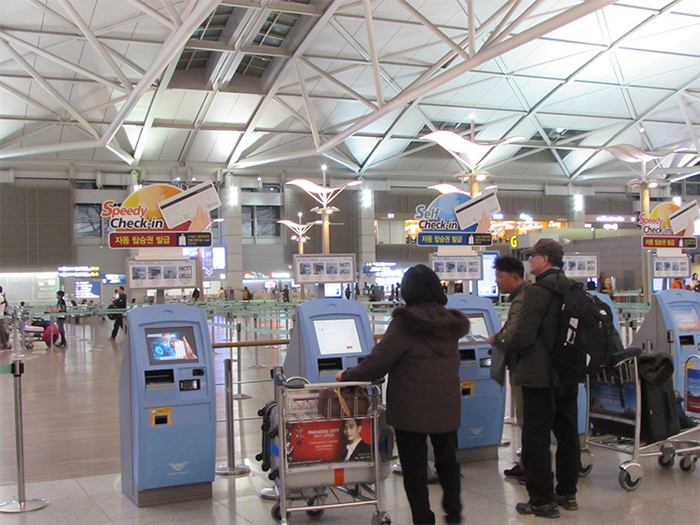 Self check-in kiosks are available at Incheon International Airport.
During my short experience at Incheon International Airport, I saw and enjoyed many wonderful and unique services, like a Lost & Found Center. At this center, you can inquire about anything that you lost at the airport. You can leave your information there with the center staff so that they will be able to contact you. The staff speak Korean and English.
Also, Incheon International Airport offers a tax refund service at the Self Tax Refund kiosks. They are easy to use and are available in all areas of the airport. They make it easier for tourists to enjoy shopping in Korea and to save money. The Self Tax Refund kiosks are located all over and offer services in many languages.
To save time and to minimize your time waiting in line, there are also 108 self-check in kiosks at the airport, with services provided in four languages. One of the reasons that I was so happy, despite my leaving Korea, was that some of the check-in employees spoke Arabic with me and my sister after they saw our passports. Many other airports don't provide multi-language services for travelers — just the local language and English — so I appreciated this service at Incheon International Airport. I know how well Koreans respect other cultures and nations, and this service makes passengers feel a lot more comfortable.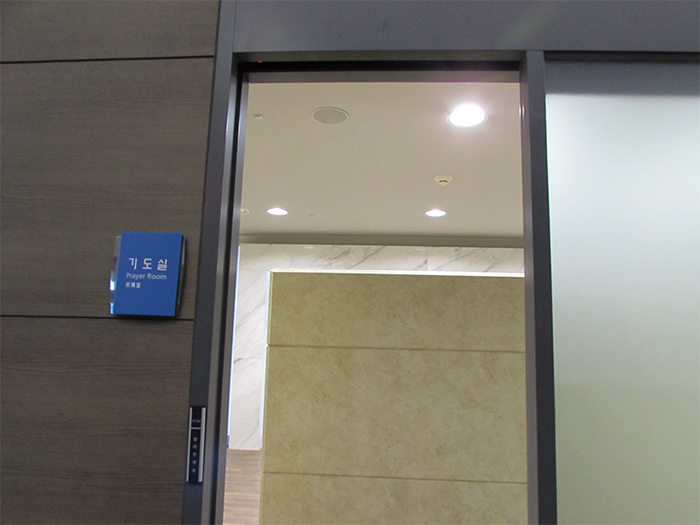 The world's best airport also provides a prayer room for devout Muslims.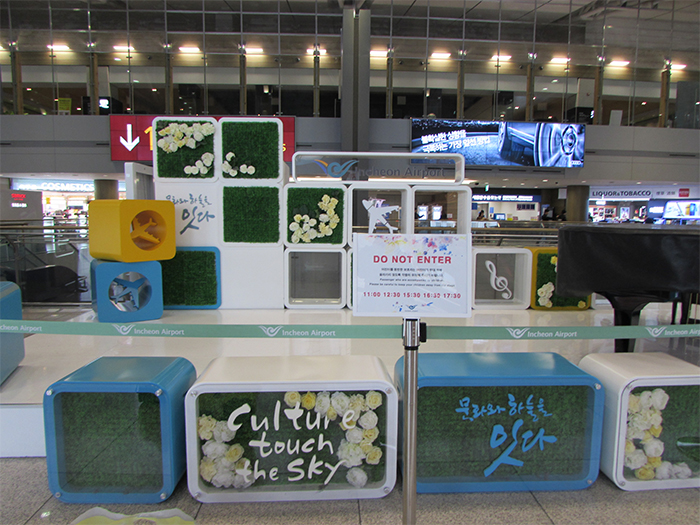 Live music is played at the airport.
The airport also provides special services like free Wi-Fi all around the airport, sleeping spaces, and hotels inside and near the airport so you don't need to leave the airport if you have a short layover time. The airport offers several entertainment options, including a casino, a golf course, several gardens, free tours, and if you are just passing through the airport, you may be interested in learning about Korean arts, traditions and history while you're at the airport.
The airport has an area dedicated to Korean history, arts, traditions and related activities. There are many 24-hour eateries, both landside and airside. Art exhibitions and scheduled live music exhibitions are on display throughout the airport. Full-service banking, including foreign currency exchanges, is available at the airport. Medical and dental services are also offered at the Inha University Hospital airport clinic.
One special service really appreciated by many devout Muslim travelers is the prayer room. Korea is the first non-Muslim country to provide a specifically Muslim prayer room at its main airport. This service helps devout Muslim travelers to not worry about missing a prayer time while at the airport. Individual shower rooms are available to use, free of charge. Shower kits are provided for free, too, to transit passengers or for a small fee to all other travelers. You can enjoy a sauna, soaking in a tub, private sleeping rooms, meeting rooms, a snack bar and Thai-style massages at the Spa on Air. Massages, nail care, aromatherapy and a variety of other beauty treatments are available in the airport spa, too.
Incheon International Airport is served by two different types of airport buses, standard and deluxe. Standard airport buses make many stops and tend to be crowded, with tighter seats. Deluxe airport buses cost more, but run on shortened or nonstop routes and have larger, more comfortable seats. Airport buses run between the airport and most of Seoul all day and all night. Detailed bus information is available at any airport information desk.
Arex commuter trains run between Incheon International Airport and Seoul Station along two lines, an express and an all-stop. The express runs non-stop for 43 minutes between Incheon and Seoul Station, with trains departing every 30 to 35 minutes. The all-stop stops at every station between Incheon International Airport and Seoul Station, including a stop at Gimpo Airport. All-stop trains depart every 7 to 15 minutes for the 58-minute journey. Arex trains can be boarded at the Airport Railroad Incheon Airport Station located opposite the airport entrance.
High-speed express trains also travel to different cities from Incheon International Airport, besides Seoul, to Busan, Gwangju, Yeosu, Daejeon and more.
Here is an episode from the famous Arabic-language TV show "Khawater," presented by Ahmed Al-Shukairy, where he talks about Incheon International Airport.
https://www.youtube.com/watch?v=Pq-eaWJX54w
wisdom117@korea.kr
https://koreanetblog.blogspot.kr/2017/07/worlds-best-airport.html