Gangwon-do delicacy: potato ongsimi from Gangneung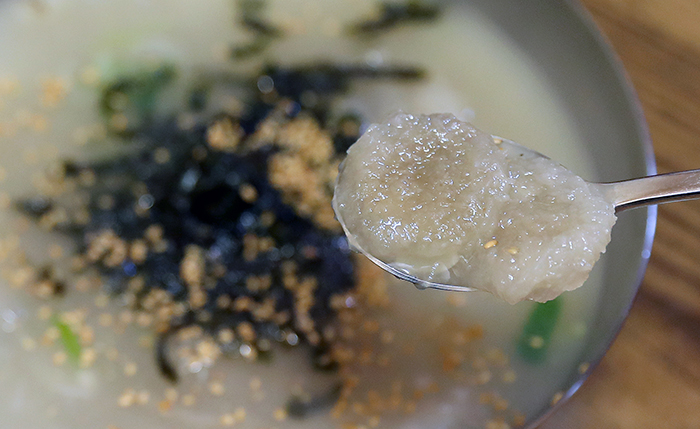 Gangwon-do Province is known for its potatoes. The starchy staple is prepared in a myriad of ways around the world, but in Gangneung the best way to get the full flavor of the potato is by grabbing a bowl of potato dough soup, or gamja ongsimi.
By Xu Aiying, Kim Young Deok and Lee Hana
Photos = Jeon Han
April 7, 2017 | Gangneung-si
"Our potatoes are fresh because they grow at higher altitudes," said Choi Dong Gyu, owner of Gangneung Gamja Ongsim (강릉 감자옹심), a restaurant that never fails to get a mention in search engine results for the keyword "gamja ongsimi," meaning potato dough soup.
As the name implies, the dish uses potatoes as the main ingredient. Potatoes are a specialty of Gangwon-do Province, and epicures passing through Gangneung are likely to set aside time to grab a bowl of the regional delicacy.
The story behind gamja ongsimi tells the tale of Korea's difficult past during the post-war period.
"Back in the day, Gangwon-do's rice was in short supply. So locals turned to potatoes as an alternative crop, which grew aplenty on our farms, and they came up with a new dish to feed the family. My mother told me she used to eat gamja ongsimi as a child, as did all of the other children in the neighborhood," said Choi.
"It was one of those everyday meals that people had at home, but my mother's soup was particularly delicious, and so this restaurant was born. We've been serving the dish to customers for over 35 years now," he added.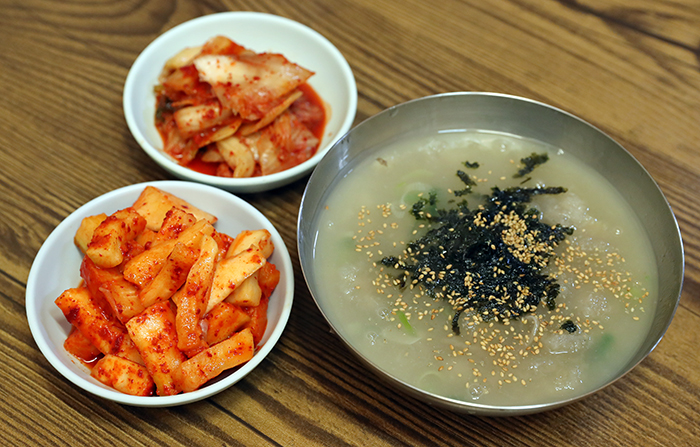 Gamja ongsimi is a simple but filling dish, and even more delicious when coupled with some cabbage or diced radish kimchi.
The restaurant has been serving its dish from its current location on Toseong-ro Street in Gangneung-si City for the past 30 years. Choi revealed that the secret to serving the same delicious dish for over three decades lies in the freshness of the potatoes. The success of the restaurant rests on the simple idea that fresh, local ingredients make for a better tasting meal.
"We've had a lot more international customers at our place, with the anticipation surrounding the upcoming PyeongChang 2018 Olympic and Paralympic Winter Games. We've served our dish to large groups of Chinese and Taiwanese tourists. Gamja ongsimi is undoubtedly the most popular dish among tourists. We hope that everyone visiting Gangneung will come by our shop and taste the beloved dish," said Choi with a grin.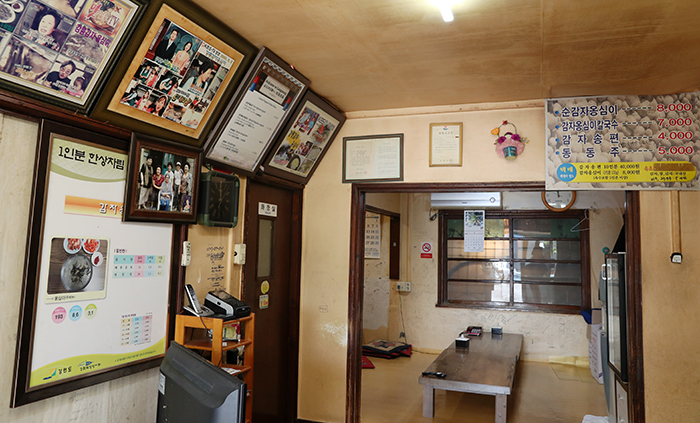 Gangneung Gamja Ongsim, in business for over 30 years, serves its famous potato dough soup to customers in a space that has stood the test of time.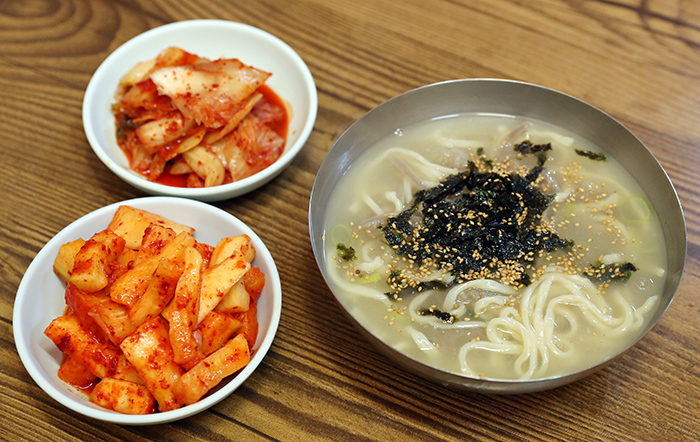 Gangneung Gamja Ongsim serves gamja kalguksu ongsimi, potato noodles and dough soup (pictured), as well as gamja songpyeon, potato rice cake, in addition to the most popular gamja ongsimi.