Culinary delights of Gangwon-do: Chodang tofu serves up natural bean taste
"My restaurant is not an eatery that serves fancy food."
Kim Hun-hoi runs the Wonjo Chodang Sundubu restaurant (원조초당순두부), a third-generation family business in Gangneung, Gangwon-do Province, that serves a wide range of tofu dishes, known locally as chodang sundubu(초당순두부).
When he says that, many might be surprised. However, there's a different nuance and, more importantly, there's a secret behind how he has carried on the time-honored restaurant to this day.
"We don't use any seasoning or chemical additives to create certain flavors. We just serve the pure flavor of beans," said the owner. "The secret here lies in fresh soy beans and cooking skills handed down for generations," he said.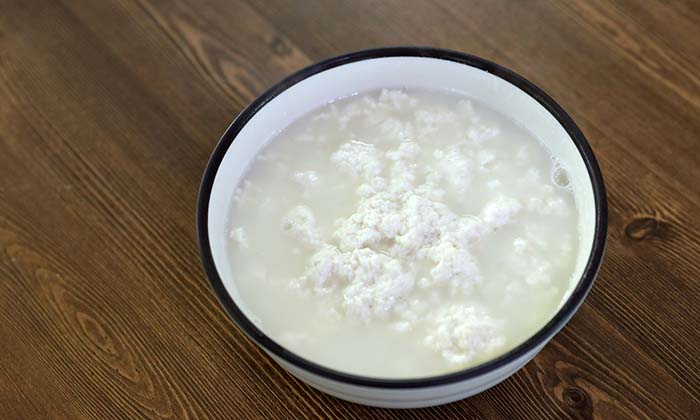 Chodang sundubu tofu is one of the most-beloved dishes in Gangneung, Gangwon-do Province.
The tofu is named after Chodang Village (초당마을), a cluster of tofu restaurants in that neighborhood. Only fresh soy beans grown in nearby Samcheok-si are used to make the bean curd. Seawater from the East Sea, instead of chemical additives like magnesium or calcium, is used to curdle the soy milk squeezed from the beans. Lastly, the curdled chunks meet the master's time-honored handling skills to become pure-flavored chodang tofu.
"The taste of the tofu depends on the amount of seawater, totally," said the owner. "I'd say that chodang sundubu tofu is an ingredient created when the nature of the province meets great culinary skills," he added.
There are about 20 tofu restaurants across Chodang Village. These eateries have a long line of customers who travel from across the nation to taste their traditional tofu, even more on weekends.
Since the city was designated as one of the three host cities for next year's PyeongChang 2018 Olympic and Paralympic Winter Games, alongside Pyeongchang and Jeongseon, the restaurants have received even more customers from across the land.
The village is about 10 minutes by car from the Gangneung Ice Arena, the Olympic venue that will host the ice sports during the Winter Games next year. It's also less than 30 minutes by car from Pyeongchang, the main Olympic host city.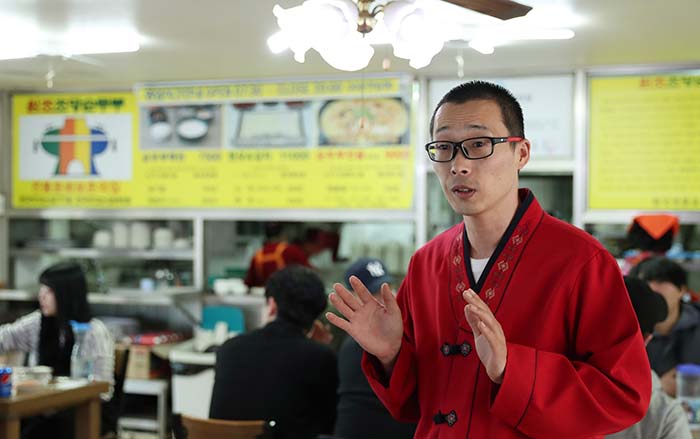 Owner Kim Hun-hoi of the Wonjo Chodang Sundubu tofu restaurant (원조초당순두부) explains chodang sundubu tofu, one of the must-eat specialties from Gangneung, Gangwon-do Province.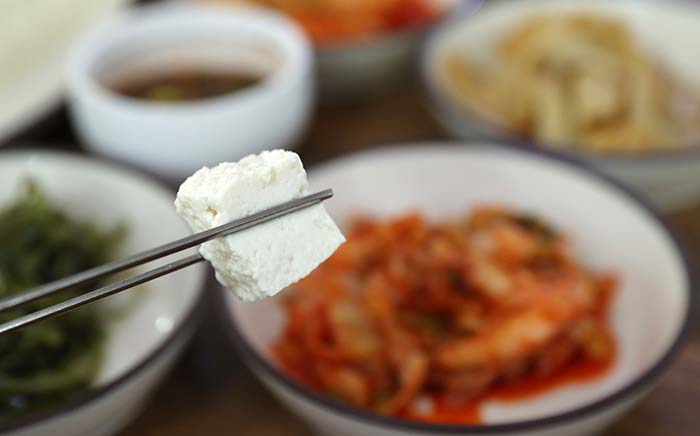 Chodang tofu, one of Gangneung's must-eat culinary items, boasts a tender texture and natural flavor. The tofu is made in a manner so that seawater from the East Sea is used to curdle the soy milk squeezed from the beans. It's served along with soy sauce and perfectly fermented kimchi.
"We have lots of customers coming from, in particular, Japan and mainland China. They really like the tofu," the owner said. "It doesn't taste that strong, so non-Korean eaters can really enjoy it." As part of preparations for next year's PyeongChang Winter Games, the master chef said, "I've replaced all the tables where customers used to sit on the floor with ones where they can sit on chairs."
"I wouldn't have been able to keep this business going without the pride of keeping alive a tradition," the owner said with a smile. "You should come and try this dish for sure when you're in Gangneung."
By Kim Young-ah, Sohn JiAe
Korea.net Staff Writers
Photos: Jeon Han Korea.net Photographer
Kimya124@korea.kr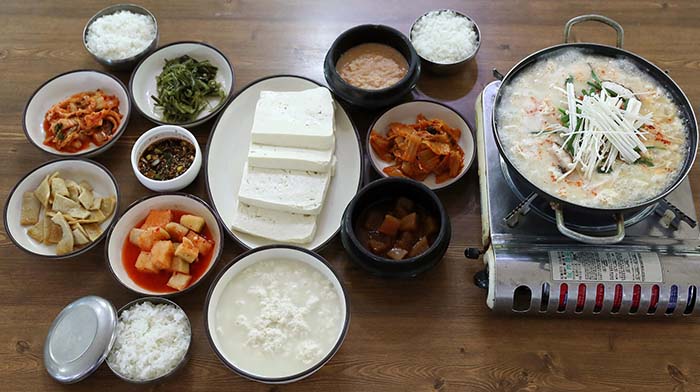 Chodang sundubu tofu is served. You can enjoy the tofu in various ways in Gangneung, Gangwon-do Province, including block tofu along with kimchi, or as a tofu hot pot.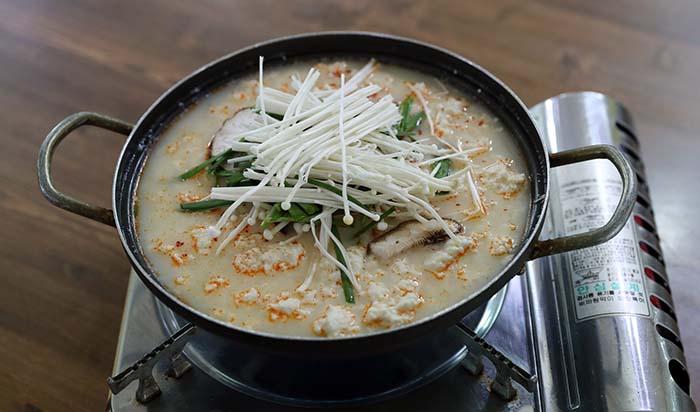 A hot pot style of chodang sunbudu tofu is a spicy, seasoned soup made from tofu and vegetables, known as sundubu jeongol (순두부전골). It's one of the most-beloved dishes, especially among younger customers.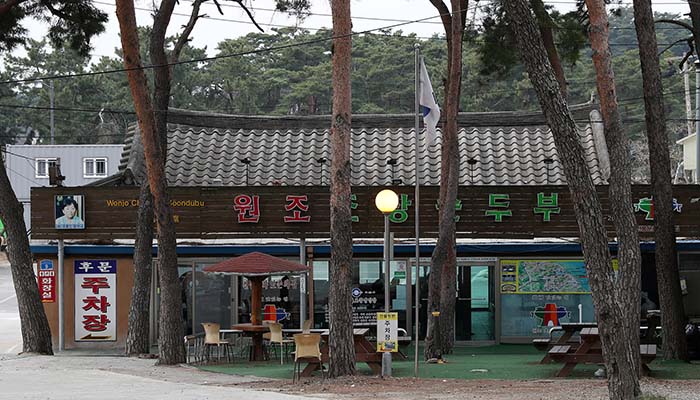 Chodang sundubu tofu is said to have been first crafted by Joseon government official Heoyeop (허엽, 許曄) (1517-1580), who made tofu after he harvested soy beans and used seawater to curdle the soy bean milk. The neighborhood of Chodang was named after his penname, Chodang. One of the many chodang tofu restaurants in today's Chodang Village is the Wonjo Chodang Sundubu restaurant. It's the oldest of its kind — founded in the 1930s — and has been in the family for three generations.