Entertainment, cuisine at 2018 Winter Olympic host city lures global media
"Skiing on the slopes, a Korea-style jimjilbang (찜질방) hot sauna, and Hanwoo beef (한우, 韓牛)."
These are three things that CNN says you must do when you visit Pyeongchang, Gangwon-do Province, one of the three host cities for next year's PyeongChang 2018 Olympic and Paralympic Winter Games, alongside Gangneung and Jeongseon.
With the Winter Olympic Games just under one year away, the U.S. news channel reported on things to enjoy and eat in Pyeongchang on Feb. 9, under the title of "Pyeongchang and the South Korea ski culture."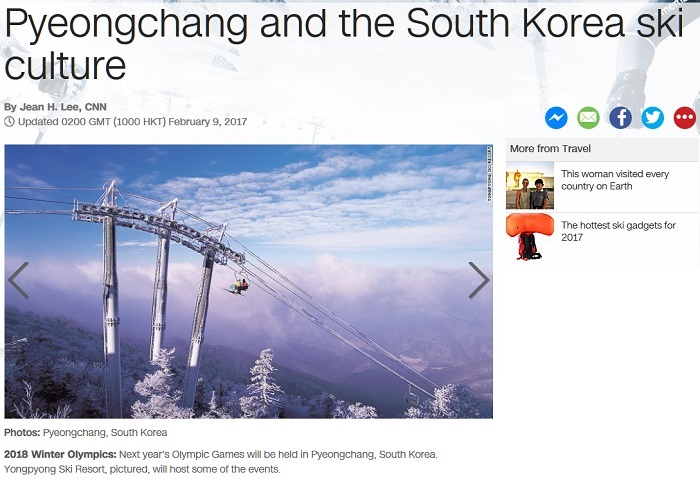 CNN describes Pyeongchang, the main host city for next year's PyeongChang 2018 Olympic and Paralympic Winter Games,
as a place that abounds in things to enjoy and eat, in its Feb. 9 article entitled 'Pyeongchang and the South Korea ski culture.'
Mentioning that it "doesn't have the stunning, jagged peaks of the Alps or volcanoes blanketed in 15 meters of snow like Hokkaido," the article said, "What South Korea lacks in tradition makes up for in efficiency: small, modern resorts with fast lifts and good snowmaking."
"Tourists from Southeast Asia know this and make their way to South Korea's Gangwon Province for a taste of winter and to follow in the footsteps of some of their favorite Korean stars," it said as it outlined a list of entertainment and culinary pleasures on offer in Pyeongchang, including not only skiing on the snow-capped mountain slopes, but also soju liquor (소주), Hanwoo beef and jimjilbang hot saunas (찜질방).
The article recommended that travelers check out jimjilbang hot saunas, what it called "Korea's version of après-ski." "Nothing is more relaxing after a snowy day on the slopes than warming up and then stretching the muscles in a hot bath. Saunas like at the Dragon Valley Hotel, the Yongpyong Resort, and at the Holiday Inn, the Alpensia Resort, are like saunas on steroids, with swimming pools, towering waterslides, food courts and DVD rooms."
The article was sure to not miss one of the must-eat culinary surprises in Pyeongchang, too: Korean beef. "There are several 'Hanwoo' towns here with self-service grills next door. Buy your favorite cuts and you can grill it up right there, with all the kimchi and fixings your hungry heart desires." The article then kindly briefed readers on what's needed to enjoy juicy beef at one's leisure on the heated floor at their own lodging. "Convenience stores have everything you need for a Korean BBQ: disposable chopsticks, microwaveable rice and small containers of the spicy, earthy ssamjang sauce (쌈장) that gives barbecued beef the kick that makes it Korean. And of course, beer and soju."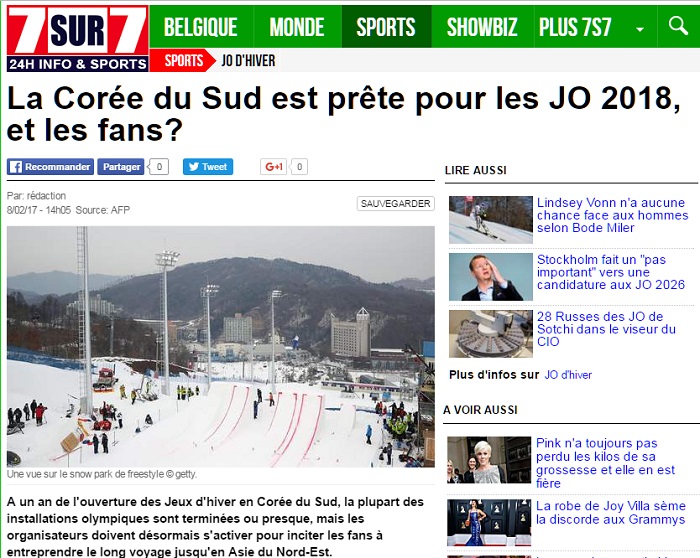 The Belgian 7SUR7 online newspaper displays its expectations for the upcoming PyeongChang 2018 Olympic and Paralympic Winter Games,
just under one year away, by focusing on preparations for the sporting festival going on in Pyeongchang, in its Feb. 8 article.
The host city has garnered media coverage from other news channels, too. Kyodo News published an article titled "PyeongChang Olympic Games heats up with its one-year countdown," which said, "Pyeongchang, northeast of Korea, has perfect temperatures that rarely ever get below minus 10 C in the winter. Its rich natural setting lures fishermen and skiers alike to the frozen ice."
A Belgian online news channel, 7SUR7, also showed great expectations for Korea's first-ever Winter Olympic Games on Feb. 8. Under the title "Prep for the 2018 PyeongChang Olympic Games is all complete," the article said, "The Winter Olympic Games will be an opportunity to introduce to the world Korea's technologies, culture and foods."
Other major media outlets from Russia, Spain, China and Hong Kong, too, reported on the one-year mark until the Pyeongchang sports festival, noting far preparations have gotten and commenting on the culinary pleasures that abound in Pyeongchang.
By Sohn JiAe
Korea.net Staff Writer
Photos: CNN, 7SUR7
jiae5853@korea.kr
RELATED TOUR 
Ski Tour