Don't miss next month's nation-wide sale!
The Korea Grand Sale will take place from Oct. 1 to 31 across the nation, where visitors can enjoy riding the Korean Wave and experience as much Korean pop culture, shopping and tourism as they like, all at the same time.
To begin, during the month-long sale non-Korean tourists will be eligible for a full range of discounts, benefits and gifts across various sectors of the economy, ranging from shopping malls, flights, bus or train tickets, hotels, cosmetics, healthcare, food and beverages, concerts, cultural events and tourist attractions. They will also be able to enjoy various festivals and other cultural events all across the country.
The upcoming nation-wide sale is part of the Korea Sale FESTA that combines the Korea Grand Sale, scheduled for Oct. 1 to 31, and the Hot Sale Week, slated for Sep. 29 to Oct. 9. It also includes the K Culture Fair, which will introduce Korean wave-themed festivals and concerts all across the nation.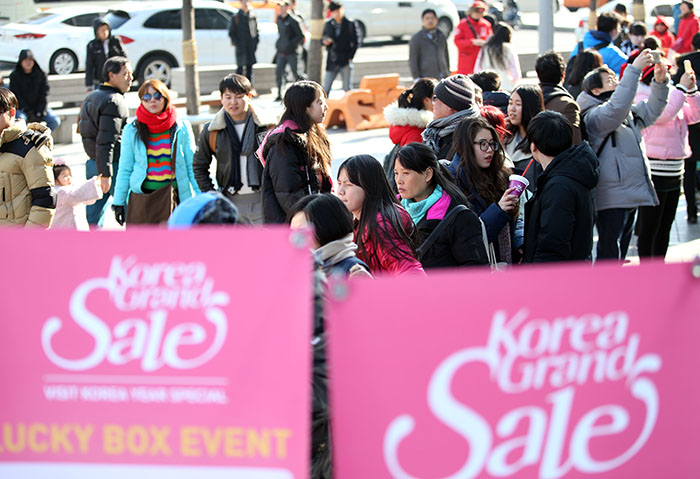 As two components of the Korea Sale FESTA, the Korea Grand Sale and the Hot Sale Week will take place in October.
Asiana Airlines will offer 1+1 tickets for people who buy more than two tickets on any of 24 routes from China and on 10 routes from Japan. It will also offer up to a 60 percent discount to people who buy tickets on certain routes from Southeast Asia or Europe.
The Hyundai I'Park Mall will offer up to a 50 percent discount on certain items, and the Shinsegae Department Store will have 30 percent discounts on certain items.
The Lotte Duty Free Shop will provide discount vouchers depending on the purchase price. The cosmetics brand Innisfree will offer a 20 percent discount if customers make their purchase using a credit card issued overseas. The Grand Hilton Seoul will offer a 50 percent discount to guests who pay for more than two nights in a deluxe room.
The K-Live hologram performance hall will offer half-price tickets. Non-Korean tourists can also get half-priced tickets on the K-Travel Bus. This is a two-day bus tour that brings travelers to tourism spots nationwide, part of the "2016-2018 Visit Korea Years" program.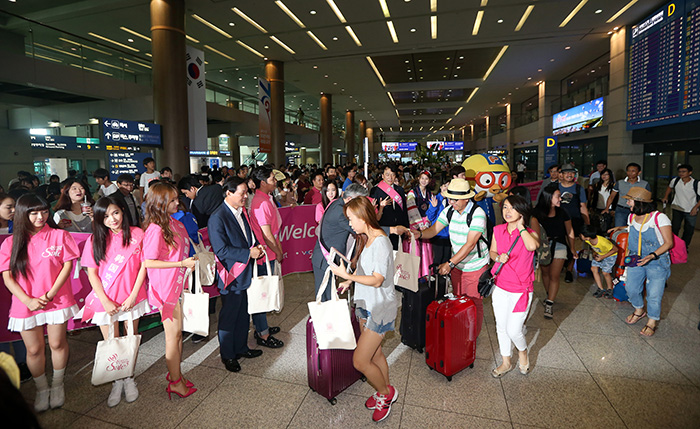 During the month-long Korea Grand Sale in October, non-Korean sightseers in Korea can enjoy various events and experiences. In the photo, tourists arriving at Incheon International Airport are welcomed with gifts as part of the opening ceremony for last year's Korea Grand Sale in August last year.
Second, the Korea Grand Sale will offer opportunities for non-Korean visitors to enjoy a lot of unique experiences. It will begin with a concert featuring popular K-pop celebrities scheduled for Sept. 30 along Yeongdong-daero in Gangnam-gu District to mark the launch of the sale. This will be followed by K-pop concerts on Oct. 14 and 15 at Yongsan Station and at COEX.
On Oct. 1, the first day of the sale, there will be welcoming events for non-Korean visitors arriving at Incheon and Gimpo international airports.
Throughout the month-long sale, a series of sideline events, dubbed Special Theme Weeks, will also be held. These include the "Must-Buy Week" scheduled for Oct. 1 to 9, the "Must-See Week" from Oct. 10 to 16, the "Must-Do Week" from Oct. 17 to 23 and the "Must-Eat Week" from Oct. 24 to 31.
Third, the Korea Grand Sale will promote cultural events and tourism sites so that non-Korean sightseers can forge their own memories. Various Korean Wave-themed events will be held across the country. Some of them are the Busan One Asia Festival scheduled for Oct. 1 to 23, the Gwangju Biennale from Sept. 2 to Nov. 6 and the Jarasum International Jazz Festival slated for Oct. 1 to 3, and the Korea Drama Festival slated from Oct. 1 to 6. Targeting individual non-Korean tourists, the Korea Grand Sale will propose many itineraries related to these festivals. Related information is available at the Korea Grand Sale website with services in a range of languages.
Fourth, the Korea Grand Sale will support a variety of services to make travel in Korea more convenient for non-Korean travelers. It will provide interpretation services for Mandarin, English and Japanese, to provide related information, offer free internet and WiFi services, and run a kiosk in front of the Doota shopping tower in Dongdaemun that will provide various services and offer gifts for shoppers.
A 3.5-ton truck will be transformed into a moving Tourist Service Center to drive between Myeong-dong, Hongdae, Yongsan and Gangnam districts, to offer interpretation services and to provide tourist information for non-Korean sightseers.
In order to minimize inconveniences, a "Hands Free Service" will be offered at half price to those who have heavy luggage with them when shopping. People who use the delivery-and-storage service will be able to store their luggage or have it delivered within Seoul to major department stores, hotels and airports.
Finally, K-Tour Cards will be issued starting in late September. These discount cards provide convenient benefits for independent travelers, such as transport discounts and various tourism vouchers. They will be available at overseas branches of the Korea Tourism Organization, and at overseas Korean airline offices, as well as at Incheon International Airport. Related promotional events will follow, too.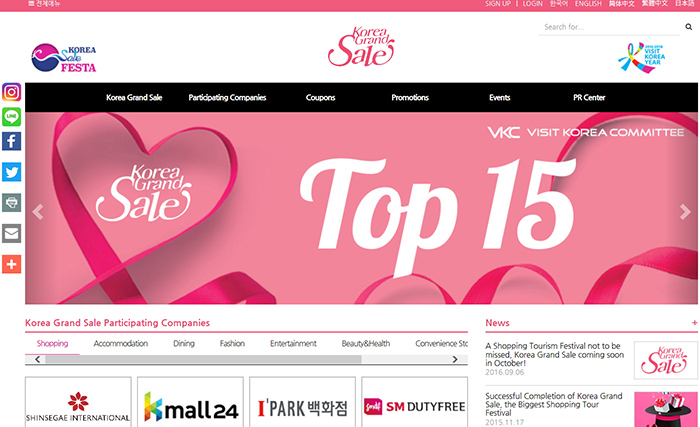 The Korea Grand Sale will run throughout October this year.
By Wi Tack-whan, Yoon Sojung
Korea.net Staff Writers
Photos: Yonhap News
whan23@korea.kr
Please visit the websites below for more information about the Korea Grand Sale.