Enjoy Chuseok holidays at national museums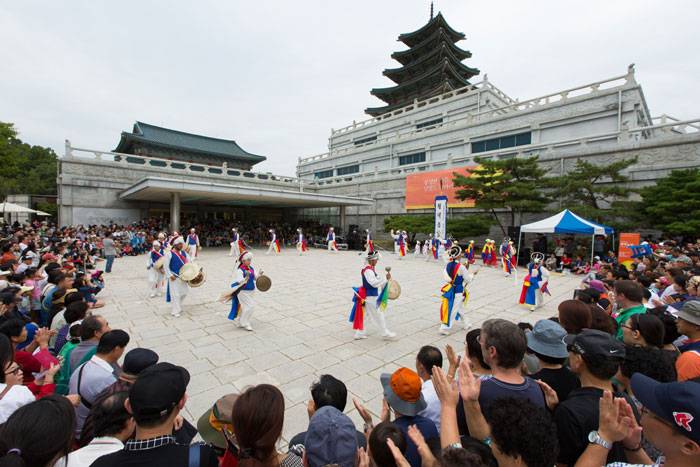 Ahead of the Chuseok holidays, people head to the National Folk Museum of Korea to enjoy a nongak performance of traditional farmers' music. National museums across Korea, including the National Folk Museum, will host a variety of events to mark the upcoming Chuseok holidays.
The Chuseok mid-autumn harvest festival is one of the two most important holidays in Korea, along with Seollal Lunar New Year's Day, and it falls on Wednesday, Sept. 15, this year.
During the Chuseok holidays, which stretch from Sept. 14 to 18, national museums across the country will host various programs to mark the day.
The National Folk Museum of Korea will host various folk performances and plays from Sept. 14 to 18. These programs include the turtle play (거북놀이) that people used to perform in a wish for peace and good harvest, and a performance of kkokdu wooden puppets.

Visitors to the National Folk Museum of Korea enjoy a rendition of the turtle play taking place in the museum's front plaza. The turtle play is a folk dance that was performed by young people who visit every house in a village in a wish for peace and good harvest across the village.
On the morning of Chuseok itself, be sure to visit the museum's own Hanok traditional home to experience the setting up of a table for the charye ancestral rites. This will be held at one of the Hanok houses at the museum.
The museum will welcome children with five activity programs, including their own daenggi traditional ribbons andmaedeup (매듭) traditional knot making programs.
Those who visit the museum with family members can also learn more about painting and even create their own artwork thanks to the museum's folk painting program. The museum will host a craft program with Hanji traditional mulberry paper so that people can make trays or other small handicrafts.
The museum will amuse food lovers as they will be able to make their own songpyeon or half-moon-shaped rice cake, and sample festive food from other countries to celebrate traditional holidays equivalent to Chuseok overseas.
The folk museum will feature various performances, such as a ganggangsullae (강강술래) circle dance combined with singing and folk games, a samulnori percussion, some B-boy break dancing along to gugak traditional music. Other interesting performances to be held include a folk music performance by a Peruvian band where visitors can try playing the traditional Peruvian musical instruments antara and the danso, Korea's own short bamboo flute.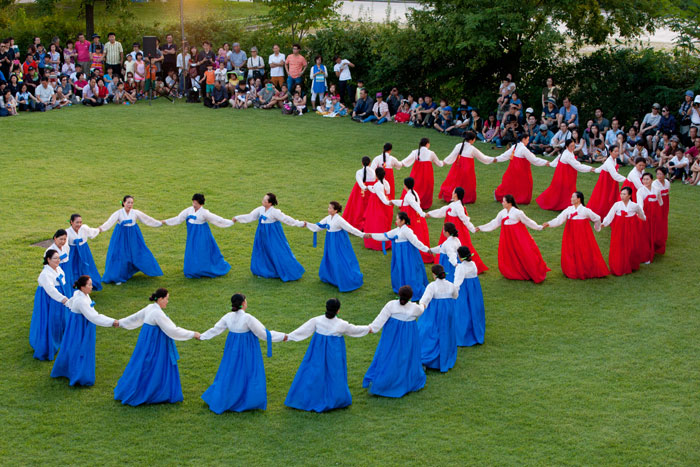 Visitors to the National Folk Museum of Korea enjoy a ganggangsullae performance. Ganggangsullae is a circle dance involving singing and folk games. It used to be performed by women at night under the full moon on the day of Chuseok.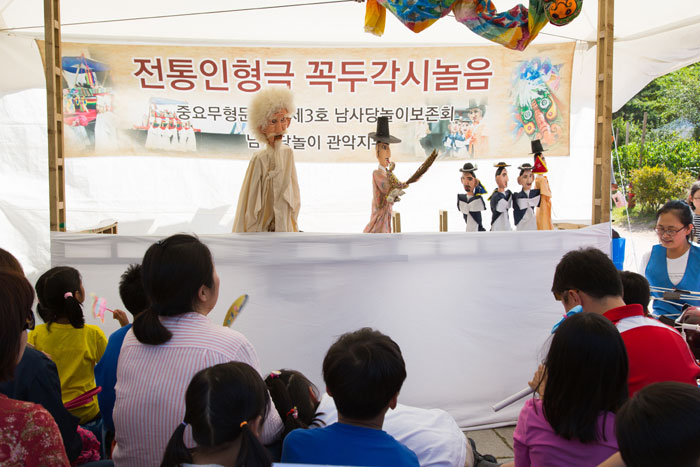 Children enjoy a kkokdu wooden puppet performance about the importance of having a good harvest, at the National Folk Museum of Korea.
The National Museum of Korea will host a Namsadang vagabond clowns' play, or Namsadang nori, on the day of Chuseok itself, Sept. 15, in its front plaza. The Namsadang nori is a traditional folk performance by male vagabond clowns. With a long history and traditional roots going back to even before the Three Kingdoms' Period (57 B.C.-A.D. 668), it is included on UNESCO's list of intangible cultural heritage items.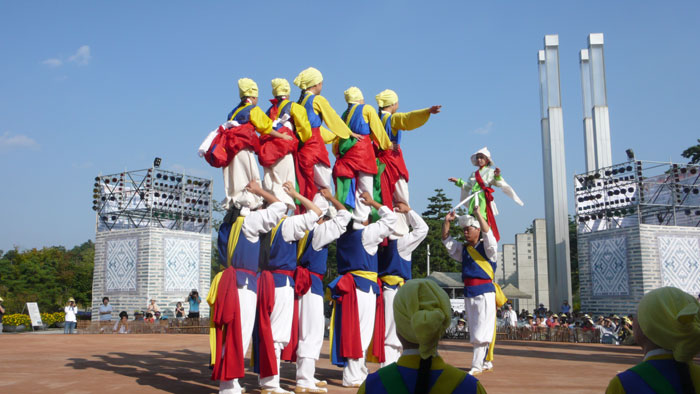 A Namsadang nori is performed by the Namsadang Nori preservation organization. A Namsadang nori performance will welcome visitors to the National Museum of Korea on Sept. 15.
Next to the National Museum of Korea, the National Hangeul Museum will host a two-day Chuseok festival starting Sept. 16. On Sept. 16, the museum will hold a Hangeul-themed treasure hunt. Participants need to find Hangeul consonants hidden around the museum and they get the chance to win gifts. On the next day, the gugak musical troupe Donghwa and the band Affogato will perform both traditional and creative music including popular Korean poems and folk songs, and invite visitors to learn more about Korea's traditional varieties of the folk song "Arirang."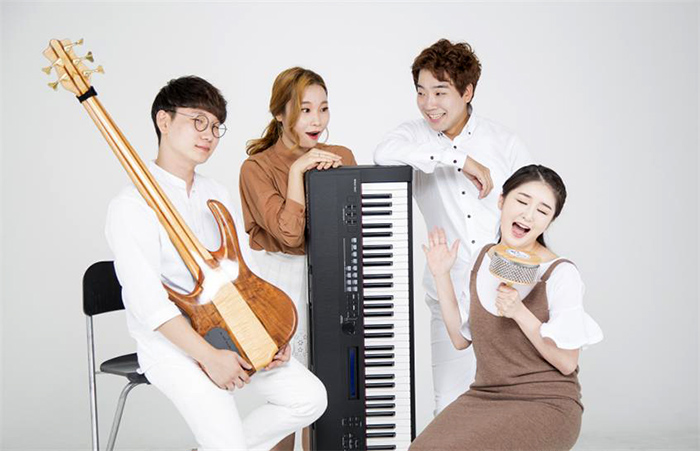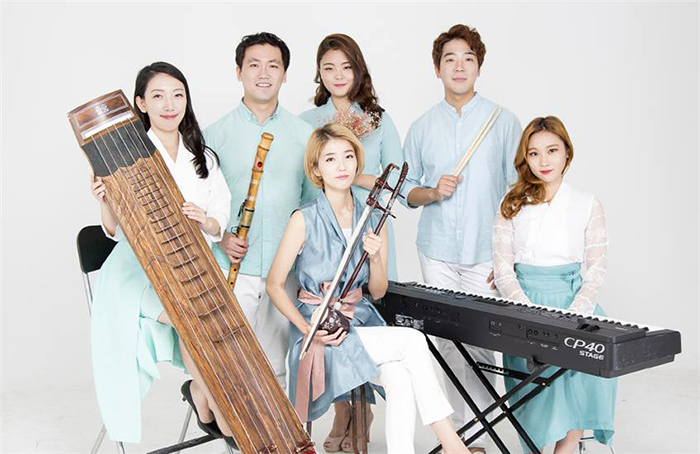 The National Hangeul Museum hosts a two-day Chuseok festival featuring the band Affogato and gugak musical troupe Donghwa on Sept. 16 and 17.
From Sept. 14 to 18, the Gyeongju National Museum will delight visitors with folk games that will feature the tuhoarrow-throwing game, neolttwigi, teeter-totter jumping, yunnori or Korea's traditional four-stick board game, and jegi chagi, or shuttlecock kicking.
Another interesting activity at the museum is the long jump rope that involves many people jumping together and offers gifts to the winners.
The museum will feature traditional food on Sept. 16 where people can make their own songpyeon rice cake,dasik or traditional pressed sweets with their friends and family members. It will also host other interesting programs, such as mime performances, juggling, magic shows and a bubble show.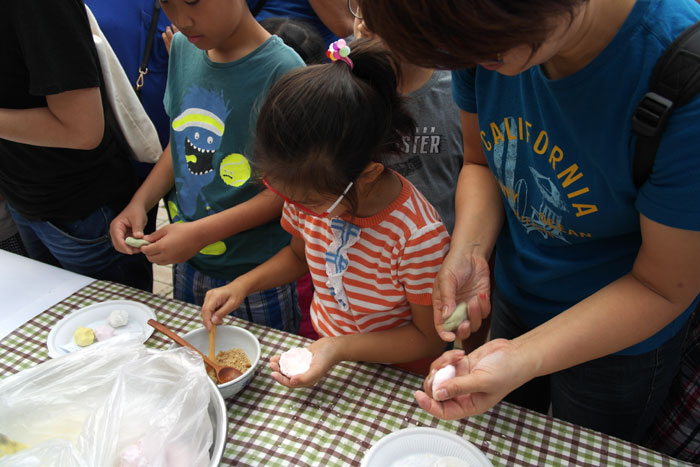 The Gyeongju National Museum is hosting folk games and traditional food programs this year. Visitors last year try their hand at making some delicious songpyeon rice cake.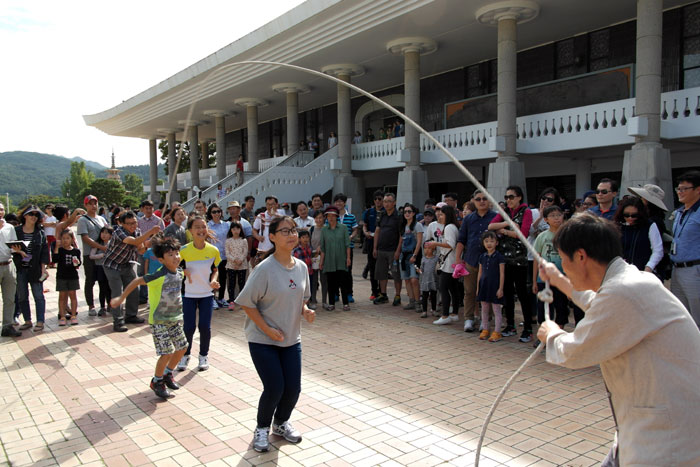 Visitors to the Gyeongju National Museum have fun playing folk games such as tuho, neolttwigi, jegi chagi and long jump roping.
Other national museums such as the ones in Chuncheon, Gimhae and Daegu will also welcome visitors with various programs like traditional food making and sampling, outdoor folk plays and traditional percussion performances. All the events are free.
By Yoon Sojung
Korea.net Staff Writer
Photos: National Folk Museum of Korea, National Museum of Korea, Natinoal Hangeul Museum, Gyeongju National Museum
arete@korea.kr
RELATED TOUR 
Top Attractions of Seoul Tour
Palace Morning Tour
Full Day Palace Tour
Morning Seoul Tower Tour