Royal palace graced by Hanbok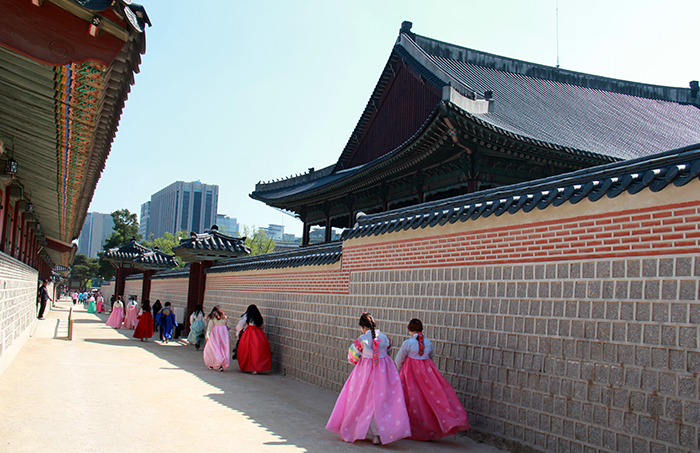 People walk around Gyeongbokgung Palace in traditional Hanbok attire, bringing color to all corners of the ancient royal residence.
The colors of Hanbok shine ever brighter when they're seen on the grounds of an ancient royal palace covered with summer greenery.
Groups and couples dressed in traditional Hanbok attire explore the palace grounds and even confuse some visitors who think they've now travelled back in time. Non-Korean tourists, as if they were seeing some scene from a period drama, were busy asking whether they could take photos of the people in Hanbok.
Gyeongbokgung Palace has exploded with summer greenery and Hanbok beauty this May.
Each visitor in Hanbok had their own reason to don the traditional clothes. However, there was one common reason among them: spending time at the ancient palace wearing traditional outfits is itself a great and wonderful experience.
Jeon Seung-wan teaches cinematography at Gyeonggi Media Broadcasting Science High School and he was visiting the palace with his pupils for the same reason. "It seemed that it would be fun and memorable for my students," the teacher said.
University student Kang Yeon-hee, dressed in white and pink with her friends, gave the same answer: "For the memories."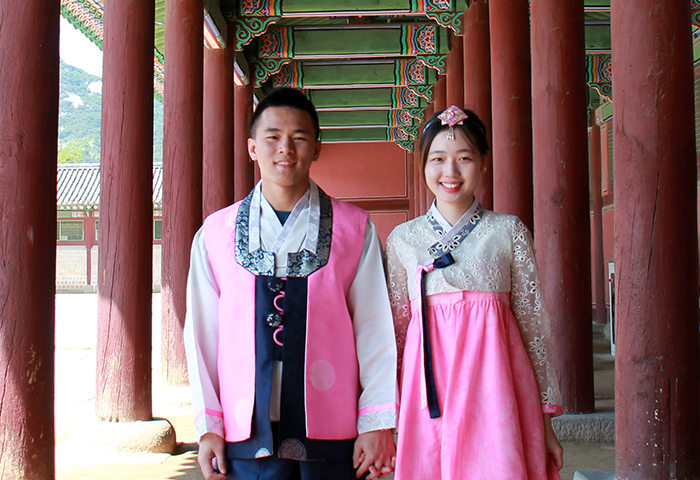 Tim and Cynthia from Hong Kong say the Hanbok they see all over Instragram is quite beautiful, and they planned to rent some Hanbok during their holiday in Seoul.
Non-Korean tourists joined in the Hanbok joy, having a memorable time at the palace walking around in rented ancient costumes.
Ragam Biriri, dressed as a Joseon queen, was satisfied with her choice of Hanbok. "I often watch Korean period dramas, such as 'Moon Embracing the Sun' and 'Jewel in the Palace'," she said.
Similarly, Cynthia and Tim from Hong Kong said they were inspired by all the photos they saw on Instagram. They saw people wearing Hanbok on the photo-sharing app and decided to try some Hanbok themselves during their trip to Seoul.
"Because entrance to Gyeongbokgung Palace was free!" joked Law Yee Chien from Malaysia when asked why she and her friends were wearing Hanbok at the palace.
Carolyn Ann Oberle from the U.S. — who, indeed, thought Hanbok was quite attractive — said that she bought three sets of Hanbok at Namdaemun Market the day before, one for her and two for her grandchildren.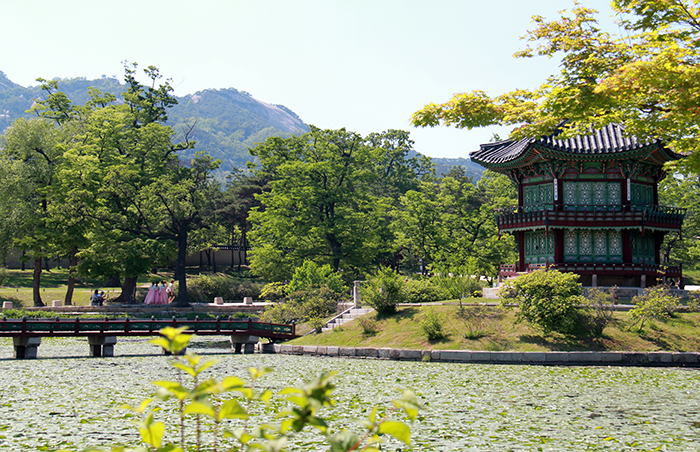 Entrance to Gyeongbokgung Palace is free for visitors wearing Hanbok.
Anyone can rent some Hanbok in the neighborhoods near the royal palaces, like in Hyoja-dong, Anguk-dong and Insa-dong. There's even a wide variety of Hanbok available for rent and sale at the Gwangjang Market. Rental rates average between KRW 15,000 and 20,000 per four hours.
The next time you visit one of Seoul's royal palaces, try to put on some Hanbok. Walking around the palace in Hanbok is not difficult, and it gives you a true experience of ancient Seoul.
Articles and photos by Chang Iou-chung
Korea.net Staff Writer
icchang@korea.kr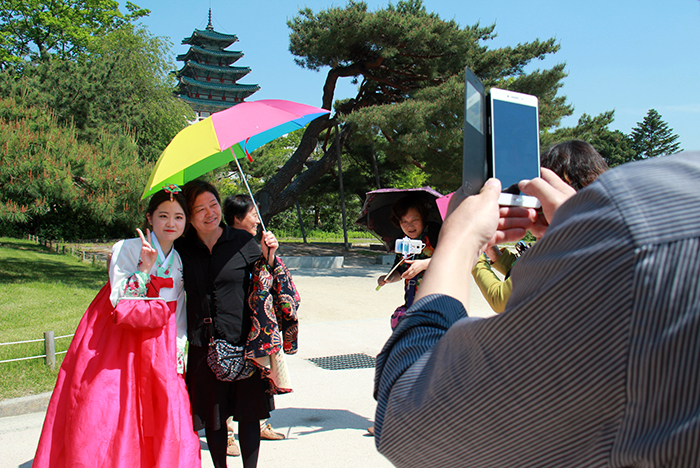 Tourists in Hanbok willingly pose for a picture. It's quite common to see many of the non-Korean tourists ask the people in Hanbok whether or not they could take their picture. The answers were almost indubitably, "Yes."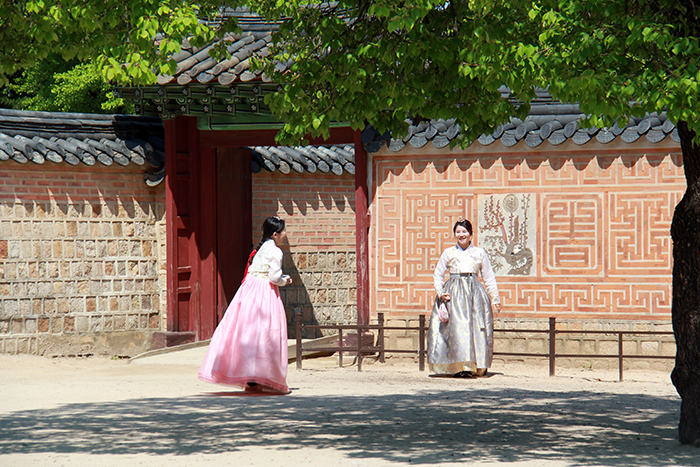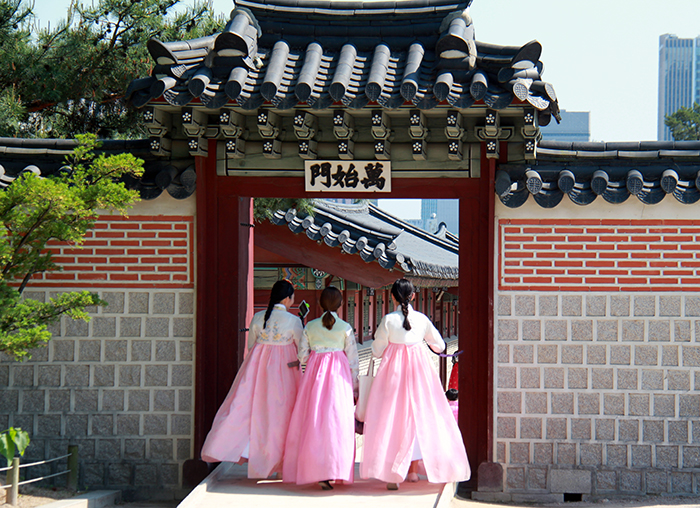 Palace visitors in pink-and-white Hanbok enjoy an afternoon walking around the royal grounds. They can be seen in every corner of the palace.
RELATED TOUR 
Palace Morning Tour
Full Day Palace Tour
Top Attractions of Seoul Tour