Cooking Korean food at home
When it comes to food, I always choose what's good, enticing and delightful. With the introduction of Korean cuisine, which is constantly attracting global interest, I started to learn to love the wonderful dishes that are served in a unique table setup.
Colorful, delicious and healthy: it's for that that Korean cuisine is widely known. Generally called Hansik, it's mainly composed of grains, meat and lots of brightly-colored vegetables. Usually, a Korean meal is prepared with steam-cooked rice and savory meat dishes often paired with an array of great side dishes.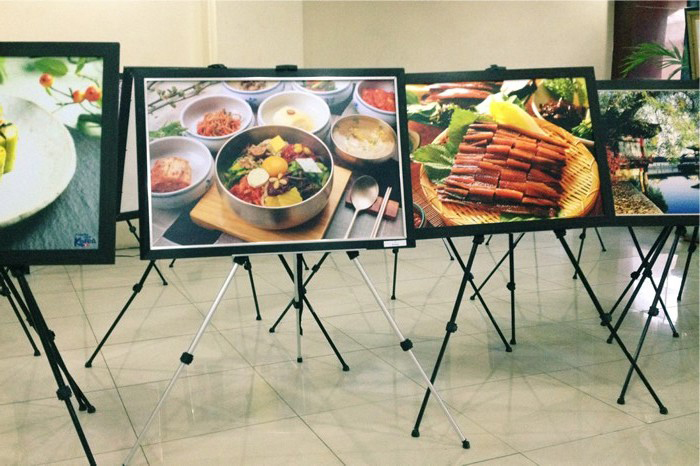 A photo exhibition showcases the flavors of Korea as part of a 'culture caravan' organized by the Korean Cultural Center in the Philippines. The exhibition visited various schools and universities.
In the Philippines, with the rise of the globally renowned "Korean Wave" or Hallyu, healthy cuisine continues to share part of the Philippine kitchen. That's why Korean restaurants and stores are flourishing not only in the metropolitan cities but also in various parts of the country.
I became interested in cooking Korean food because of my fondness for watching sageuk dramas, particularly the historical period drama, "Dae Jang Geum", also known as "Jewel in the Palace."
The famous Korean soap opera showed the rich culture of Korea and in detail showed the different traditional Korean dishes that are not just simply prepared for the royal Joseon court but are considered to have great health benefits. Since then, whenever possible, I grab every opportunity to understand and learn more about the cuisine, traditions and food of Korea.
Korean cuisine is an art itself. From the selection of colorful ingredients through to the preparation and cooking, besides the arrangements and actual presentation, it's for sure you will delight in what's visually appealing, deliciously good and healthy.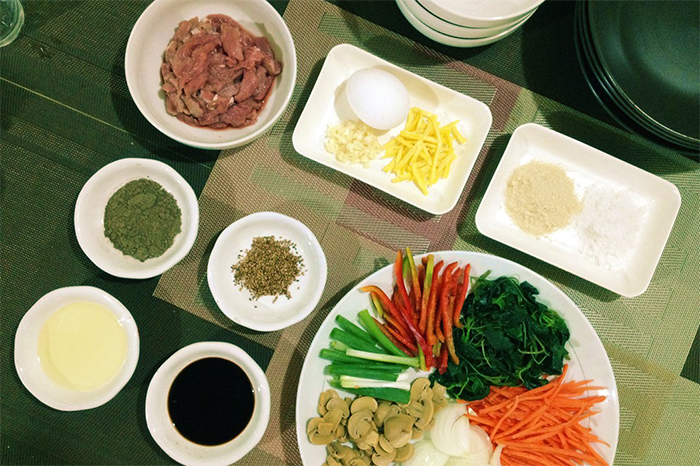 Korean cuisine is well-known for its vibrant colors, abundance of taste and appealing presentation.
With the continual progress of Korean brands and produce globally, it's now easy to cook your favorite Korean food in the comfort of your own home. When I cook for my family, I see to it that I serve a good, healthy and balanced meal, the best that I can, just like the core principles of the Korean diet.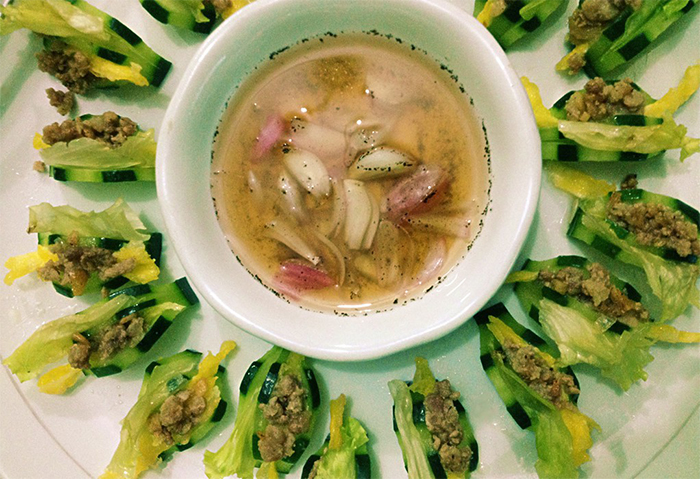 My version of oiseon, a Korean royal palace dish made of cucumbers stuffed with meat, some vegetables, garnished with egg strips and a sweet vinegar dressing.
If we say the words "Korean cuisine," the first thing that comes to mind is the famous vegetable dish kimchi. Served as a common side dish and particularly added to some savory Korean dishes, kimchi is typically made with napa cabbage fermented with scallions, Asian radishes, garlic, a lot of chili pepper and other spices.
In Korea, kimchi is traditionally made to last for the entire winter or is kept for several more years. For the most part, you can now make freshly seasoned kimchi and consume it right away, even if it's not fermented for days. Kimchi has been proven to be one of the healthiest foods in the world, as it's packed with vitamins, calcium, iron and good bacteria that are beneficial for the body.

Delicious bowls of kimchi fried rice can be paired with Korea-style barbeque.
My first attempt at making my own version of the fermented dish ended as an amazing cooking experience. Even though it came out not as good as commercially produced kimchi, my family savored some of it as a side dish for some of our Philippine food favorites. It's quite a simple dish, but making it the first time is a lot of work.
With a wide selection of great foods and side dishes to balance the diet, it's no wonder that, while Koreans keep on eating bowls of savory food, they are generally thin, tall and have a nice complexion and smooth skin.
Other than kimchi, short grains such as rice and barley are also important staples in the Korean diet. Asians do really love white rice, just like Filipinos: a daily meal would not be complete without a bowl of rice.
In Korea and the Philippines, rice is commonly consumed to make other items, such as rice flour turned into rice cakes and other delicious delicacies, as well as great wines, like the most popular Korean liquors soju and yakju.
In regard to Korean rice dishes, in addition to kimchi fried rice, a much-loved breakfast treat, bibimbap is also a favorite. One of the most recognizable signature dishes of Korea, bibimbap is an abundance of colors and flavors. It's served as a bowl of white rice topped with sautéed and seasoned vegetables, or namul, sliced beef, a fried egg and some chili pepper paste.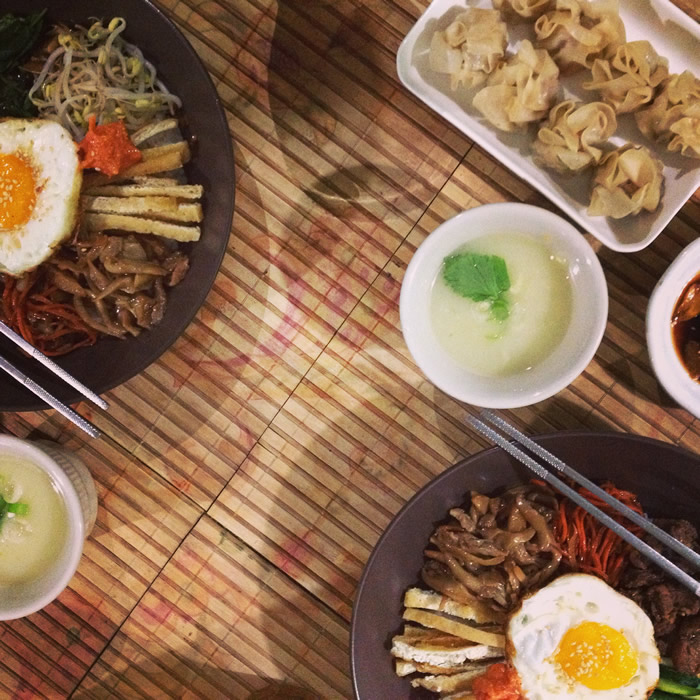 Bibimbap can be paired with creamy mushroom soup and some steam-cooked pork Asian dumplings.
I consider rice dishes to be complete meals, so I often serve it during lunch. While making bibimbap requires a bunch of ingredients and, not to mention, a long preparation time, cooking some other great bowl of rice is a kitchen privilege. It allows me to share a little more of the flavors of Korea.
Bibimbap is best served when it's still warm and paired with any of your favorite Korean drinks. While the food literally means "mixed rice," when I eat my bowl of bibimbap, instead of mixing it altogether I eat the sunny side up egg first, before the rest of the toppings, to savor all of its bursting flavors.
Other popular Korean dishes that I am good at cooking are kimchi stew or kimchi jjigae, ramyeon instant noodles with mandu, or Asian dumplings, pan-grilled beef, or bulgogi, samgyeopsal, sweet and crispy fried chicken, ordakgangjeong, as well as some side dishes, or banchan, such as pancakes (jeon), stir-fried mushrooms (buseot bokkeum) and blanched spinach dressed with sesame oil, garlic and soy sauce (sigeumchi namul).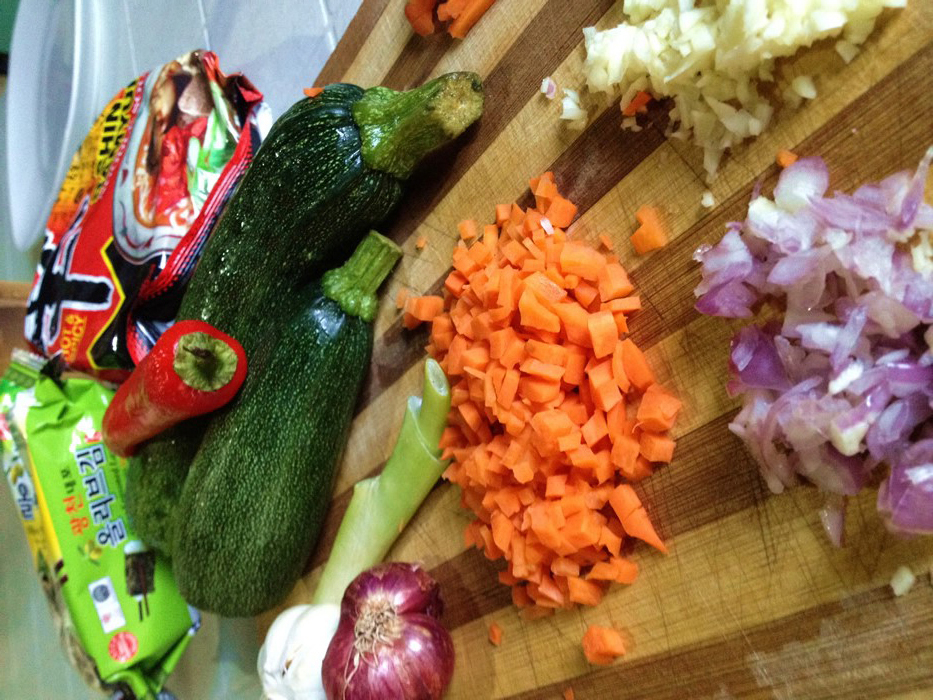 Many delicious ingredients can be added to your special, hot and spicy ramyeon instant noodle dish.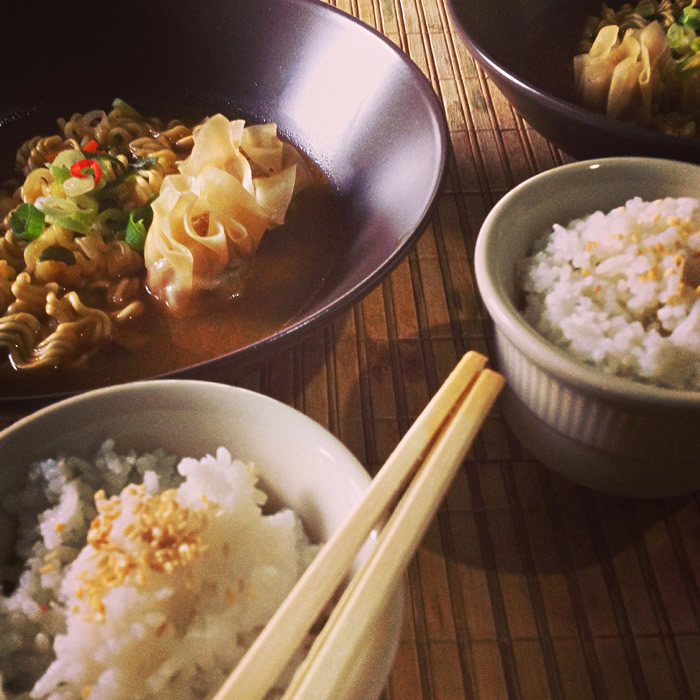 Ramyeon instant noodles are delicious with some pork Asian dumplings.
In Korean cuisine, every food is in balance, is visually pleasing and the colors complement each of the ingredients. I cook my versions of Korean food from scratch and with great recipes and video tutorials published on the web it has truly helped me to continue to improve.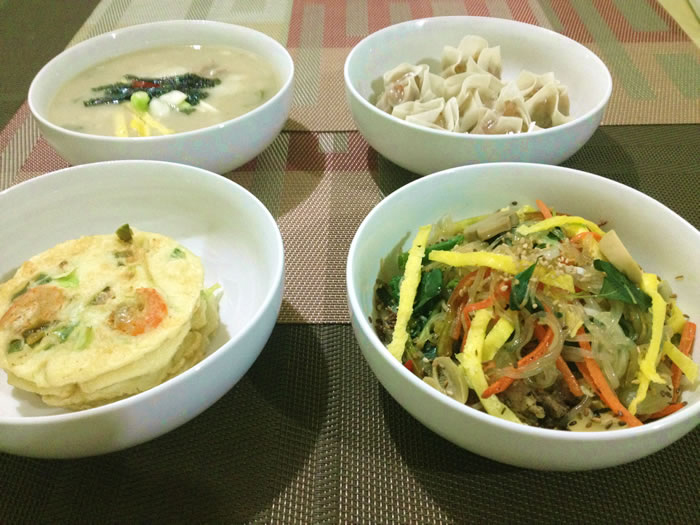 In Korean cuisine, the vibrant colors and elements of every dish are in balance and complement each other harmoniously.
During the recent celebration of Lunar New Year's, my family decided to feast on some Korean food traditionally prepared during the holidays. It was our first time to celebrate a Korea-style Lunar New Year's, as we usually welcome and take part in the special holiday every January.
As part of our new beginnings and to have some fun celebrating Lunar New Year's in our newly occupied apartment, with the help of my mother we came up with eight special Korean dishes that by tradition were best served during the holidays.
A symbolic bowl of rice cake soup, or tteokguk, was first on our list, as it's the most important food served on the Lunar New Year's Day. It represents good fortune for the family in the coming year.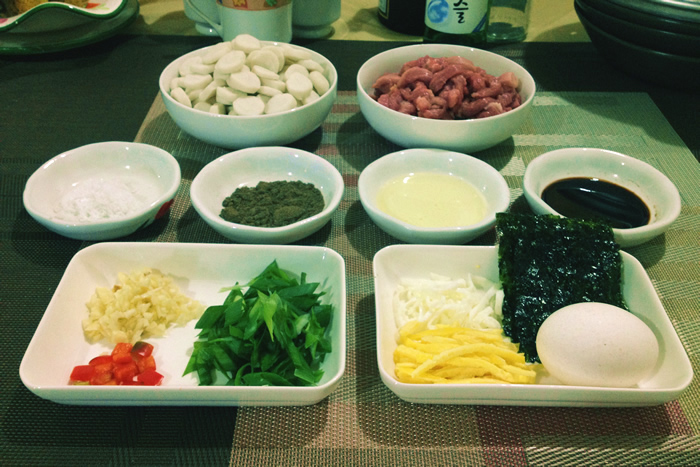 Fresh, colorful ingredients are prepared for a savory rice cake soup, or tteokguk.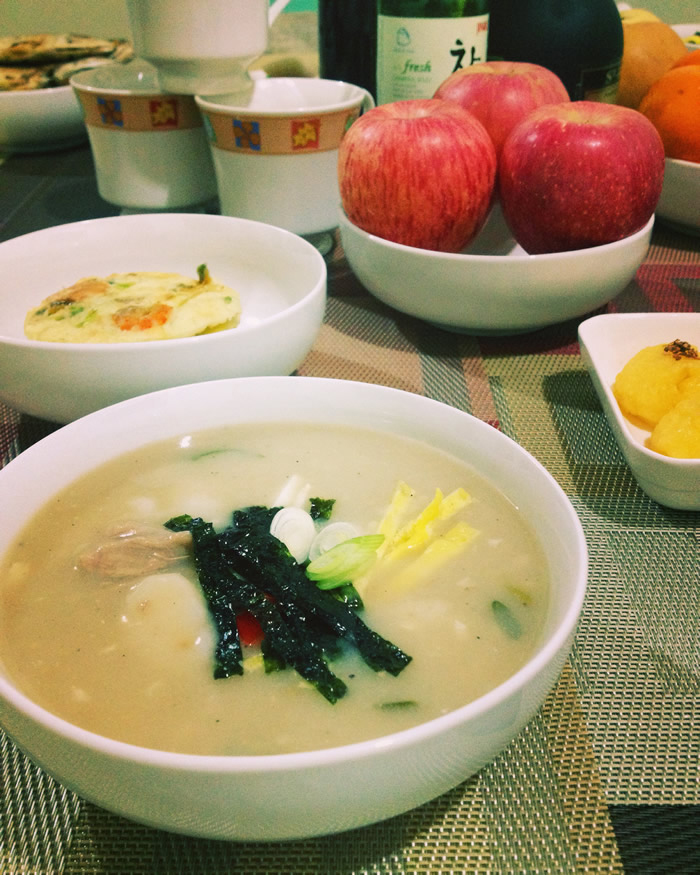 Tteokguk is one of the most symbolic Korean dishes traditionally prepared during the Lunar New Year's celebrations.
Tteokguk is quite an easy dish to make. Though getting some long, cylindrical rice cake in our local market was a hard task and used up heaps of my preparation time, making my own rice dough was something essential for my skills in cooking Korean food. No wonder that because of our love for cooking, our Korean rice cake soup turned out to be an amazing dish enjoyed by everyone at the table.
Cooking some pretty songpyeon isn't new for me. With some pure ground sesame seeds, some brown sugar and a pinch of salt for the sweet filling, and freshly-kneaded, tinted rice dough, you're all set for a bunch of leaf-shaped rice cakes. Songpyeon, which is by custom cooked during the Chuseok mid-autumn harvest festival, also adds some color to the occasion.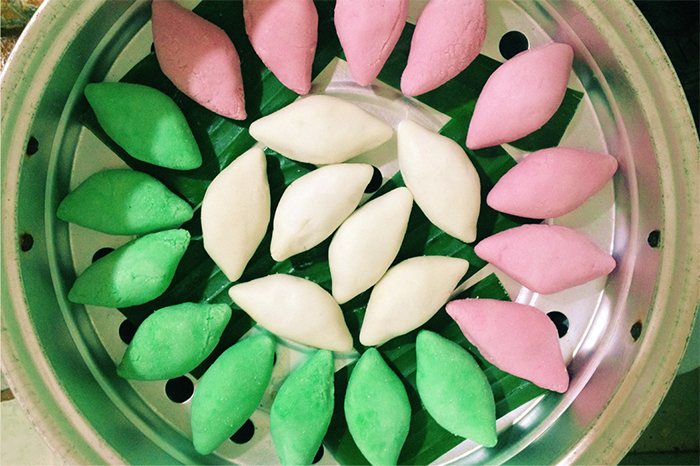 Songpyeon rice cakes can be steamed with banana leaves instead of the usual pine needles.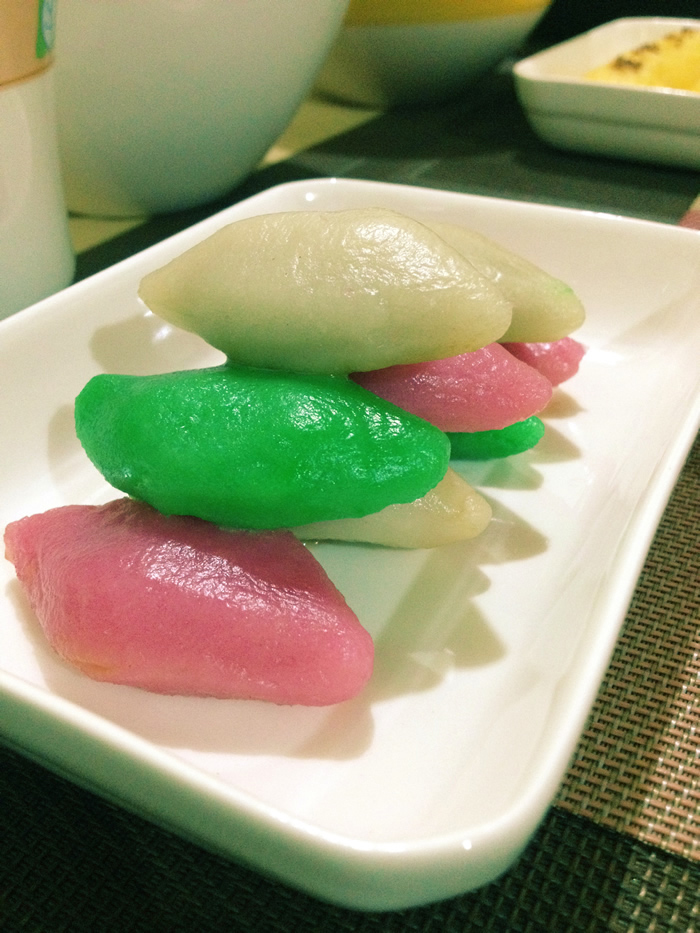 Beautifully cooked songpyeon come out in white, green and pink.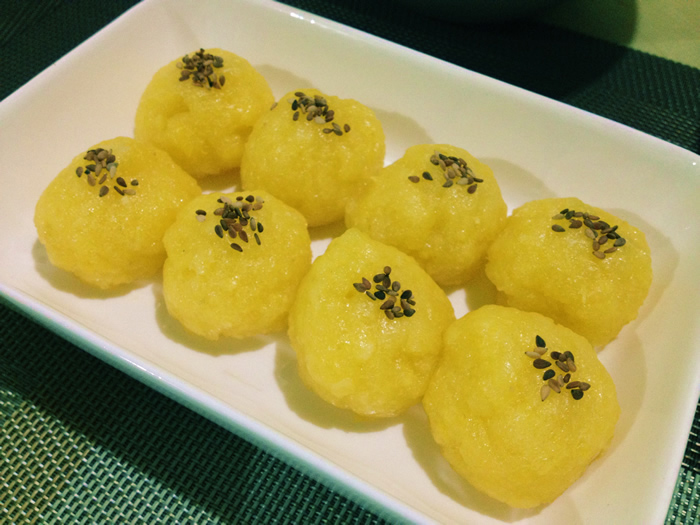 Enticingly sweet rice cakes are garnished with some toasted sesame seeds.
Steam-cooked Korean pork dumplings, some seasoned fish and spring onion pancakes, as well as the sweetyaksik, which is made from glutinous rice garnished with nuts and dried fruits, are also Korean choices that only need a few ingredients and are easy to cook.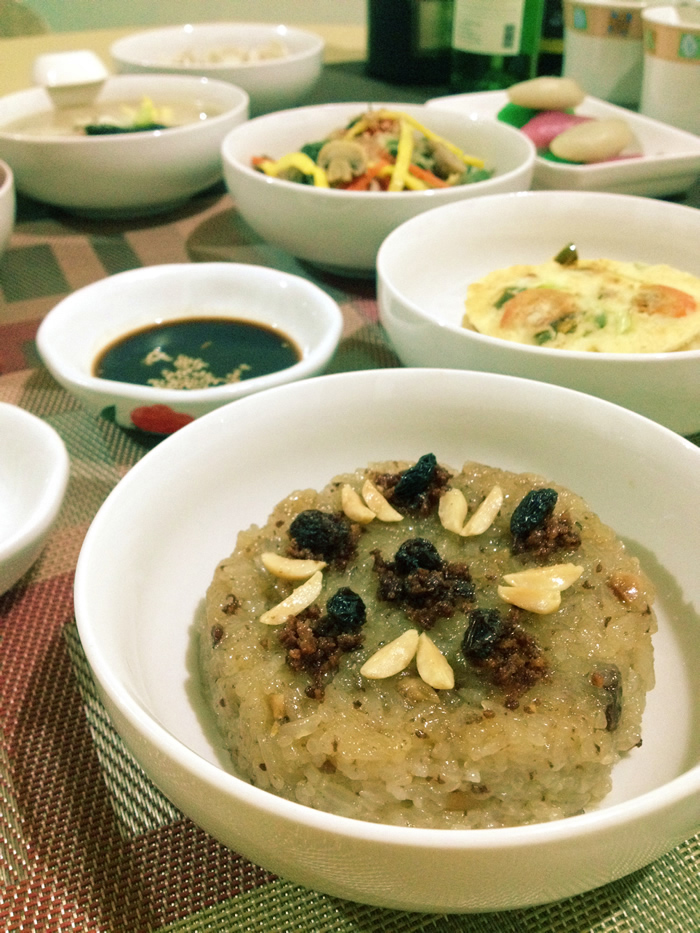 Yaksik is a traditional dessert made with sweet sticky rice, nuts and dried fruits.
Another Korean food worth cooking at home is the glass noodle dish japchae. Considered by many people to be good potluck food, japchae is a very flavorful and nutritious dish, quite similar in preparation to bibimbap. Just boil the clear noodles made from sweet potatoes, cook the marinated beef and mushrooms, stir-fry a handful of vibrant vegetables and toss it all together with some strips of eggs and sesame seeds. As a meal, snack or appetizer,japchae will satisfy your Korean food cravings and palette.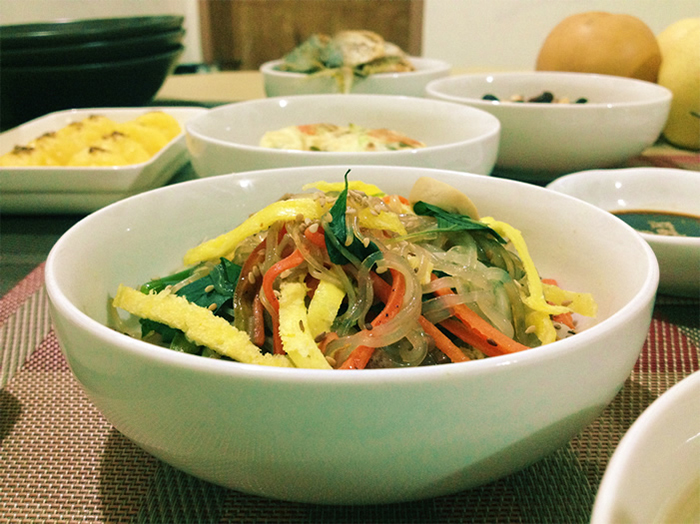 One of the most loved Korean dishes is japchae. It's made with clear, sweet potato starch noodles stir-fried with meat and vegetables.
Korean cuisine is not as complex as you think. It's about doing the best that you can and making every food just right and to create something appetizingly healthy. You just need a lot of patience to do every dish as it should be and to give it a stunning presentation. If you don't have the proper ingredients, don't be afraid to experiment and substitute. It's about trying something out of ordinary.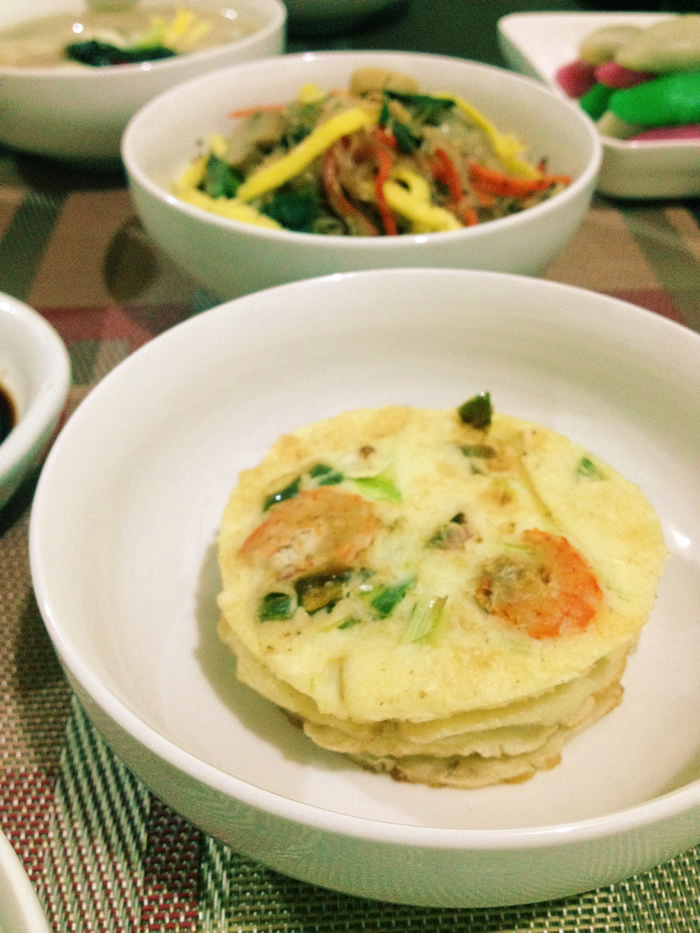 Korean green onion pancakes are made with shrimp.
Cooking any food at home is not just cooking well but eating healthy. With a set of Korean food prepared with the heart, it'll surely make any feast an invitingly scrumptious celebration. On your next Korean food feature, be sure to cook and eat well.
By John Paul Vergonia
Korea.net Honorary Reporter
Photos by John Paul Vergonia