Enjoy the royal palaces at night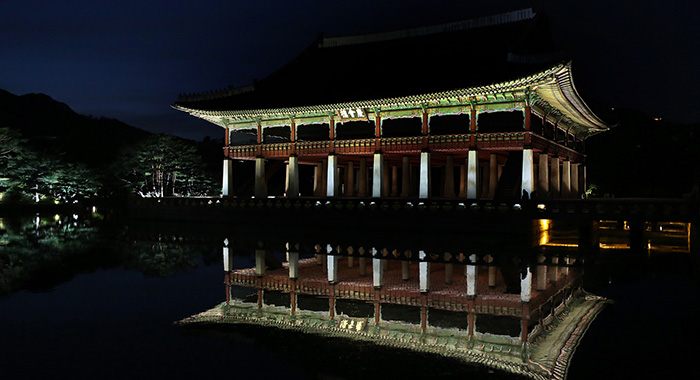 An evening journey around the Gyeonghoeru Pavilion at Gyeongbokgung Palace allows you to appreciate it from all angles,
as it's reflected in the pond under the moonlight.
Evenings at Seoul's royal palaces are soon to grow longer.
Gyeongbokgung and Changgyeonggung palaces, two of the must-see tourist spots in the capital, will reopen from 7 p.m. to 10 p.m., allowing visitors to appreciate the nocturnal charms of these two Joseon royal jewels.
Night openings at Gyeongbokgung Palace will kick off on March 2 and run until April 4, while those at Changgyeonggung Palace will run from March 1 to April 3.
As part of the highlights at the nighttime openings at Gyeongbokgung Palace, visitors will be allowed to stroll around the Sajeongjeon, the hall where the king managed affairs of state, the Gangnyeongjeon and the Gyotaejeon, the living quarters for the king and queen, respectively. They will also be able to visit the Geunjeongjeon, the main throne hall, the Gyeonghoeru, the primary venue for holding court banquets and formal events, and the Sujeongjeon, a hall used as a sort of cabinet office.
Opening hours at the National Palace Museum of Korea, inside the grounds of Gyeongbokgung Palace, will also be open until 10 p.m.
During the night openings at both palaces, there will be a series of musical concerts and events that aim at reviving some court traditions, and at entertaining the eyes and ears of evening visitors.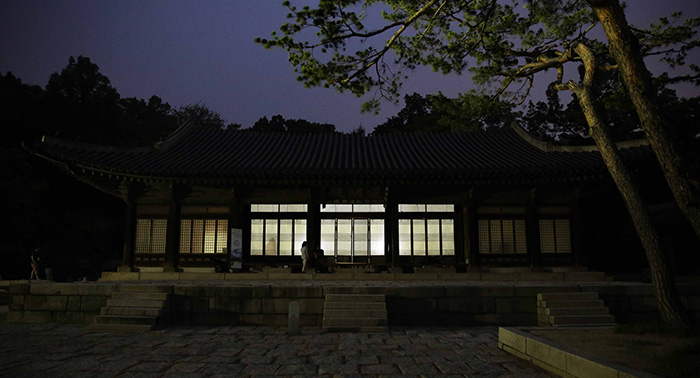 Changgyeonggung Palace is even more beautiful at night.
Entrance onto palace grounds will be allowed until 9 p.m. Please keep in mind that Gyeongbokgung is closed on Tuesdays and Changgyeonggung on Mondays. The entrance fee is KRW 3,000 and KRW 1,000 for Gyeongbokgung and Changgyeonggung, respectively.
If you miss them this time, the night-openings will continue in the summer. The second round is set to run from April 29 to June 1, the third from July 16 to Aug. 19 and the final late-opening of the year from Sep. 24 to Oct. 28.
More information can be found at the official websites for Gyeongbokgung (https://www.royalpalace.go.kr:8080/) and Changgyeonggung (https://cgg.cha.go.kr) palaces.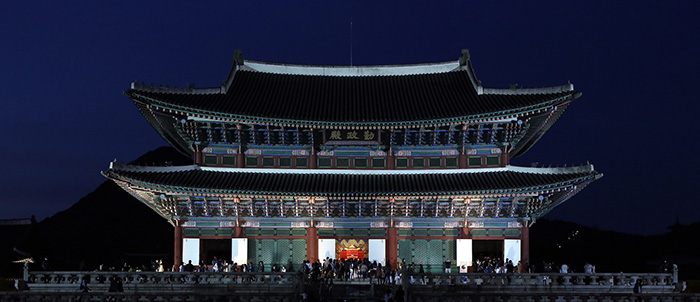 Visitors admire the Geunjeongjeon Pavilion at Gyeongbokgung Palace as it shines under the moonlight.
By Sohn JiAe
Korea.net Staff Writer
Photos: Jeon Han
jiae5853@korea.kr