Discounts abound for winter adventures
Winter leisure activities are now on discount across the country. The discounts vary from hot springs that can be enjoyed amid mountainous landscapes and ski resorts where skiers zip down the slopes, all the way to amusement parks adorned with Christmas lights, Santa Clauses and decorations.
Businesses across the country are offering a variety of discounts to those looking to take a winter getaway.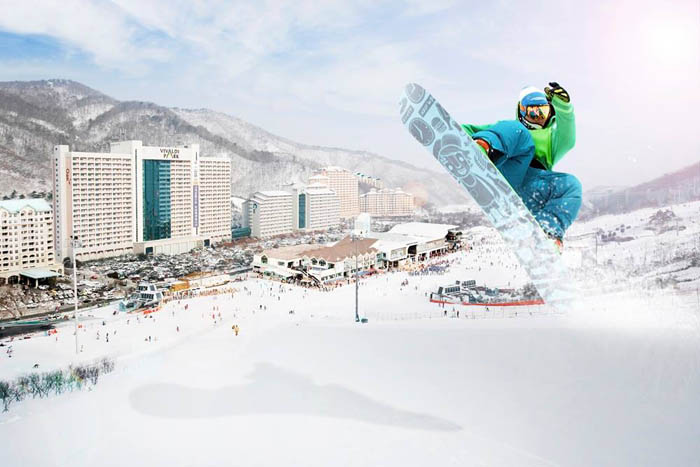 Skiers and snowboarders are flocking to Vivaldi Park and other resorts in Gangwon-do Province this year.
Vivaldi Park Ski World in Gangwon-do Province is now welcoming skiers and snowboarders, having lowered its admission fees by 30 up to 50 percent. Another well-known ski resort in the province, Alpensia, is offering packages at lower prices that combine bed & breakfast for a night and lift passes for two. Jisan Forest Resort in Icheon-si, Gyeonggi-do Province, too, is offering discounts on lift passes and equipment rentals of up to 50 percent.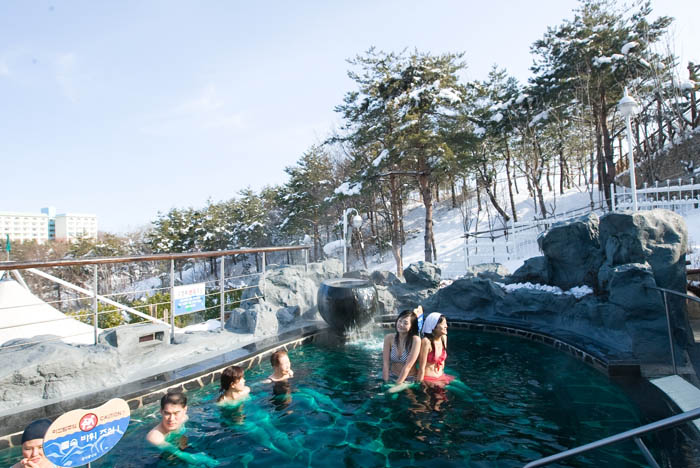 Tourists endure the winter cold as they soak in a hot spring at Seorak Waterpia in Gangwon-do Province.
Tourists can enjoy discounts at hot springs, too. Seorak Waterpia in Gangwon-do Province allows people to pay less than usual to soak themselves in hot water, all while enjoying the magnificent view of the adjacent Seoraksan Mountain. The spa has lowered its admission by 35 percent until March 1.
Caribbean Bay in Yongin, Gyeonggi-do Province, too, is greeting hot-spring goers with offers of up to 48 percent discount on their entrance fees.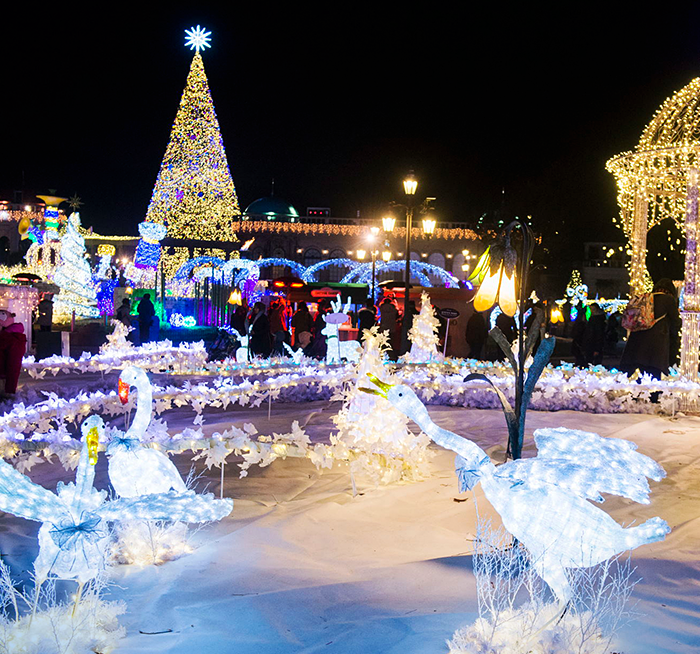 Everland Resort in Yongin-si, Gyeonggi-do, is offering up to 55 percent off on its admission fees for nighttime
visitors through the end of December as part of its Christmas celebrations.
Some amusement parks are preparing discount campaigns, too. Lotte World is offering a cut in admission by up to 50 percent for those who buy tickets online and for those whose birthday falls sometime in December. One companion will receive the same discount, too. Visitors to the Gyeongju World Resort, too, can get on the rides for about 30 percent off this month.
Everland Resort is throwing a "Christmas Fantasy Night Pass" event during which it is offering 55 percent off on tickets for those who arrive after 5 p.m. and for a single person accompanying them. The discount plan will run until Dec. 31.
More information about discounts at tourist spots across the nation can be found at the "Visit Korea" website, below.
https://bit.ly/1Ndi95K
By Sohn JiAe
Korea.net Staff Writer
Photos: Vivaldi Park, Yonhap News, Everland Resort
jiae5853@korea.kr