Bukchon Hanok Village
Bukchon Hanok Village is a Korean traditional village with a long history located between Gyeongbok Palace, Changdeok Palace and Jongmyo Royal Shrine. The traditional village is composed of lots of alleys, hanok(traditional house) and is preserved to show a 600-year-old urban environment. Now it is used as a traditional culture center and hanok restaurant, allowing visitors to experience the atmosphere of the Joseon Dynasty. An old residential district containing about 860 Korean traditional houses (hanok), Bukchon ("North Town") is thus named because it is located north of Cheonggyecheon, a stream cutting across downtown Seoul. Formed on a site flanked by two of the Joseon's royal palaces, Gyeongbokgung and Changdeokgung, the district had been a hub of Joseon's politics, administration and culture as it contained homes of royals, high-ranking officials and Confucian literati elites of the dynasty. It is widely regarded as a living museum preserving much of the Seoul's tradition and culture with, in addition to the age-old houses and alleys, historic sites, art galleries, museums, exhibition facilities, antique shops, craft workshops and restaurants.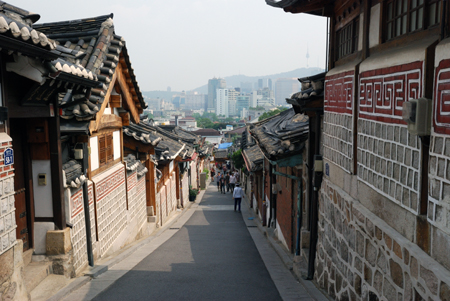 History
The area of Bukchon, which consists of neighborhoods: Wonseo-dong, Jae-dong, Gye-dong, Gahoe-dong and Insa-dong, was traditionally the residential quarter of high-ranking government officials and nobility during the Joseon Dynasty. It is located north of Cheonggye Stream and Jongno, hence named Bukchon, which means north village.
Tourism
A poll of nearly 2,000 foreign visitors, conducted by the Seoul Metropolitan Government in November 2011, stated that exploring the narrow streets of Bukchon was their fourth favorite activity in Seoul.
According to data by the Bukchon Traditional Culture Center 30,000 people visited the area in 2007. However, after the Village was featured in television programmes, such as 1 Night 2 Days and Personal Taste, the number rose to 318,000 in 2010. In 2012 the figure is expected to double to more than 600,000.
The Bukchon Hanok Village has grown into one of Seoul's major tourist attractions with the views of its 600-year history uniquely amalgamated with the urban scenes of the 21st century. The town now offers two exciting walking routes starting respectively at the street numbers 31 and 11 of Gahoe-dong linked to a unique network of alleys.