OK Hanwoobang beef restaurant in Myeongdong
The fresh meat reach the guests every day.
it's more popular to eat pork than beef so beef is more expensive in Korea.
But the restaurant attracts local citizens or office workers who want to eat special cuts of beef. OK hanwoobang is located in Chungmuro which is only 10-minute walk from Myeongdong. Around 7pm, the restaurant becomes full with the local citizens.Office workers gather here where they can eat fresh beef and special parts at a reasonable price, compared to other restaurants.
OK Hanwoobang always serve flesh meat that they bought on the day so that there is no freezer in the restaurant. That means they don't keep remaining meat in the freezer. The leftover flesh meat is vacuume-packed and serve next day. In Korea, there are 27 cuts of beef. There is a very rare part; only 600 grams come out from a Korean beef. OK Hanwoobang can serve very rare parts of beef which other restaurants don't purchase from markets.
How to grill meat
* Grill meat on high heat
* Grill meat in a short time to keep meat juice and a  savory scent
* Turn meat just once.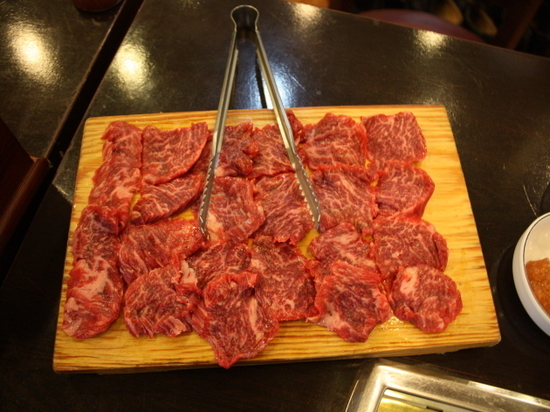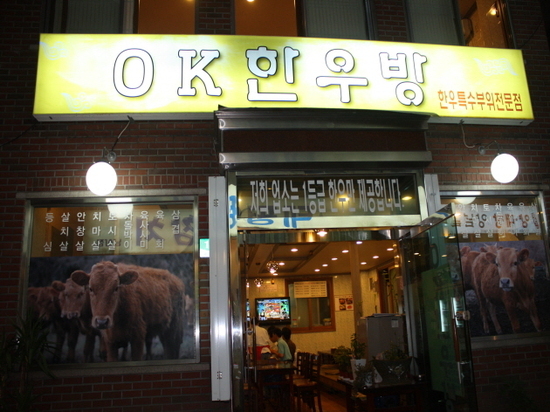 Type
Korean Restaurant
Contact
Tel. +82-2-2269-8132
Hours of Operation
09:00 am ~ 23:00 pm
Closed
Always Open
Menu / Price
beef brisket 25,000 KRW / thin flank 30,000 KRW
Chuck Flap 40,000 KRW / Hanging Tender 30,000 KRW
beef ribs 40,000 KRW / diaphragm 40,000 KRW
marbled sirloin 40,000 KRW / assorted meat 45,000 KRW
samgyeopsal, grilled pork belly 10,000 KRW / Neck Chain 30,000 KRW
raw beef 30,000 KRW / raw liver 10,000 KRW
sashimi 30,000 KRW / vegetable Bulgogi 15,000 KRW
buckwheat noodle 5,000 KRW
53-4 Cho-dong, Jung-gu, Seoul