Soju, Korea's representative liquor
Soju is a popular local spirit that has comforted people's hearts for many years. No matter whether people feel happy or sad, it has remained Koreans' best friend for a long time. Some people would say they feel something is missing without soju when there is a bowl of hot, boiling kimchi stew on the table or a large plate of pork belly in front of them. Soju is something that many people cannot live without.
There are many reasons that people drink soju. Some enjoy getting drunk with close friends. Others drink soju to wash away their fatigue and stress. The liquor is also popular because it also goes well with many dishes.
Soju accounts for nearly 40 percent of the total alcohol consumed by people in Korea each year, according to a recent study. Though Koreans drink more beer than soju in terms of absolute volume, soju remains the most popular liquor when comparing volume and alcohol percentage.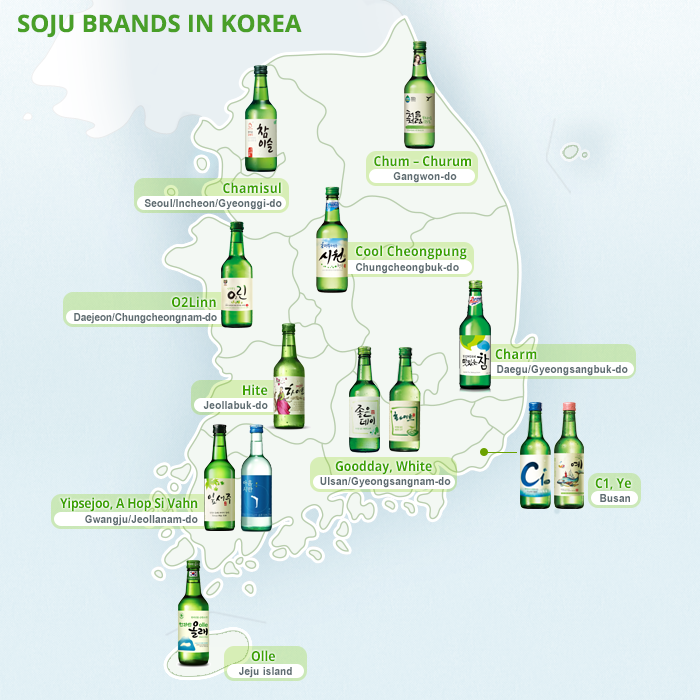 Various soju brands are produced and sold across the cities and provinces of Korea.
Soju is relatively cheaper than beer or other liquors. Hite Jinro's Chamisul and Lotte Chilsung Beverage's Chum-Churum sell for KRW 1,500 for a 360-milliliter bottle at a convenience store. Cans of Hite or Cass beer (360 milliliters) go for KRW 1,850 each. Soju also has a higher alcohol content than beer. Chum-Churum is 17.5 percent alcohol, which is over three times higher than the 5 percent of most beers. Soju's reasonable price and higher alcohol content, causing people to get drunk faster for less money, are two reasons why the spirit is loved by people everywhere.
It was only recently that soju became indispensible. In ancient times, people drank unrefined rice wine and clear rice wine. People have enjoyed drinking unrefined rice wine ever since the Three Kingdoms of Korea (57 B.C.-A.D. 668) when people started brewing liquor using yeast. Mongolia invaded the Korean Peninsula during Goryeo times (918-1392), and they brought with them the tradition of making soju. The Mongolian army was stationed in Andong, Gyeongsangbuk-do Province (North Gyeongsang Province), at the time and the tradition spread across the area. This is how the famous Andong Soju originated.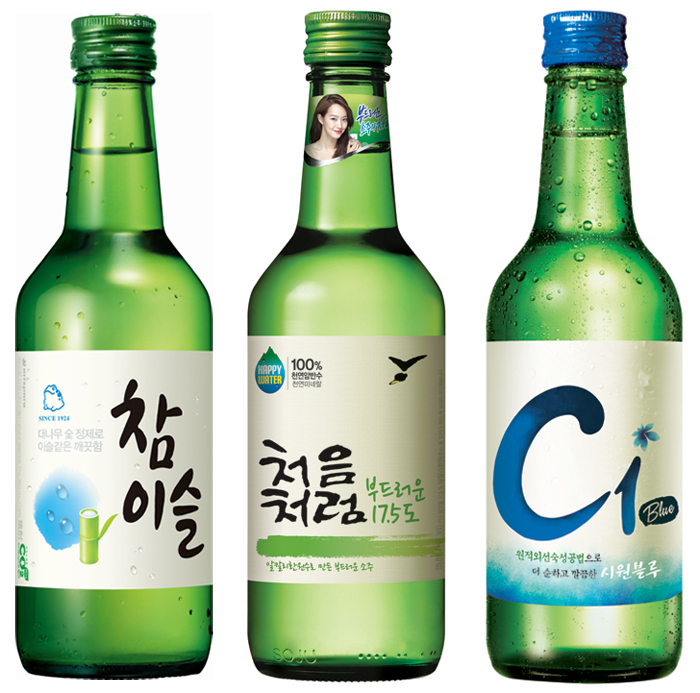 (From left) Hite Jinro's Chamisul, Lotte Chilsung Beverage's Chum-Churum and Daesun Distilling's C1 are three nation-wide brands of soju.
Andong Soju is a distilled liquor. However, the most common type of soju people drink these days is a diluted spirit. Molasses is created from rice, barley and sweet potatoes. Then, the molasses is put into a distiller that then produces pure alcohol. Various additives are put in to the mixture and water is added to the pure alcohol to adjust the alcohol percentage.
Soju became a mainstream liquor in Korea in the mid-1970s. With the emergence of such diluted sojus, regional soju brands started taking root in their respective areas: Jinro in Seoul, Charm in Daegu and Bohae in Gwangju. Unrefined rice wine, including makgeolli, accounted for 80 percent of the country's total alcohol consumption in the 1970s, but the consumption of unrefined wine dropped sharply and soju became the most popular liquor in the 1980s.
Until the late 1990s, there was a regulation in the local soju industry that only one company was allowed to produce soju in each city or province. Half of each company's production had to be consumed in the respective city or province. As a result, Jinro dominated the Seoul metropolitan area while Daesun Distilling nearly monopolized Busan. Muhak has kept a stronghold in Gyeongsangnam-do Province (South Gyeongsang Province) and Bohae dominated Jeollanam-do Province (South Jeolla Province). The regulation was abolished in 1996, but regional soju brands are still going strong in their respective cities and provinces.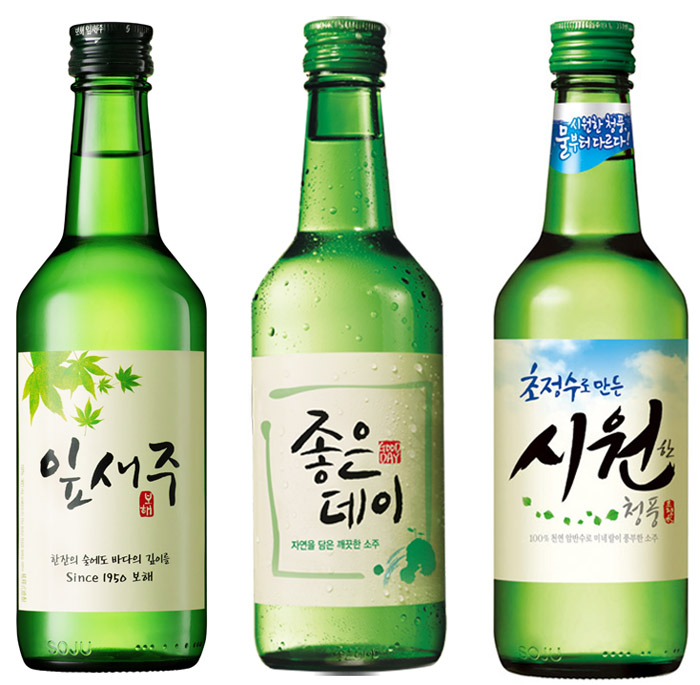 (From left) Bohae's Yipsejoo, Muhak's Goodday and Chungbuk Soju's Cool Cheongpung are three popular regional brands of soju.
Hite Jinro's Chamisul brand still has the biggest market share in the Seoul metropolitan area. Chamisul Fresh, now at 17.8 percent alcohol, was originally 23 percent alcohol when it was launched in 1998, but its alcohol content has been gradually reduced. Chamisul boasts a "soft and clean taste," the company says, as the liquor is filtered through bamboo tree charcoal, a process that eliminates impurities. Chum-Churum, at 17.5 percent alcohol, is the runner-up in the Seoul metro area in terms of market share and competes neck-to-neck with Chamisul. It is made using alkali regenerated water and thus produces less of a hangover, the company claims. Water particles are very small and it feels very "soft" when swallowing the liquor. Chum-Churum is based in Gangwon-do Province and it is the second best-selling soju in Seoul and Gangwon-do.
Despite Chamisul's dominance, there are a number of regional soju brands that are still popular in their regions. Kumbokju's Charm brand of soju in Daegu and Gyeongsangbuk-do, Bohae's Yipsejoo in Gwangju and Jeollanam-do, Muhak's Goodday in Ulsan and Gyeongsangnam-do, O2Linn soju in Chungcheong-do provinces and Hallasan soju on Jeju Island are all successful examples of regional sojus.
Charm, at 16.9 percent alcohol, is made using an advanced filtering process and thus its flavor is "soft" and "mild," the company states. The liquor also contains asparagine, which the distiller says helps overcome hangovers and has a good aftertaste. Yipsejoo (19 percent alcohol) is made using clean mineral water sourced from a 253-meter deep well in Janseong-gun County, Jeollanam-do. Yipsejoo contains natural additives extracted from stevia, a plant, and thaumatin, a type of vegetable protein, and produces a "clean" taste.
Goodday soju (16.9 percent) is also made using natural mineral water, this time from Jirisan Mountain. The natural alkali water produces a "clean" flavor. Hallasan's Olle soju (17.5 percent) is frozen in order to eliminate unrefined scents and impure tastes from the undiluted liquor and is then filtered through charcoal to raise its purity. Its "soft and mild" flavor comes from a filtering process that uses charcoal made from trees that grow above 800 meters atop Hallasan Mountain. The Mackiss Company, based in Chungcheongnam-do (South Chungcheong Province), produces O2Linn soju by collecting and inserting clean oxygen into its soju. The amount of oxygen in the liquor is over 21 parts per million and this produces a "soft" flavor and helps to overcome hangovers, Mackiss states.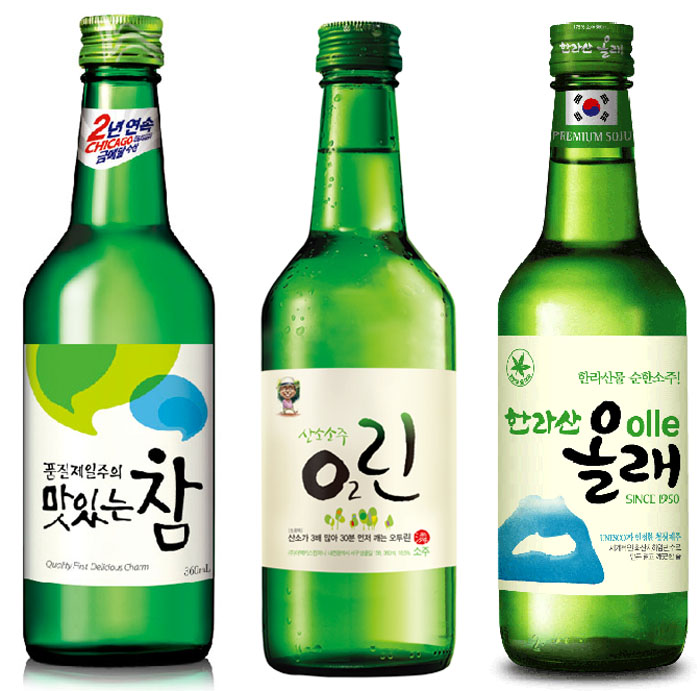 (From left) Kumbokju's Charm, Hallasan's Olle and Mackiss Company's O2Linn are three of the lesser-known brands of soju available across the country.
There are many types of soju, but the most notable trend in the market is the lowering of alcohol content. Soju's average alcohol content used to be 25 percent. Now it has gone down to as low as 14 percent, which is now close to the 12 percent common in red wine. The growing popularity of soju with a low alcohol content is related to the rise in health-conscious consumption and environmentally friendly food. Consumers care more about their health and they tend to seek mild liquors that they can sip and enjoy, rather than strong liquors that just make them drunk.
Lotte Chilsung Beverage launched its Sunhari Chum-Churum in March, a new type of "soju cocktail." It is 14 percent alcohol and contains natural citron content and an artificial scent, producing a "sweet and punching" taste, the company says. Without adding anything more to it, people can enjoy the flavor of fruit with Sunhari Chum-Churum.
As soju manufacturers launch more products with lower alcohol content, it remains to be seen how such "lighter" soju will fare.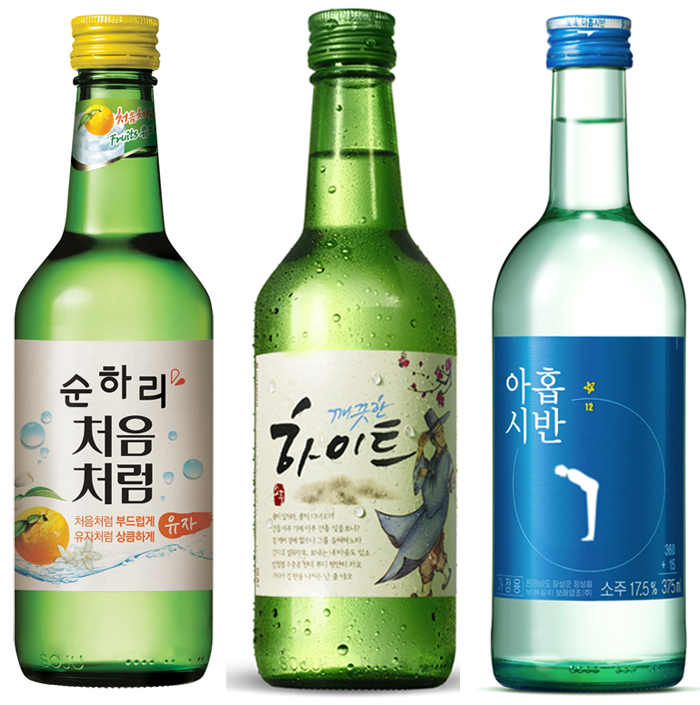 Lotte Chilsung Beverage's Sunhari Chum-Churum, Hite Jinro's Hite and Bohae's A Hop Si Vhan are some of the newer types of soju on the market.
By Limb Jae-un
Korea.net Staff Writer
jun2@korea.kr