Enjoy Your Summer at Riverside
One of the most mentioned things about the merits of living in Seoul, by both Koreans and non-Koreans alike, is the Hangang River that runs through the middle of the capital. The river offers countless benefits to everyone who lives in the greater Seoul metropolis. Especially in the summer, the riverside public parks turn into huge playgrounds, offering a wide variety of entertaining programs.
Every year, the Seoul government organizes the Hangang Summer Festival, and this year it runs from July 17 to Aug. 23. Visitors can play in an outdoor swimming pool, take an adventure on the river and enjoy movies, concerts, camping and much more. Without going too far from home, you still have plenty of options to enjoy your summer.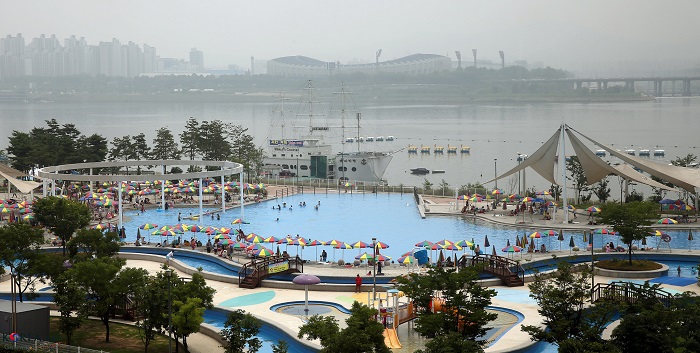 The outdoor swimming pool near Ttukseom Resort Station on line No. 7 is one of eight such places across the city. The site is popular among friends, couples and families as it's safe, clean and is easily accessible.
There are eight public outdoor swimming pools along the Hangang River: Yanghwa, Mangwon, Yeouido, Jamwon, Ttukseom and Jamsil. These are favored by many picnic-goers for their easy access from public transport and because they allow people to enjoy the natural gentle breeze blowing across the river. The price is also affordable. They cost KRW 5,000 for adults and they open at 9 a.m. and close at 10 p.m.
More information can be found at their official website. (https://www.seoul.go.kr/event/hanriver)

The campground on Yeouido gives revelers the chance to enjoy some urban camping at an affordable price.
A total of 530 tents will be prepared by the Seoul Metropolitan Government at five campgrounds along the river, starting July 18 and running through to Aug. 23. They're at Ttukseom, Jamsil, Jamwon, Yeouido and Yanghwa. The only thing needed is food for the campers themselves. A tent costs KRW 20,000 for an overnight stay and visitors can use the showers and barbeque facilities for free. Those planning to visit Yanghwa, however, need to bring their own tents and it only costs KRW 10,000.
Reservation should be made in advance at the official website. (www.hancamp.co.kr)
Inquiries can be made at 1544-1555.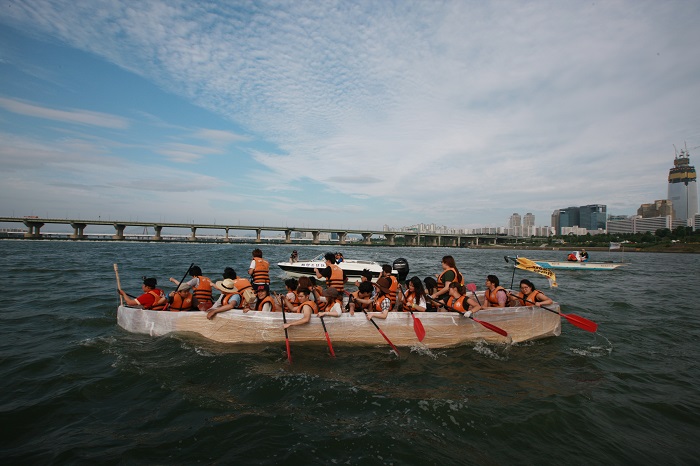 Participants in the Hangang River Box 1 Race are required to build a boat using recycled cardboard.
On the first and second weekends in August, the Hangang River Box 1 Race will take place at Jamsil Hangang River Park. It's an eco-friendly program that requires participants to make a boat out of cardboard. Even if you are not building a boat, it's still fun to watch the creative ideas of the participants. A variety of side-events will also be going on, including a box maze and paper doll lessons.
Every Friday and Saturday from July 24 through to Aug. 8 a film festival will take place at 8 p.m. under the Seongsan, Ttukseom, Cheongdam, Wonhyo and Cheonho bridges. Genres and themes will vary, but they'll mostly be about universal topics like food or music. It will be a perfect summer night along with the riverside's cool breeze, outdoor movie screenings and the beautiful nightscape.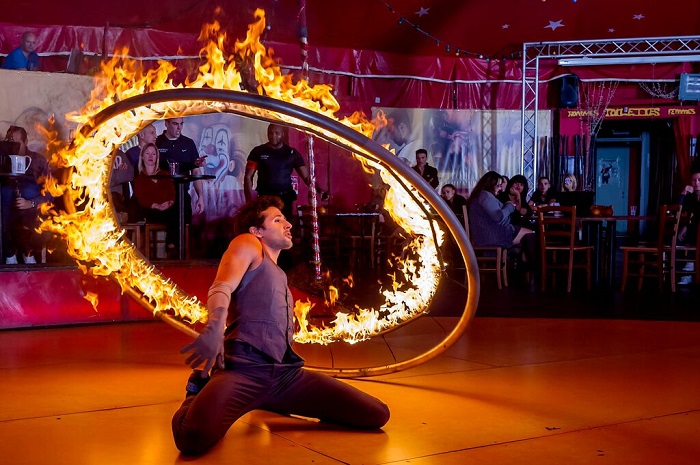 A fire performance mixed with circus acts and street entertainment will be showcased during the second weekend of August on Sebitseom Island in Banpo Park.
One of the not-to-be-missed programs during the summer is the fire dance that will take place on Aug. 7 and 8 on Sebitseom Island in Banpo Park. The dance will be led by Srikanta, a choreography expert who joined the Circus of the Sun team.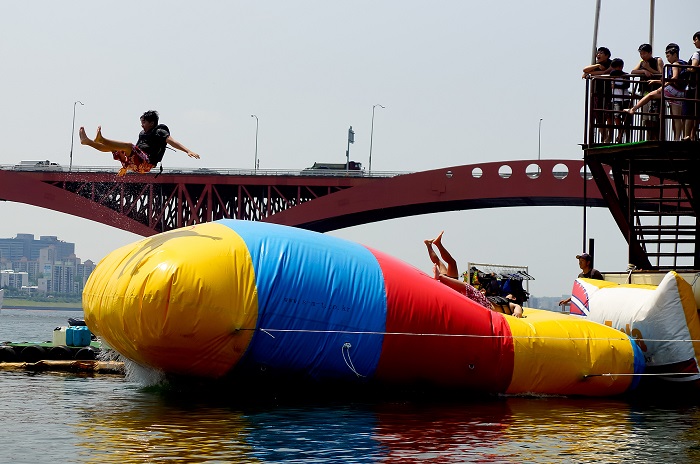 The 'blob jump' works when one person jumps on one end of the blob and the other person is at the other end, being launched into the air and falling into the water.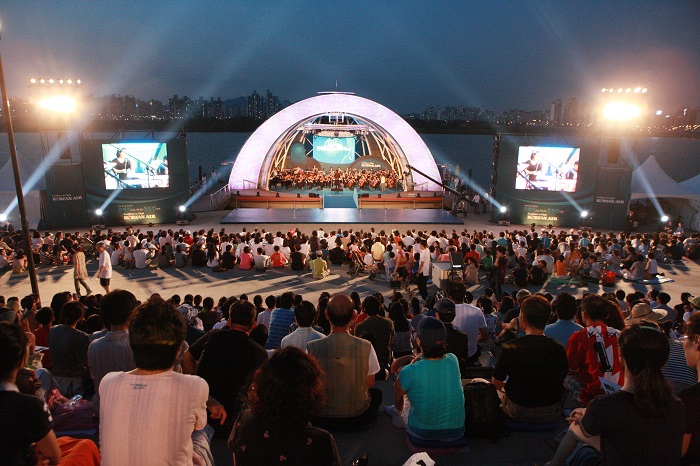 A performance takes place on the floating stage at Yeouido Park.
Finally, people can try their hands at sailing, kayaking, paddle boats, the "blob jump" and more. There will be more than 70 entertaining riverside activities prepared at 11 public parks across the city during the Hangang Summer Festival from July 17 to Aug. 23.
More information can be found at the official website of the Seoul government. (https://english.seoul.go.kr)
By Lee Seung-ah
Photos: Jeon Han, Seoul Metropolitan Government
Korea.net Staff Writers
slee27@korea.kr