Travel back to ancient Seoul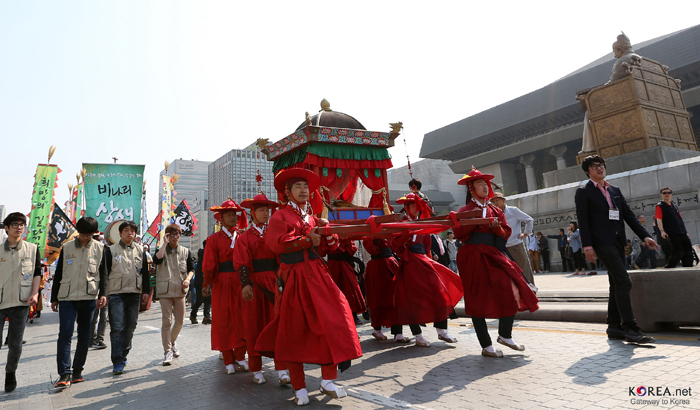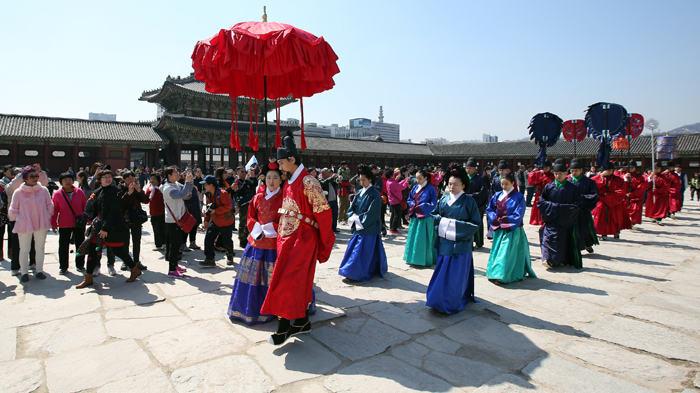 Tourists enjoy a reenactment of a royal procession at Gwanghawmun Square (top) and at Gyeongbokgung Palace in Seoul.
Some of the major tourist spots across the capital will begin hosting more traditional ceremonies, parades and changings of the guards, allowing visitors to travel back in time to ancient Seoul.
From July through to the end of the year, Seoul City will place its "Time Travelers" — performers dressed in traditional robes and performing traditional rites or acts — in some of the most popular tourist spots across the city, including Deoksugung Palace, the Dongdaemun Traditional Market and the Myeongdong shopping district.
The Time Travelers consist of 20 performers, all residents of Seoul who have passed an audition. At Deoksugung Palace, they will dress in traditional uniforms and reenact the procession as Hwang Hui (1363-1452) (황희, 黃喜), who served as Joseon prime minister, gets off his palanquin, a gama, and enters the palace.
There will be performances held in Gwanghwamun Square, too, where stands a commanding statue of Admiral Yi Sun-shin (1545-1598) (이순신, 李舜臣). The performers, clad in traditional robes, will revive some of the highlights from the hit movie "The Admiral: Roaring Currents" (2014) and from the KBS soap opera "Immortal Admiral Yi Sun-shin" (2004-2005), both of which featured the historic soldier.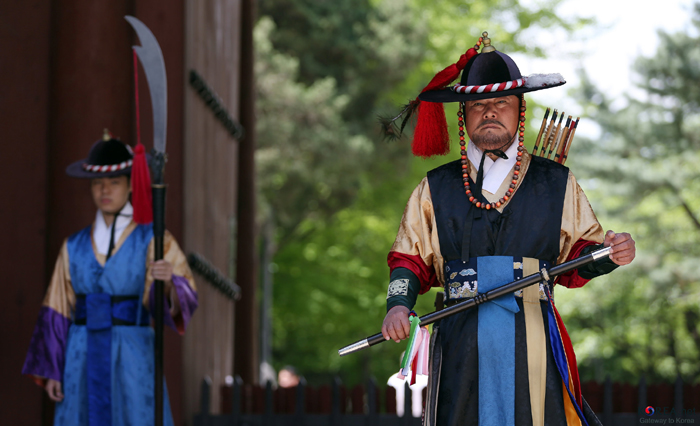 A guard stands with a dignified bearing at the Daehanmun Gate of Deoksugung Palace in Seoul.
Not only historical figures, but the Time Travelers will be reenacting the lives of common people whose lives can give us a glimpse into what the capital looked like in ancient times, particularly to non-Koreans who may not be familiar with Korean traditions. They will transform themselves into palace guards at the royal palaces, into Joseon scholars, or seonbi, who won first place in state examinations, or into court officials who were in charge of human resources in a Joseon government office.
Spectators will also be able to enjoy a variety of traditional games, ride in a palanquin and take pictures of themselves dressed in traditional garments.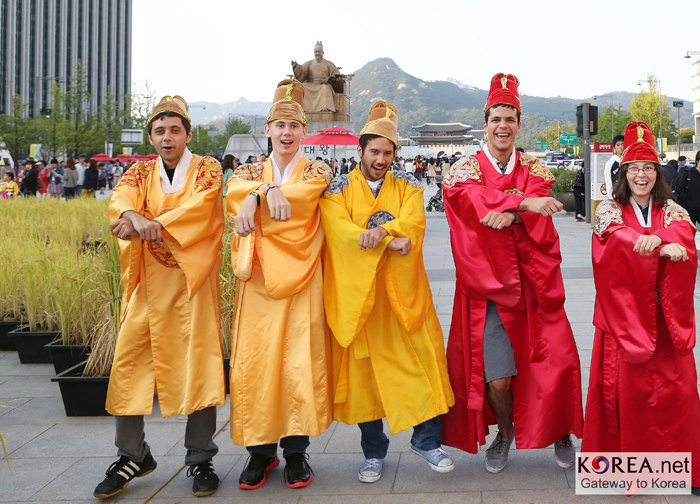 Tourists in traditional garments dance in Gwanghwamun Square, Seoul.
"More than 100 Time Traveler reenactments will be held across Seoul through to the end of the year. We will decide whether or not to incorporate more reenactments and hands-on events, depending on circumstances and visitors' responses," said an official from the Seoul Metropolitan Government.
More information and schedules will be updated at the Seoul Metropolitan Government's official Facebook profile (https://www.facebook.com/seoul.kr).
By Sohn JiAe
Photos: Jeon Han
Korea.net Staff Writers
jiae5853@korea.kr