Royal azaleas, cherry blossoms beckon atop Hwangmaesan Mountain
Films like "TaeGukGi: Brotherhood Of War" (2004) and "Welcome To Dongmakgol" (2005), and soap operas like "Jumong" (2006-2007) and "Shine or Go Crazy" (2015), which is currently on air, have one thing in common. They were all filmed at Hwangmaesan Mountain.
The mountain is not very tall, standing only 1,108 meters above sea level, but it was selected as one of the "50 beautiful places to visit in Korea" by CNN Go in 2012. That same year, it was ranked 11th among the most popular mountains in Korea, showing how attractive the place is.
The mountain is not covered in a dense forest, but when someone walks up the ridgeline from the parking lot, he can see 170,000 square meters of grassland spread across the slopes.
The place used to be a ranch. Now, there is no livestock peacefully eating the grass out in the field, but an open view and the wind blowing over the ridgeline creates a pleasant atmosphere.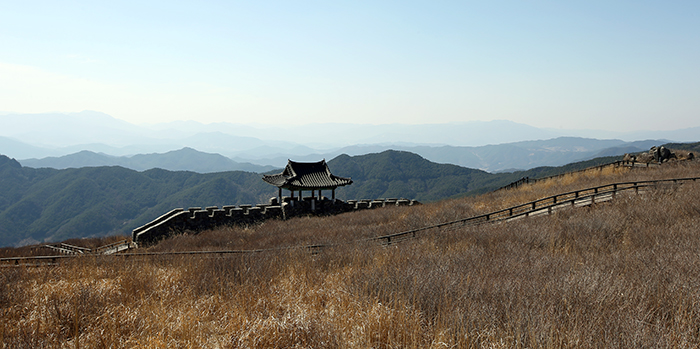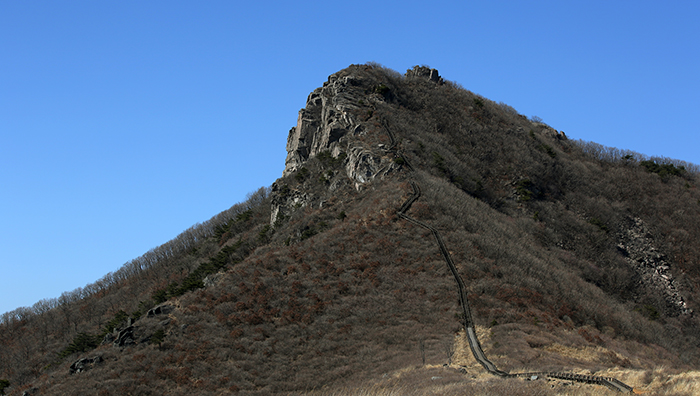 Unlike other mountains on the peninsula, it is not rugged and it's close to being barren, with a relatively smaller number of trees. However, the mountain has something that satisfies all five senses each season, unlike other mountains.
Hwangmaesan Mountain is now covered with a blanket of royal azaleas during the Hwangmaesan Royal Azalea Festival, one of the major festivals in Hapcheon-gun County. There are few trees or forests blocking the view and thus the mountain offers the best environment in which to enjoy the pink royal azaleas.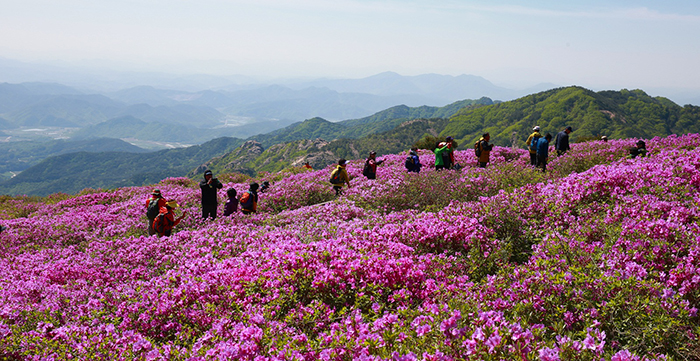 Hwangmaesan Mountain is dressed in pink and captures the hearts of springtime picnickers during the spring. Over the long summer, it offers a clear view of greenery, as if a green carpet were laid out under the blue sky. The mountain again changes its colors to gold as silver grass covers its hills in the autumn. The wide silver grass field on the highlands is popular as a shooting location for movies, dramas and TV commercials.

Every spring, the Hapcheon Cherry Blossom Marathon is one of the must-see tourist attractions in Hapcheon-gun County, along with the Hwangmaesan Royal Azalea Festival. The 14th Hapcheon Cherry Blossom Marathon consists of a full marathon and a half marathon, and follows the road along the Hwanggang River, lined with splendid cherry blossoms. Over 10,000 people will have taken part in the marathon since 2013. The marathon will start at a Hapcheon public stadium at 8:30 a.m. on April 5.
By Jeon Han, Limb Jae-un
Korea.net Staff Writers
Photos: Jeon Han, Hapcheon-gun County Office
hanjeon@korea.kr