Visit Imsil, a base for cheese tourism
Cheese was unfamiliar to many people only a few decades ago, but now it's one of the most widely consumed foods across the nation. Recently, many innovative chefs have added cheese to spicy dishes, taking the food scene by storm, creating menu items such as "cheese dakgalbi" (spicy chicken ribs), "cheese jjukkumi" (spicy small octopus) and "cheese bokkum ramyeon" (spicy fried noodles), all with cheese on top. People's love of cheese is becoming more natural and much stronger.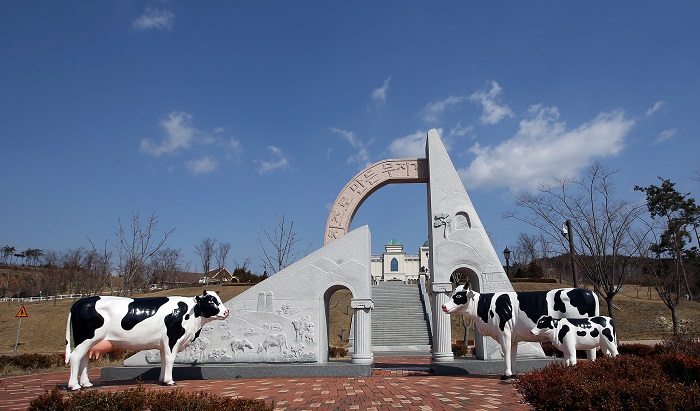 Today, cheese is widespread and easy to find, but it has existed in Korea for only about half a century. The nation's cheese-making history dates back to 1967 when Belgian priest Didier t'Serstevens, better known by his Korean name of Ji Jeong-hwan, brought two goats to the county to help overcome the region's economic difficulties.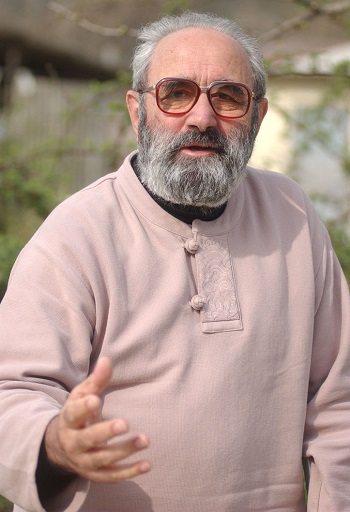 In 1964, he was assigned to work at a church in Imsil. People asked him why Korea has to be so poor while Belgium was rich. He answered that it's because of the sacrifices made by one's ancestors. He noted that, "Korean ancestors didn't have the chance to hone a technological skill. They had to sacrifice themselves to hand down a comfortable living to the next generation." He also asked people what they had to develop. They said that they have mountains with plants, but not many trees. They also said that they have plenty of time.
"I was raising two goats that I had received as a gift from another priest. I thought it would be a good idea to raise goats in the open fields across the region. One goat was only one tenth the commercial value of a milking cow. I thought the milk could produce revenue. Of course, it didn't turn out the way I planned. There was very low demand for goat cheese, and quite a lot of milk, produced with such effort, was just thrown away. While pondering what to do with the remaining milk, cheese flashed into my head. It would have required bigger facilities and more equipment to produce condensed milk and milk powder, but it was a different story with cheese. In Europe, people used to produce cheese at home for themselves," Father Ji recalled.
The plan never went well. He had to face many challenges. "We were amateurs. We used small nets mostly used in boiling pots to strain medicinal herbs and anchovies. It looked like cheese, but the quality wasn't good enough to put on sale. We decided to build cheese factories to overcome this low commercial value. My parents in Belgium donated USD 2,000 for the construction of a cheese factory with a place for fermentation to take place. Then we found that we also needed lactic acid bacteria. We tried adding yeast, and that failed. In that way we experienced so many failures. We spent three years without any achievements and a growing number of farmers began to give up," he continued.
Father Ji had no option but to head to France to learn cheese-making skills. "For over three months, I visited cheese factories across France and Belgium to study their ingredients, arrangements and manufacturing processes. Also, I came to an understanding that there are different levels of acidity for different types of cheese, whether it is Camembert or cheddar, for example. It was a crucial moment when I was able to get my hands on the notebook of an Italian cheese expert. There were written all the details about manufacturing cheese. My heart fluttered when I was able to return Korea with the notes."
Finally in 1969, Imsil cheese was born. Since then, the cheese industry has exploded as people have learned to enjoy the flavors. Imsil-gun County, with only a population of about 30,000, has become the mecca of Korea's cheese industry and, with the launch of the Imsil Cheese Theme Park in 2004, one of the most popular domestic tourist destinations. These days, it attracts about 200,000 visitors each year. 
The Imsil Cheese Theme Park unfolds across 130,000 square meters of wide fields, about the size of 19 soccer pitches. It's in Doin-li in Seongsu-myeon, Imsil-gun County, Jeollabuk-do. The exterior design copies the village of Appenzell in Switzerland. Visitors think they're looking at a fairy tale. The theme park consists of an exhibition space, an experience hall, a restaurant, a factory, a market and an R&D center. Visitors can learn about the history and manufacturing processes of cheese in the exhibition hall. They can mix their own cheese with water, turning it into the base smooth paste required for a variety of cuisines, from Italian pizza, to fried pork with cheese, spaghetti and fondue. Kids and adults alike love the hands-on cheese-making experience. Manager Kim Ki-ok of the theme park said, "I was surprised to see men in their 30s show an interest in the cheese-making program. They say they want to make it at home again."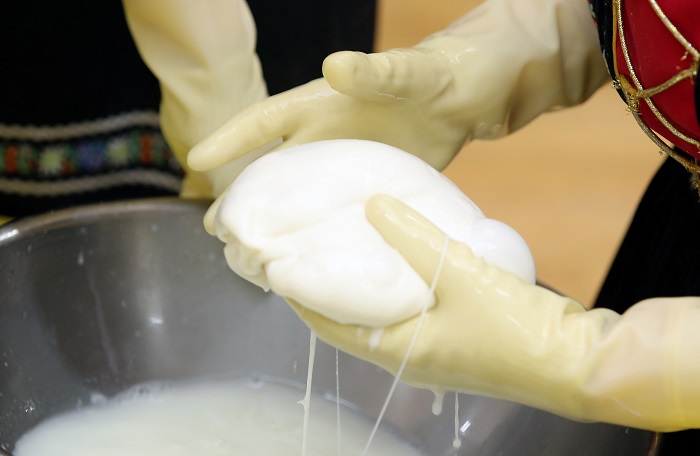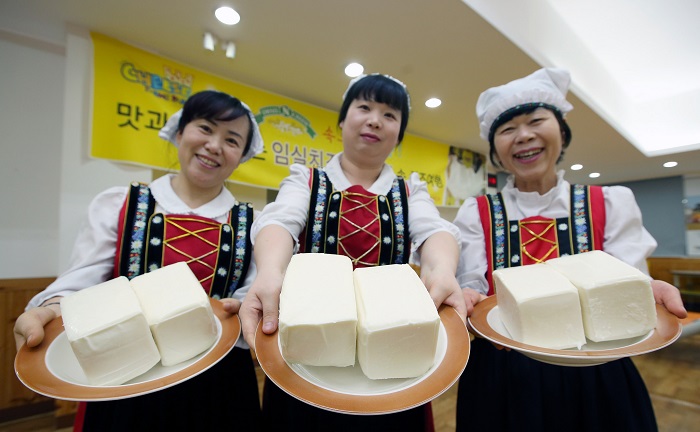 Behind the successful achievements of the cheese industry in Imsil is the sweat and effort of the local dairy farmers. There are 12 milk ranchers and cheese brands across the county. The 12 farmers wake up as early as 5 a.m. every morning to milk and produce fresh cheese, in addition to milk and yogurt. They have a deep affection toward their goats and care for them as much as they care for their own children. Deputy Director Han Jung-seog said that, "The farmers are always concerned that the goats might get stressed. They try their best to provide a comfortable and safe environment for the goats. That's how they can produce such high quality cheese."
All the dairy products that use the brand name "Imsil N Cheese" are on display at the local specialty market, inside the theme park. A wide variety of cheeses are available here, from cheese for grilling, through to string cheese and to aronia or raspberry cheese. Fresh milk and yogurt are also for sale. Freshness is a top priority here, making it difficult to ship across the nation.
Mayor Sim Min of Imsil-gun County said, "Imsil N Cheese products are currently on sale at the Osu Rest Area, located between Jeonju and Gwangyang. The total number of boxes of cheese sold at the store is about 100 million. Plans are under way to start sales at the Gapyeong Rest Area in Gyeonggi-do (Gyeonggi Province) and at the Yeongdeungpo Rest Area in Seoul, as well."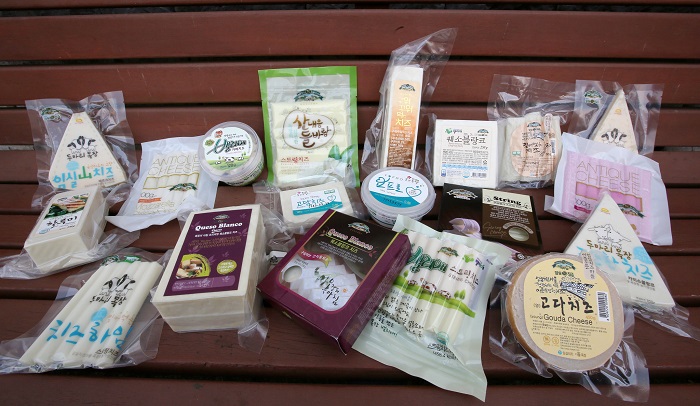 This October, a cheese festival will take place at the theme park.
More details can be found at the official website of the Imsil Cheese Theme Park.
www.cheesepark.kr
By Lee Seung-ah
Photos: Jeon Han
Korea.net Staff Writers
slee27@korea.kr