Fireflies and wild grapes, the iconic of green Muju
Fireflies can only live in clean water and in an unpolluted environment. The presence of fireflies is a gauge of an area's purity. Fireflies glow in the dark and bring on a childlike innocence and nostalgia. They like damp environments and only show up at night after hiding during the day. Changes in the environment and pollution brought by rapid urbanization and industrialization has led to a reduction in the firefly habitat, which has, in turn, resulted in a decline in the firefly population.
The presence of fireflies in the Namdaecheon Stream and the Geumgang River, both of which flow through Muju-gun County in Jeollabuk-do (North Jeolla Province), demonstrates just how clean Muju's environment is.
Fireflies are the symbol and pride of Muju-gun County, with its pristine nature. The Muju Firefly Festival will be held along the Namdaecheon Stream and in Jinam Park between August 29 and September 6 this year. During the festival, there will be a "falling fire extravaganza," which symbolizes the little lightning bugs. To create the "falling fire," cotton balls are hung from steel wires hung across the stream and are lit on fire. The scene of fire falling like a water fall is just spectacular.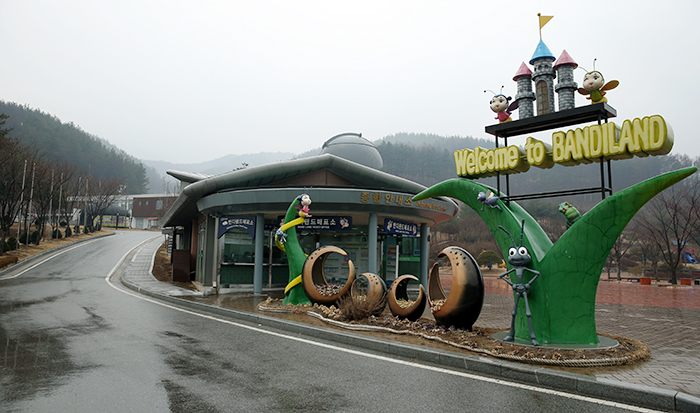 During the late summer festival, visitors can see fireflies first-hand. Bandiland is a firefly themed amusement park and one of the major tourist attractions in Muju-gun County. People can see two types of fireflies there: Luciola lateralis motschulsky in June and Lychnuris rufa olivier in August.
"Fireflies inhabit wetlands with a large number of marsh snails, which are their main prey," said Song Jae-pyeong, head of the theme park. "Fireflies do not like brightness and they are mostly found in valleys with few human inhabitants."
"Muju has clean air and there are a number of mountains that top 1,000 meters, including Deogyusan Mountain. In the end, it has the best conditions as a firefly habitat."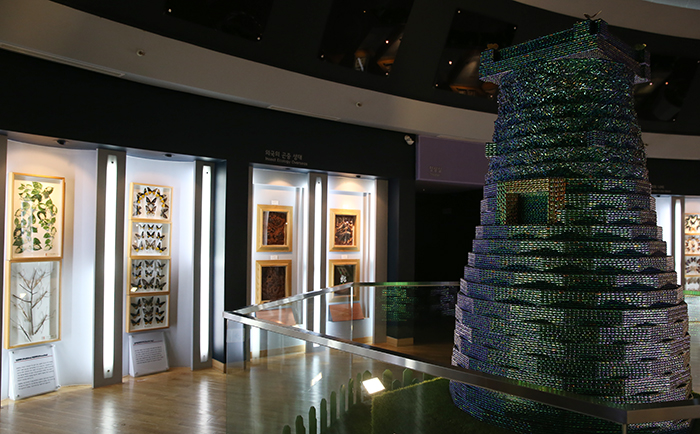 At Bandiland, there is an insect museum with numerous insect samples on display, including rare species. There is an ecological greenhouse where visitors can look around tropical plants and butterflies. A replica Cheomseongdae, an ancient observatory tower in Gyeongju, Gyeongsangbuk-do (North Gyeongsang Province), is covered with the wings of over 40,000 beetles, collected over three years. The color in the beetle wings lasts for several thousands of years, and the bugs have long symbolized wealth and longevity. Thus, their wings have been used to make ornaments and decorations for royal families and other aristocrats.
At Bandiland, visitors can lie down and watch a film on a domed theater screen and see the stars through a high-tech telescope at the astronomical observatory. There are also lodging facilities, bungalows and camp sites for people who are on school field trips, as well as an outdoor swimming pool.
* Muju Firefly Festival: www.firefly.or.kr   
* Muju Bandiland: www.bandiland.com  
Another example of Muju's pristine environment are wild grapes, or meoru. Muju is an alpine region located in the lower parts of the Baekdudaegan mountain range. The region has a wide daily temperature variance and it usually has cooler weather, which is similar to environments where wild grapes grow naturally. Wild grapes are grown in highlands from 500 meters to 900 meters above sea level. The average difference between the day- and nighttime temperatures is 12 degrees Celsius. This results in a thicker skin on the wild grapes and their polyphenol levels, an antioxidant, and sugar levels are increased. A total of 640 tons of wild grapes are produced in Muju every year, accounting for 60 percent of the country's annual wild grape production.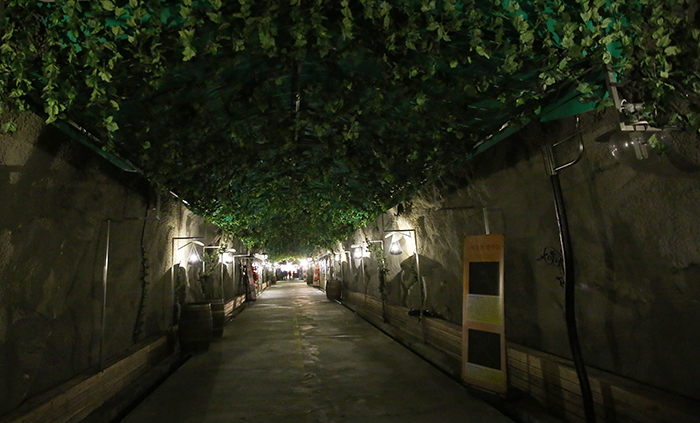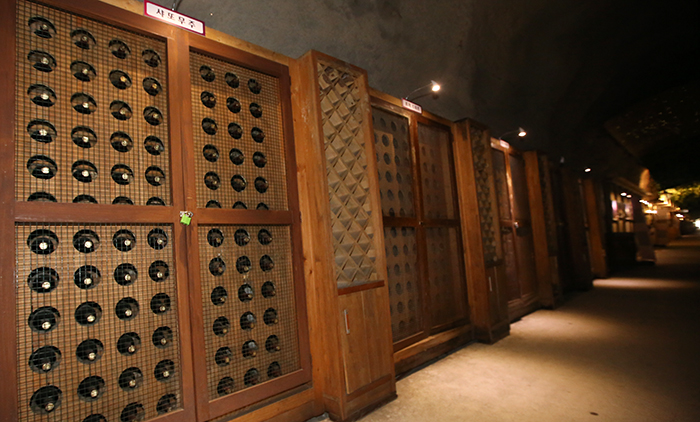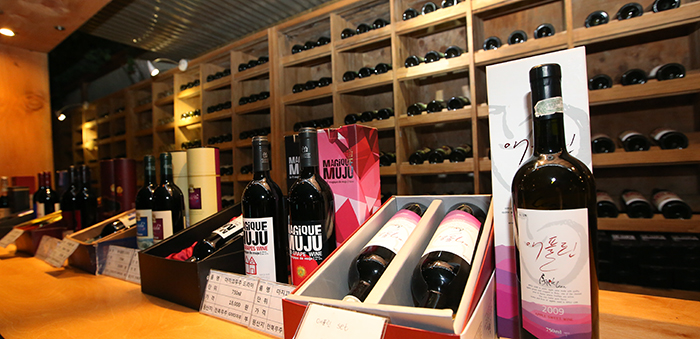 Some 110 farming households and four wineries produce wild grape wines. There is a cave at Jeoksangsan Mountain that is a suitable place for wine tasting. The cave was originally used as an underground tunnel to build a pumped storage hydroelectric plant. Since then, however, it has been remodeled to be used as a café and as a wine cellar. Since the cave is located 450 meters above sea level, its temperature can be easily maintained at 12 degrees Celsius, a level suitable to store wild grape wines. There are five types of wild grape wines on offer: Meoruwine, Luciole Vin, Chateau Muju, Magique Muju and Red Pearl.
* Muju Meoru Wine Cave.: www.mj1614.com
Deogyusan Mountain sits on four counties in Jeollabuk-do, including Muju, and its name literally means, "a mountain that would save everyone with virtue." Hyangjeokbong, its highest peak, is at 1,614 meters and can easily be reached by cable car. The cable car's upper building is the starting point for Korea's longest ski slope, the Silk Road. The summit has colonies of different flowers, depending on the season, azaleas, royal azaleas and daylilies among them. The view, the sunrise and the sea of clouds seen from the peak are impressive.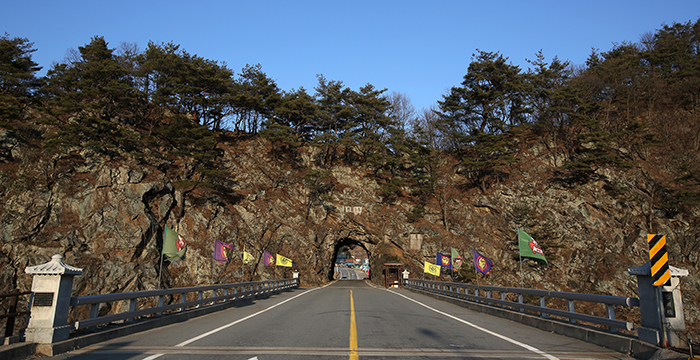 Speaking of Muju, we cannot forget the county's official 33 scenic locations. Each of the spots is spread along the valley created by water originating from Hyangjeokbong Peak atop Deogyusan Mountain. Visitors can drive and look around the first fourteen scenic spots. They can see cherry blossoms in the spring and the green forest in the summer. The area between the 15th and 32nd scenic spots include the Gucheon Water Fall and Wolhatan, where people can see water falling on strangely-shaped rocks. The first scenic spot is the Najetongmun Gate, the ancient border between Silla and Baekje during Korea's Three Kingdoms Period (57 B.C.-A.D. 668). The 32nd scenic spot is a temple that sits on the slopes of Deogyusan Mountain. It is named Baeknyeonsa, as the temple was built where lotus flowers used to bloom.
* Muju Deogyusan Resort: www.mdysresort.com  
By Limb Jae-un
Photos: Jeon Han
Korea.net Staff Writers
jun2@korea.kr – See more at: https://www.korea.net/NewsFocus/Travel/view?articleId=126256&pageIndex=1#sthash.0Ngasdw2.dpuf