Seollal New year celebrations in Korea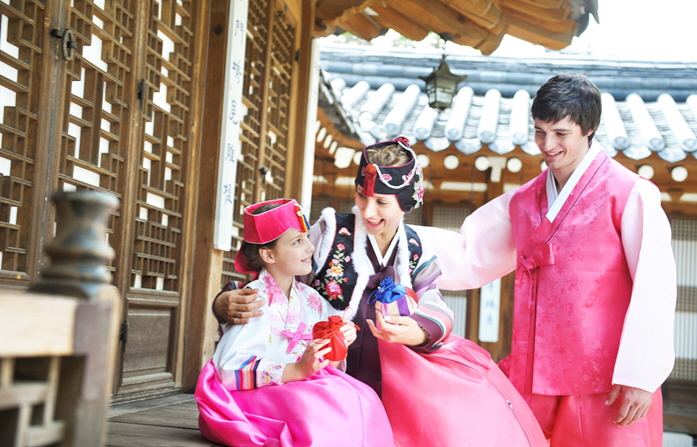 Seollal (Lunar New Year; January 1 of the lunar calendar) is one of the most celebrated national holidays in Korea. This year, Seollal falls on February 19 of the Gregorian calendar. More than just a holiday to mark the beginning of a new year, Seollal is truly a special occasion for Korean people. Not only is it a time for paying respect to ancestors, but it is also an opportunity to catch up with distant family members who travel home to get together for this special occasion. During Seollal, Koreans traditionally wear hanbok (traditional clothes), perform ancestral rites, play folk games, eat traditional foods, listen to stories, and catch up with one another. Read on to discover how Koreans celebrate Seollal.
The day before Seollal: Busy with preparations!

Seollal demands a lot of preparation, especially in terms of gifts, traveling, and not to mention, the holiday feast! As there are many things to purchase for the ancestral rites and gifts, department stores and markets are usually very crowded during the days leading up to Seollal. The foods for ancestral rites are prepared with a variety of wild herbs, meat, fish, and fruits all chosen with great attention paid to the quality of their shape, color, and freshness.
Another crucial part of preparing for Seollal, especially for those far from home, is travel arrangements. Many people live away from their family home because of work, marriage, or study, and therefore must travel to celebrate Seollal with their families. So, there is a mad rush to book buses, trains, or plane tickets before they all sell out. Meanwhile, traveling by car during the holiday can take over two to four times the normal travel time due to heavy traffic. For this reason, real-time reports of highway traffic conditions during Seollal are broadcast on the radio and other mass media channels.
Tip – Popular Seollal giftsSeollal gifts vary each year depending on economic situations and gift trends, but the most popular ones are department store gift cards and cash. Popular gifts for parents include ginseng, honey, health products, and massage chairs. Other common gifts include toiletries such as shampoo, soap, toothpaste, etc., and gift baskets/sets composed of Spam, tuna, hangwa (traditional sweets and cookies), dried fish, and fruit.
On the day of Seollal: Partake in ancestral rites and enjoy traditional games!

The morning of Seollal begins with an ancestral rite. Family members, each dressed up for the occasion (traditionally in hanbok, but often in Western formal attire), gather in front of the ritual table and set on it an ancestral tablet and dishes of ritual foods, which are according to the laws of ancestral rites. Once set, the rite begins with deep bows as greetings to the ancestor spirits, and proceeds with offerings and prayers before ending with bidding farewell to the spirits. The ritual is conducted to express respect and gratitude to one's ancestors and to pray for the family's well-being throughout the year.
Following the rite, everyone gathers together and eats the ritual food. The main dish of the day is tteokguk, a traditional soup made with sliced rice cakes, beef, egg, vegetables, and other ingredients. In Korea, eating tteokgukon New Year's Day is believed to add a year to one's age. People often ask each other, "How many servings oftteokguk have you had?" as a fun way to ask each other's age.
After the meal, the younger generations of the family pay respect to their elders by taking a deep bow called sebae, and by presenting them with gifts. Then, the elders offer their blessings and wishes for a prosperous year. Children often receive sebaetdon (New Year's money) as a Seollal gift. For the remainder of the day, family members play traditional folk games, eat food, and share stories.
Traditional games to enjoy on Seollal
Seollal is an opportunity for the entire family to engage in fun activities together. The most common activity is yutnori, a board game that involves throwing four wooden sticks. This game is so easy to learn that all family members, regardless of age, can enjoy playing in teams and making fun bets. Besides yutnori, traditional games such as jegi-chagi (footbag-like game), neol-twiggi (see-saw), tuho (arrow toss), and yeon-naligi (kite flying) are widely played at places like parks or open areas at palaces and shrines. Lastly, families wind down by going to see a movie or watching Seollal specials on TV.