Korea, the Republic of Delivery
The history of the Korean Peninsula dates back some five thousand years, when the Gojoseon kingdom (2333 B.C. (?) – 108 B.C.) was founded by the mythical Dangun. The people who settled on the peninsula believed in a God of the Sun and were called the Bakdal tribe, meaning "bright." The name of the tribe was changed later to the Baedal tribe (배달, 倍達). Originating from that word, they are still being referred to as the people of Baedal.
In modern times, the word baedal has become one of the hottest words in commercial advertisements and comic parodies. This baedal is not something related to brightness. It's related to something that can be delivered by courier, one of the dual meanings of the word. Playing on the dual meanings of the word, comedians portray people today as the People of Baedal, emphasizing the lifestyle of modern urban people who enjoy having everything delivered to their doorstep.
It's quite true that most people these days use delivery services quite often. It has now become part of their lives. In this article, Korea.net outlines the daily routine of an ordinary person in her 30s, focusing on her lifestyle and the use of delivery services.
At 7 a.m., Ms. Kim walks to the door as soon as she wakes up. Her daily newspaper and a bottle of yogurt are on her doorstep, delivered every morning. Taking a sip of yogurt, she skips through the headlines. She normally arrives at the office at around 8 a.m. Before getting to work, however, she drops by a nearby coffee shop to grab a cup of coffee and a sandwich, as usual. Her breakfast is delivered to her office as she checks her daily schedule.

Lunch begins at noon. She visits an online shopping mall during lunchtime to order some household staples, from water and condiments through to fresh food, such as fruit, meat and fish. She chooses 7 p.m. as the delivery time. She likes to shop online because all the heavy items will be delivered to her doorstep.

While at work, she urgently needs to send some documents to a business partner. She calls a motorcycle courier service which already has a contract with her company. The deliveryman arrives in 10 minutes. About 30 minutes after the deliveryman leaves, the business partner calls her back saying that they received the documents.

Today, one of her best friends opens a new business. It's very common to send flowers to celebrate the opening of a new business. She calls a flower shop near her office and places an order. The only thing to do is for her to give the shop the address and her celebratory message.

On her way home, she drops by the laundromat and schedules a pickup. About a half hour later, a deliveryman rings her doorbell. He picks up her bag of clothes and promises to bring them back at this time tomorrow.

It's time for dinner, but she is worn out after a long day. She is not in the mood to cook. She decides to order out using a food delivery app. It shows a wide range of menu items, from pizza, fried chicken and Korea-style Chinese food all the way to ham hocks. She wants to eat all of them. She changes her mind a number of times and finally decides to order some fried chicken, half of it with sauce, and beer. In about 30 minutes, her dinner is delivered, still piping hot. After finishing dinner, she goes for a walk.

Strolling through the nearby park, she runs into a close neighbor. They sit down on a bench for a chat. They feel like a coffee. So she calls a nearby coffee shop and orders two lattes. They arrive in about 10 minutes. The neighbors have a pleasant chat over their hot brew.
Today, delivery and courier services represent one of the main characteristics of modern, urban society. There are an increasing number of single people who choose to live alone. Most of them seek a simple and comfortable lifestyle. Moreover, the so-called "now, now" or "hurry, hurry" social characteristic plays a role, too: many people just do not want to wait for things. So both environmental and social factors might make people want more, and want it now, affecting the courier services, too.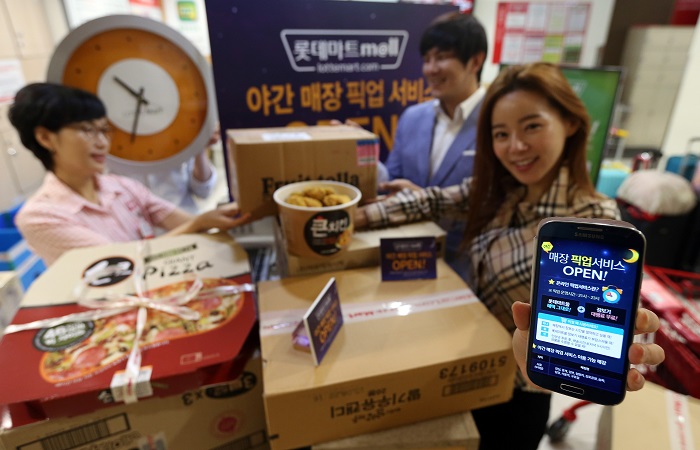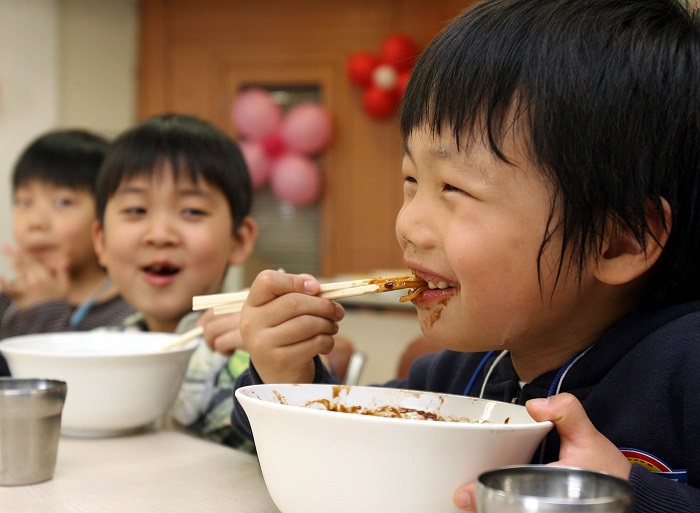 The love of delivery and courier services can be seen through smartphone apps that are increasingly diversified. There are "Baedalminjok," or "Tribe of Delivery," "Yogiyo," and "BaeDalTong" to have food delivered, and "Smart Delivery" that allows people to check the status of their parcel in real time.
A growing number of companies look to offer better delivery services that can touch the hearts of their customers.
By Lee Seung-ah
Photos: Yonhap News
Korea.net Staff Writer
slee27@korea.kr