Iconic soft drink for 64 years: Chilsung Cider
The baby boom generation of Korea, born roughly between 1955 and 1966, tends to feel nostalgic about school outings and the picnic food of their childhood. Two of the most common foods from field trips were gimbap, an assortment of vegetables rolled inside edible seaweed, and boiled eggs. The two snacks constituted a perfect combination when coupled with the lemon lime soda pop Chilsung Cider, an iconic carbonated soft drink.
During and after those times, people struggled with poverty. Pop was regarded as something precious that they could only consume on very special occasions, such as at picnics and during sports days at school. It was a luxury drink. Having soft drinks as much as they wanted was never possible. For these reasons, Chilsung Cider is still a brand that can bring back nostalgia for their childhood among those in their 50s and 60s.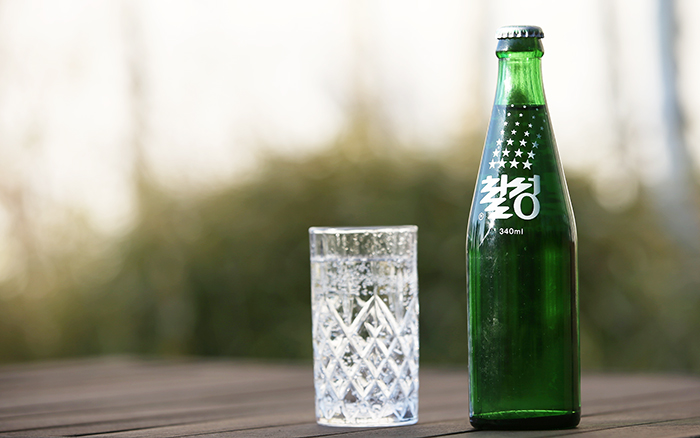 The soda, contained in a green glass bottle with white stars, is widely loved by everyone, whether male or female, child or adult. Sipping the drink, even but a small amount of it, gives off the scent of lime and lemon and spreads a tangy-sweet taste all over the mouth. When pharmaceuticals weren't around, people used Chilsung Cider as an alternate digestive because it helped them burp.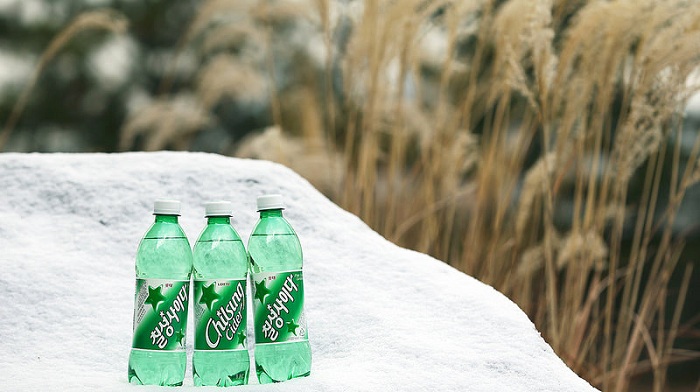 The company has 64 years of history so far, dating back to 1950. The first time that a carbonated soft drink appeared in Korea was in the 1930s. Most such products were Japanese. Influenced by that, the Dongbang Soft Drink Corporation rolled out Chilsung Cider in May 1950. At first, "Chilsung" referred to seven family surnames, as the brand was created through the cooperation of seven people. Later, however, they decided to give a different meaning to it, using the same phonetic sounds. The new meaning was "seven stars." They hoped their product would prosper in a growing beverage industry and glow like the seven stars of the Big Dipper or Ursa Major.
By the 1950 and 1960s, competition between beverage companies was fierce. There were wide ranges of lemon lime sodas, from Seoul Cider and Samsung Cider to Star Cider, that all came out just after independence. There was also Kin Cider, Haetae Cider and Natural Cider, as well as products from the West such as Sprite and 7 Up.
However, the green bottle and white markings has never been on the rocks. The Dongbang Soft Drink Corporation, the original company, became Hanmi Foods Industry Co. in 1967, and changed again to Chilsung Hanmi Foods Corporation in 1973. Finally, it became today's Lotte Chilsung.
Many people associate the brand with feelings of being clean and a fresh image, and such associations remain today. Not only the name of the drink, Chilsung Cider has developed into a brand that represents the company itself.
At first, the pop was only available in a glass bottle, but the company then launched a number of different types of canisters, including plastic bottles and cans. In the 1970s, it became economically affordable and widely available to the public.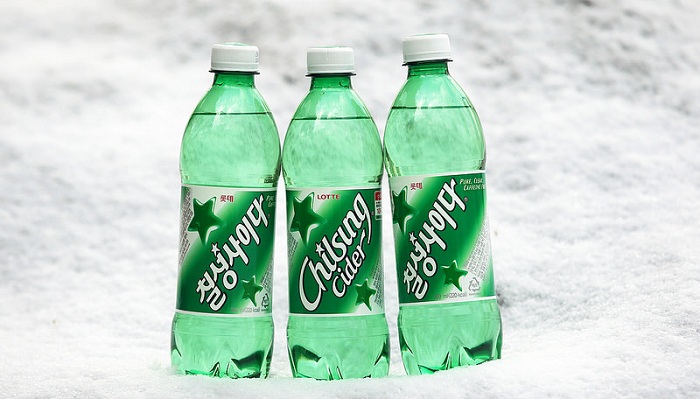 As of end-2013, 18.5 billion bottles of Chilsung Cider have been sold. The 250 milliliter can, the most popular size, has sold about 130 million cans so far.
Regarding people's continued love for Chilsung Cider, Lotte Chilsung attributed it to, "the excellent water treatment system and natural scent extracted from lemons and limes, as well as the removal of caffeine, artificial coloring and artificial flavors."
Chilsung Cider is remembered as an "icon of the lives of the Korean people," the company said, rather than simply a carbonated beverage.
By Lee Seung-ah
Photos: Jeon Han
Korea.net Staff Writers
slee27@korea.kr