Hanji traditional paper beloved around the world
There's a saying that silk lasts for only 500 years, whereas traditional mulberry paper, Hanji, can survive for a thousand years (견오백지천년, 絹五百紙天年).
Seoul recently played host to a seminar aimed at shedding new light on the excellence of the traditional paper, as well as to gather new ideas on how to effectively and globally use the traditional Korean mulberry paper.
At the "International Seminar on Innovative Traditional Korean Paper, Hanji," held at the 63 Convention Center in Yeouido on December 19, experts in the paper industries from the U.S., Britain, France, Italy and Japan gathered to share their thoughts on how to take advantage of Hanji. Participants also discussed how much potential the Hanji industry could have on the international scene.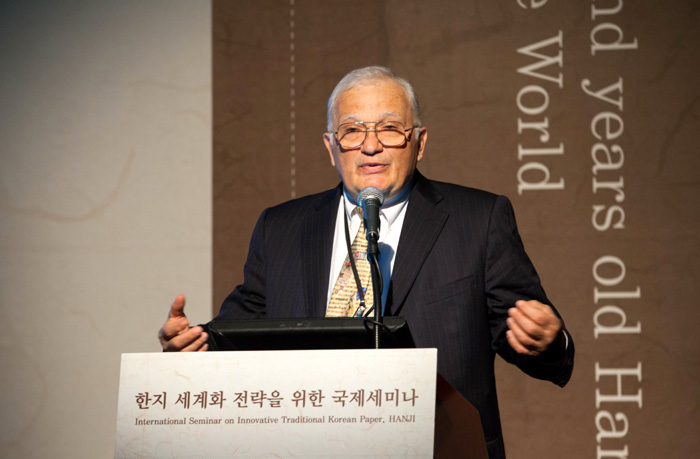 The conference began with a keynote address by Nicholas Basbanes, a journalist and cultural historian who is also known as the author of the globally acclaimed book "On Paper." His speech revolved around the subject of, "Common Bond: Hanji's Place in the Grand Continuum."
"Hanji outdoes other types of paper developed over past centuries," said Basbanes. "There's no match for Hanji paper in terms of tradition and excellence. There's good potential that the paper will further evolve, gaining more ground worldwide."
Following his remarks were a series of discussions that centered on three different subjects: reviving the practice of using Hanji as calligraphy paper and using it to conserve historical documents; the possibilities of Hanji and a glimpse at overseas practices; and, lastly, Hanji's entry into the global marketplace.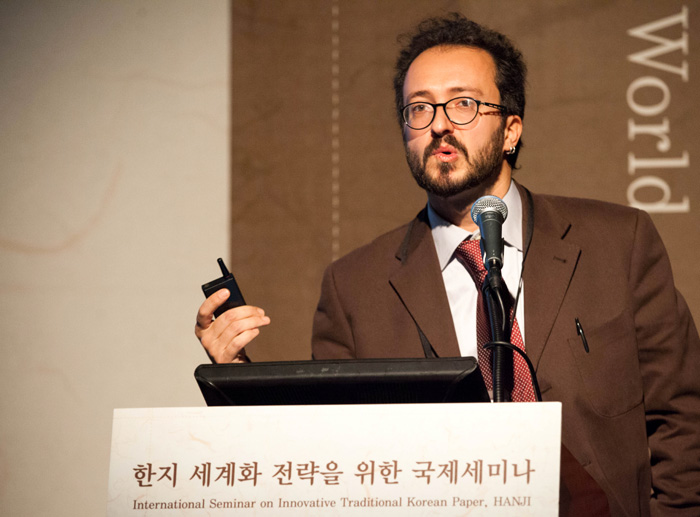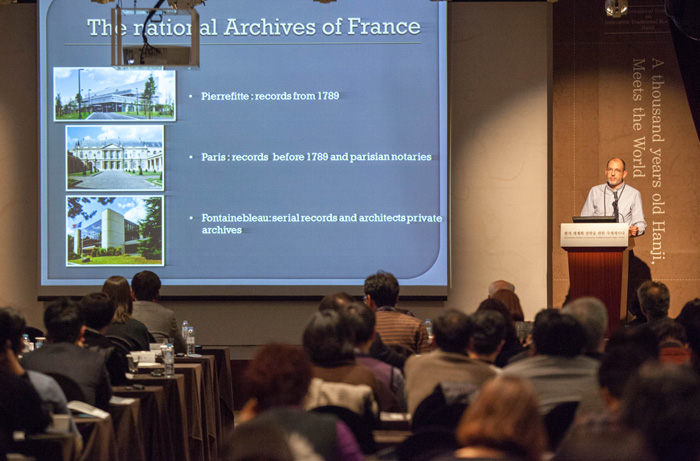 Alessandro Sidoti, a book conservator from the National Library of Florence, Italy, said that, "Hanji paper has been recognized for its high quality, as it boasts a high level of dimensional stability, mechanical strength and flexibility. Also, it's very fine on the surface, thanks to a lot of fibers stretching out in many directions."
"Now, the paper is emerging as a good alternative to parchment paper, a material used to make covers for books," he added.
Conservation manager Laurent Martin of the National Archives of France agreed with the idea that Hanji is a high-quality paper that can replace other papers.
"The National Archives of France is faced with difficulties in conserving a wide range of documents, as other similar organizations have experienced worldwide," Martin said.
"Techniques of conserving historical records have evolved over recent decades and now many eyes are on Oriental papers with high quality that can be used for such ancient documents."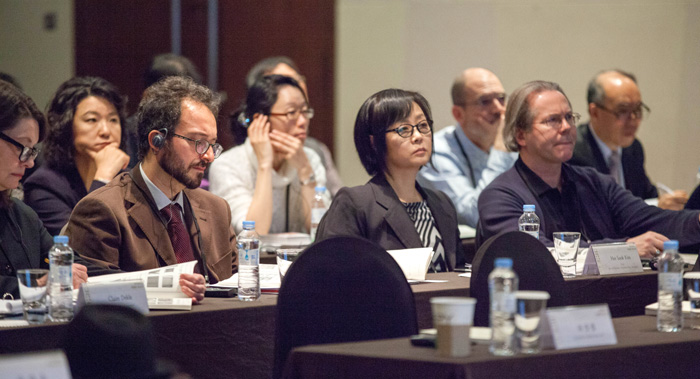 By Sohn JiAe
Korea.net Staff Writer
jiae5853@korea.kr