Ritual for gods of earth, harvest to be revived
King Taejo (r. 1392-1398), the first of the Joseon kings, upon founding the new dynasty ordered built two sacred buildings on either side of Gyeongbokgung Palace, the main hall where kings carried out political affairs. There was the Jongmyo Shrine to the east and the Sajikdan Altar to the west.
At the Jongmyo Shrine (종묘제례, 宗廟祭禮), the Royal Ancestral Tablet House, members of the royal household performed rites worshipping and honoring the earlier kings and queens of ancient Korea. At the Sajikdan Altar (사직대제, 社稷大祭), rituals for the God of Earth (사, 社) toward the east and the God of Harvest (직, 稷) toward the west were carried out. People believed in these gods and felt that performing the rituals with sincerity would bring stability and prosperity.
In 1988, the Sajikdaeje Preservation Committee (unofficial translation) revived the ritual performances. Since then, they have been performed on the first Sunday of every September.
The National Gugak Center will bring to the stage the music and performances from these traditional rites on December 12. The music and performances are based on the center's in-depth study into the Sajikseouigwe, the royal protocols for the ceremonies produced during the reign of King Jeongjo (r. 1776-1800). Everything related to the ritual — from the music and instruments, through to the garments and receptacles — will be introduced at the show. The performance will consist of a total of ten scenes including the Yeongsinrye (영신례, 迎神禮), the ceremony to welcome the gods, the Songsinrye (송신례, 送神禮 ), to bid farewell to them, and the Mangryo (망료, 望燎), to burn the written prayers. The whole performance is expected to take about 90 minutes.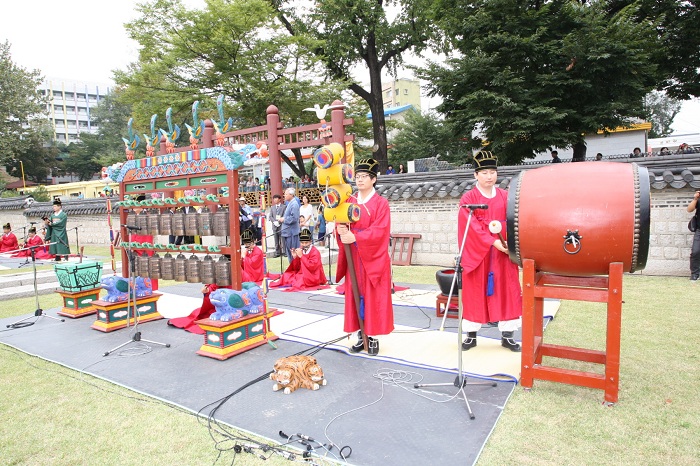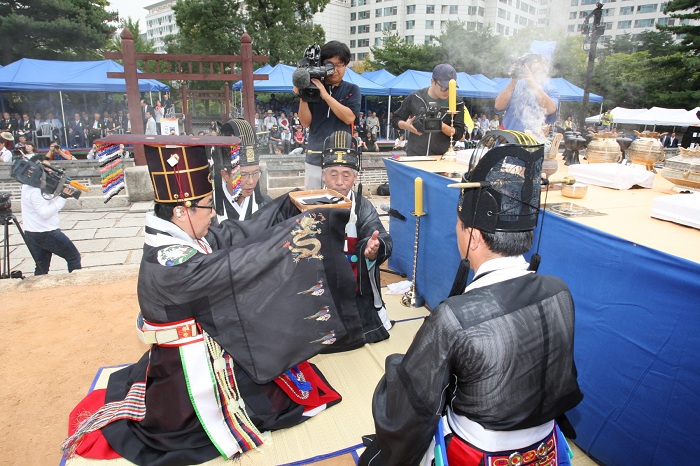 For the musical performance, researchers from the National Gugak Center studied a lot of ahahk, a type of classical court music that was recorded in 1928. The old recordings are played slightly faster than the music performed during the ceremonies each September.
To recreate the garments, receptacles and ceremony steps, the center involved many experts from various backgrounds. One of the highlights is the jochok (조촉, 弔燭), a type of lantern that was recreated with the help of Professor Lee Eun-ju of Andong University. It was known to be about 1 meter tall, was used during night rituals and gave the signal to start and end the music. The production of the jochok involved a number of master artists.
Song Ji-won, head of research at the National Gugak Center, said, "This is the reenactment of the music and dance of the Sajikdaeje, which fully bloomed during the reign of King Jeongjo [r. 1776-1800], who led Joseon during its cultural heydays. It will give visitors a rare chance to learn about the refined beauty of Korean traditional music."
The musical performance is free of charge. Tickets will be available on a first come, first serve basis in the lobby of the Yeakdang Hall at the National Gugak Center in southern Seoul. The concert takes place at 8:00 p.m. on December 12.
By Lee Seung-ah
Korea.net Staff Writer
Photos: National Gugak Center
slee27@korea.kr