Pompeii comes to life after 2,000 years
The volcanic eruption of Mount Vesuvius on August 24, 79, covered Pompeii and the residents who could not escape with an almost 4-meter thick pile of ash. In the first century, the Roman Empire city was a port city near Naples with 20,000 people. However, after the volcanic eruption, the city only existed in ancient records and became, eventually, forgotten.
In 1738, a farmer digging a well came across the remains of the city and excavations led to the discovery of a coliseum, two theaters, a street grid with stores and houses, frescoes and numerous murals. They also found the remains of Pompeii citizens who died in a sudden flash.
Pompeii has now come alive again after 2,000 years. The "Pompeii: Culture of the Ancient Roman City" exhibit will be held at the National Museum of Korea in Seoul from December 9 to April 5. There will be 298 artifacts on display that were discovered in Pompeii, including sculptures, accessories, murals and casts which were made of plaster and poured into empty holes formed inside the volcanic ash.
After Pompeii became part of the Roman Empire in 80 B.C., the city went through an overhaul. Temples, public buildings and large mansions were built one after the other. Gladiatorial combat was held in the coliseum there built in 70 B.C., and plays were performed at a large theater.
The large mansions found in Pompeii were designed so that one could see inside the house after going through an entrance with a short corridor. There were atriums and gardens in the middle and bedrooms were situated on both sides, around the central area. The walls of the bedrooms were decorated with paintings of myths and legends. There were water fountains connected with waterworks and sculptures in the garden.
Visitors will be able to see murals painted on the walls of those mansions. Some wall paintings show a garden with flowers and trees while others display mythological figures and pillars, evidence of the high aesthetic sense of Pompeii citizens.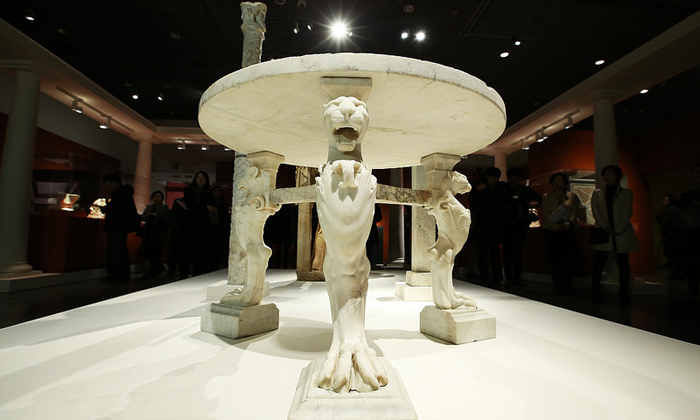 Pompeii citizens worshiped both Greek and indigenous gods. The statues of many gods, including Jupiter and his wife Juno, Minerva, Venus and Bacchus were set up in plazas around the city. Religion was a big part of life in Pompeii and some people even had shrines in their houses to pray for blessings. Sculptures were built all around the city and at the exhibition in Seoul, visitors will be able to see the sculptures of animals hunting their pray.
There were many different types of accessories for women, but only a ring was allowed for men. Headbands, golden hair nets and various types of hairpins, as well as rings, necklaces and bracelets, were all discovered in the ancient city.
The people of Pompeii engaged in dynamic economic activities. Researchers have discovered bread sold in stores in the downtown streets, jars that used to contain wine and scales and weights. Looking at the oven and pieces of bread found in the city, bread seems to have been made in a way similar to the current technique.
Researchers found surgery tools similar to modern instruments, showing that medical technology at the time was quite advanced. Some tools were finely made and close to those that are currently used.
There were many tombs discovered outside the city walls because it was forbidden by law to set up tombs within the city. Bodies were cremated or buried and ash from the cremations was stored in cinerary urns.
Visitors to the National Museum will also be able to see the shapes of Pompeii citizens in their last moment. The casts of a man covering his nose and mouth in a sitting position, a woman who lies face down, covering her face with clothes, and a dog tied to a leash, all show the tragic end of the people of Pompeii.
For more information, please call the museum on 02-2077-9000 or visit the National Museum of Korea's homepage (www.museum.go.kr/site/main/index002).
By Limb Jae-un
Korea.net Staff Writer
Photos: Jeon Han, National Museum of Korea
jun@korea.kr