Experience ASEAN culture, tourism on the road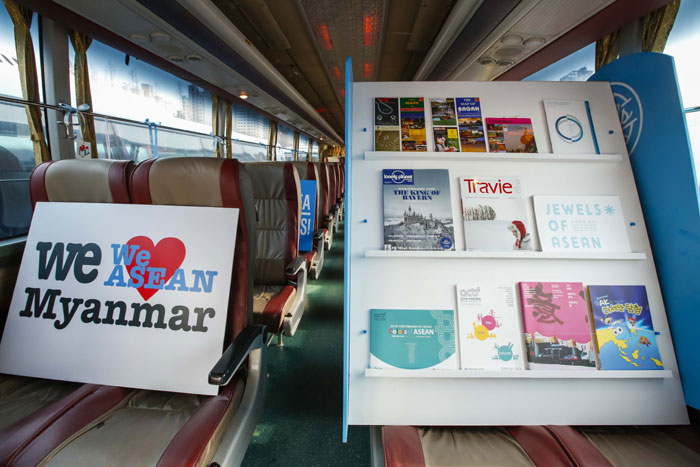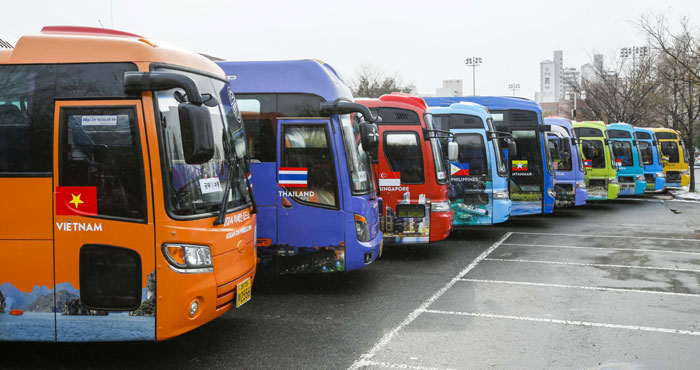 Brochures introducing the tourist attractions and local delicacies welcome passengers as they get on the bus. Signs calling out, "We ♡ ASEAN, We ♡ Myanmar," and, "ASEAN on Wheels," are placed on the seats. The bus door is decorated with the national flag of Myanmar and the exterior is covered with images of Myanmar's most famous tourist attractions.
This is one of the tourism promotional buses for the 10 members of the Association of Southeast Asian Nations (ASEAN). The buses were designed for the special "ASEAN on Wheels" event, organized by the ASEAN-Korea Centre. They mark the upcoming 2014 ASEAN-Republic of Korea Commemorative Summit slated for December 11 and 12 in Busan.
From December 3 to 13, the ASEAN on Wheels buses will tour the downtowns and tourist attractions and stop at school zones in major Korean cities, including Seoul, Daejeon, Gwangju and Busan. Passersby will be able to watch tourism promotional videos and get information about sites and attractions in each of the 10 ASEAN countries, as each bus constitutes part of the ASEAN Culture Library. They can sample traditional snacks and drinks from these countries, too. If lucky, they can also win the ASEAN-based quiz and enter to win either free return-flight tickets to an ASEAN country or else a one-year subscription to a tourism promotional magazine.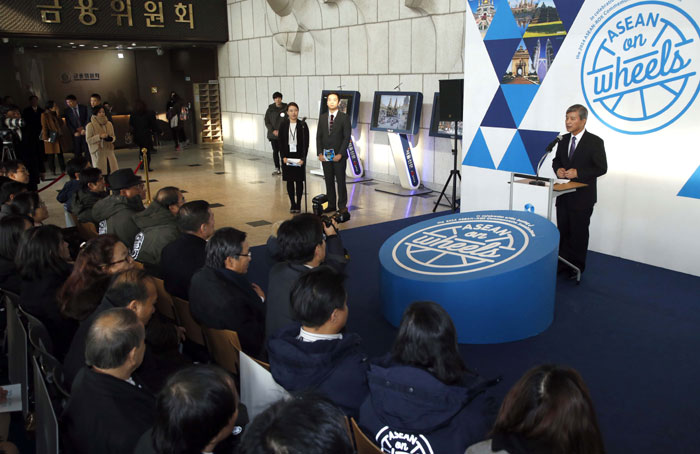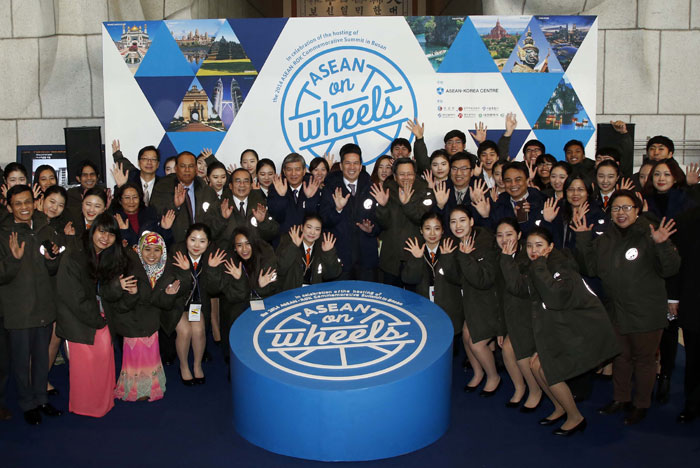 The ASEAN-Korea Centre held a launch ceremony for the ASEAN on Wheels buses on December 3 in Seoul, and announced that the ASEAN-themed buses will now begin their mission to introduce the culture and tourism sites of ASEAN to people across the country.
Secretary General of the ASEAN-Korea Centre Chung Hae Moon said that the ASEAN on Wheels buses are, "meaningful and also a new venture."
"I hope that ASEAN on Wheels will be a great opportunity to feel closer to our Southeast Asian neighbors and to learn more about the myriad attractions on offer there," said Chung.
By Yoon Sojung
Korea.net Staff Writer
Photos courtesy of the ASEAN-Korea Centre
arete@korea.kr