Masks & the Mask Dance
*This is the fourth part in our series, "Masks & the Mask Dance" published in partnership with the National Research Institute of Cultural Heritage
Mask dances performed in an open field (yaryu)
• The Suyeong Open Field Dance
• The Dongrae Open Field Dance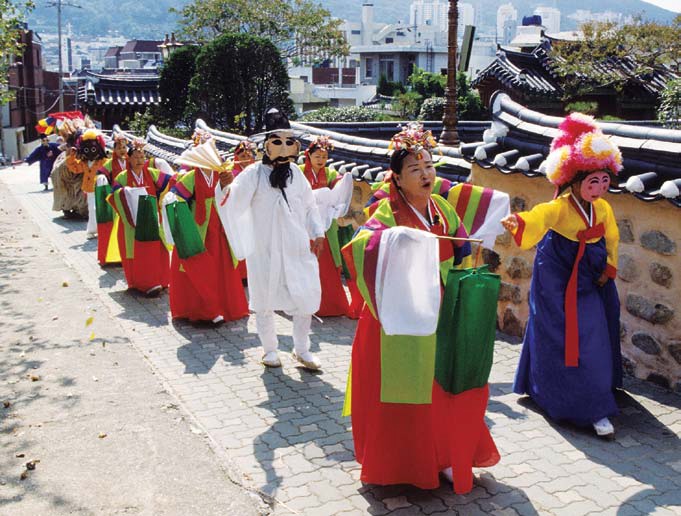 The word yaryu refers to a style of mask dance transmitted down through the generations in the regions of Suyeong and Dongrae, both near Busan on the eastern banks of the Nakdong River.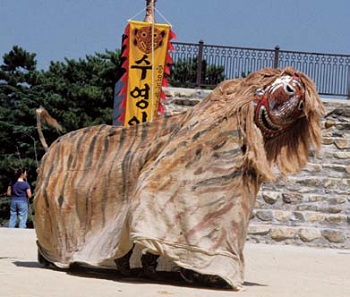 The dance in Suyeong was created first and that from Dongrae developed later. Both mask dances consist of four chapters. The performances are short in length and the number of masks used is relatively small. However, this type of mask dance begins with a boisterous parade (the gilnori) and ends with a tug-of-war designed to promote team spirit (daedong juldarigi). This is the reason why the open field mask dance has been characterized as one of the traditional folk performances that encourage a communal spirit.
The mask dance from Dongrae consists of four characters — the leper, the nobleman, Yeongno and old couple), with a structure of chapters and themes generally similar to those of other mask dances. The mask dance of Suyeong, like that of Dongrae, consists of four scenes, but it begins with the nobleman chapter and ends with a lion dance performance. The lion dance depicts a lion winning a fight with a tiger and eventually eating it. The lion dance is a reflection of the geographical features of the Suyeong region. Legend has it that the locals believed that a mountain in Suyeong (Mt. Baek) looked like a lion running away from the village and they needed to create a dance to comfort the lion. After the lion dance ends, the Suyeong Yaryu performers hold a sacrificial rite and burn their masks to prevent bad luck and attract good fortune.
Although similar to ogwangdae dances in terms of content, the process of Suyeong dance seems closer to Hahoe Byeolshingut Talnori, which is performed as part of a communal shamanic ritual. Suyeong Yaryu has distinctive characteristics as a folk exorcism, given the fact that it was performed on Daeboreum (the first full moon of the lunar New Year), one of the major traditional Korean holidays, together with a ritual for a mountain spirit.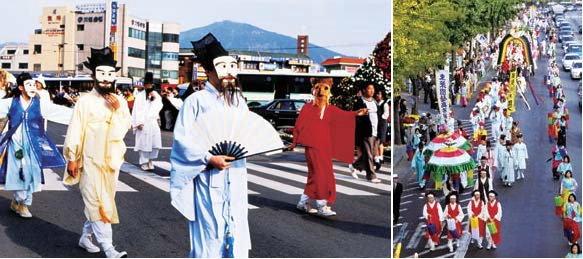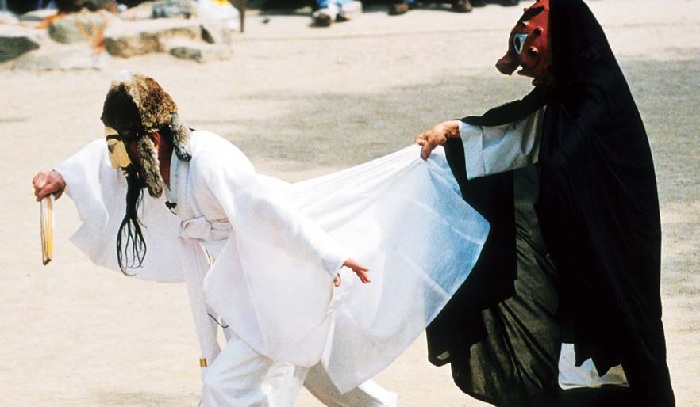 Dongrae dance uses eleven masks made from gourd, including Mundungi (leper), Won Yangban (eldest nobleman) and Cha Yangban (second nobleman). Suyeong dance also uses eleven masks including Malddugi (servant), Su Yangban (primary nobleman), Saja (lion) and Beom (tiger).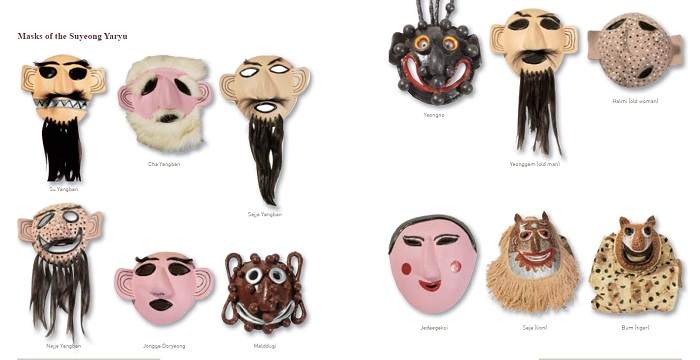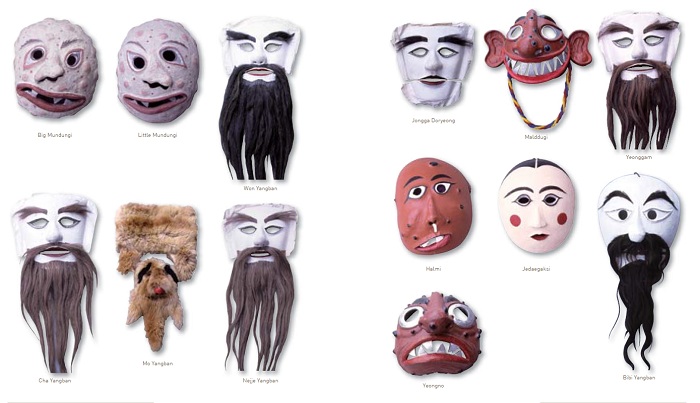 Sandae nori:
mask dances from the Seoul and Gyeonggi Province region
• Songpa Sandae Nori
• Yangju Byeolsandae Nori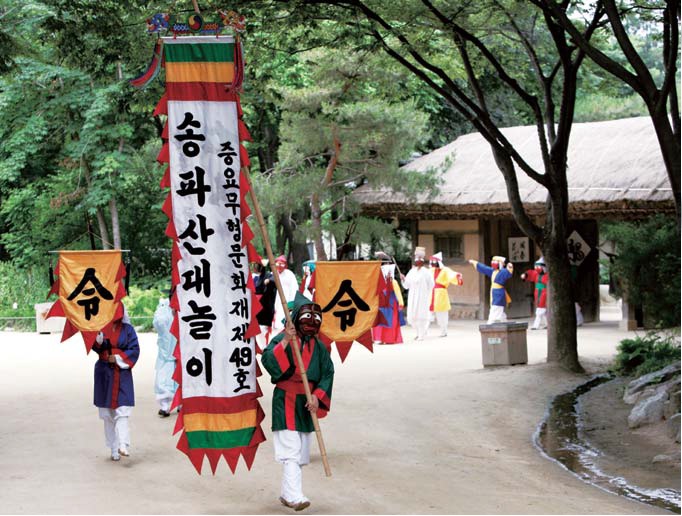 Sandae nori is a type of mask dance handed down around the Seoul and Gyeonggi Province area.
The word sandae literally means a makeshift elevated stage where mask dances were performed as part of the welcoming reception for foreign envoys or whenever royal events were held. At the beginning of the Joseon Dynasty, sandae dramas were performed as part of court functions and the performers were managed by a government office called Sandaedogam. After this office was disbanded, however, the dramas were converted into folk plays performed for the entertainment of commoners. The regions of Songpa and Yangju are famous for their own versions of sandae nori. The two regional mask performances are similar in terms of content, structure of scenes and dance movements.
With origins in royal ceremonies, sandae nori is performed on a large scale and its expressive styles are more sophisticated than other regional mask dances. It has different styles of movements, embodying the basic structures of traditional Korean folk dance. Sandae nori consists of eight chapters: Sangjwachum (ritual dance by young monks); Omjung and Sangjwa nori (episode of a sinful monk with scabies and young monks); Meokjung and Omjung nori (episode of Omjung and a black monk); Yeonnip and Nunggeumjjeogi nori (episode of a virtuous priest with supernatural power and a blinking priest); Palmeokjung nori (episode of eight unworthy monks); Nojang nori (episode of a debauched old monk); Saennim nori (episode of a feeble-minded nobleman); and Sinhalbi and Miyalhalmi nori (episode of an old couple).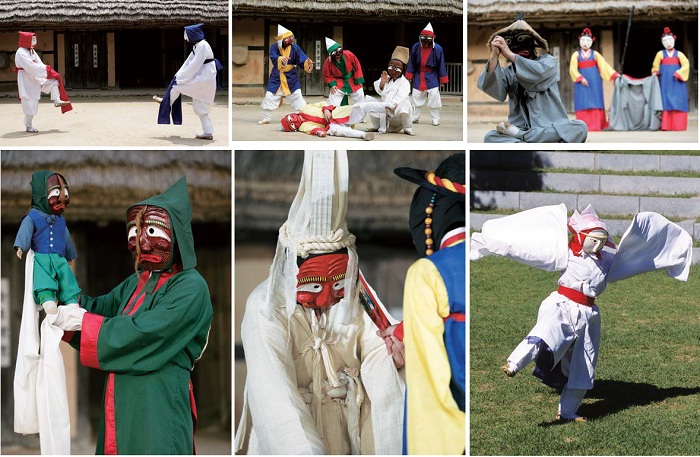 Sandae nori performances feature a great number of characters and run from three to ten hours. The masks used in Songpa Sandae Nori are made from gourd, pine and paper, and a total of thirty-two masks are featured in the performance. Yangju Byeolsandae Nori presents thirty-two characters, but only twenty-two masks are actually used in performance since some characters share a mask.
The sandae nori masks are characterized by realistic, detailed expressions. The masks used for yaryu and ogwangdae are simple and distinctive, while those of sandae nori are crafted with numerous small decorative touches. In addition, the sandae nori masks are roughly the same in terms of size.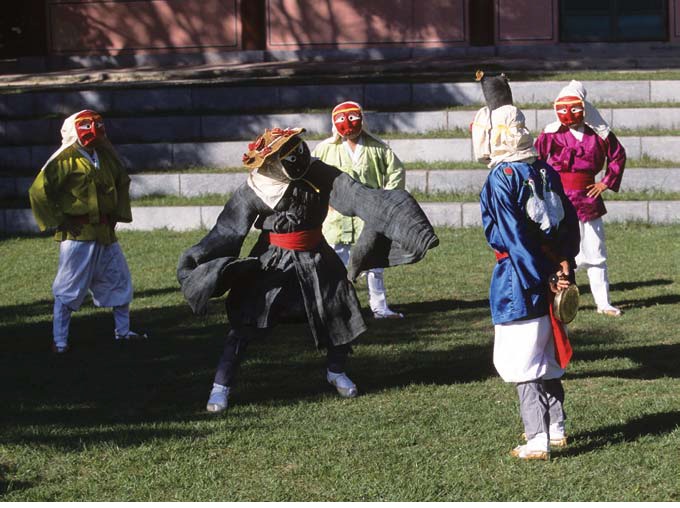 Palmeokjung (eight unworthy monks) Palmeokjung refers to eight apostate monks.
Palmeokjung in the mask dance of Yangju consists of two Sangjwa (young monks), four Meokjung (apostate monks), Omjung (a sinful monk with scabies) and Wanbo (senior monk), while Palmeokjung in the mask dance of Songpa includes only eight apostate monks.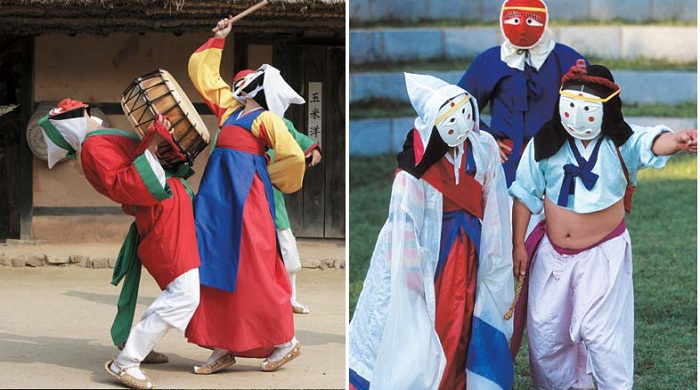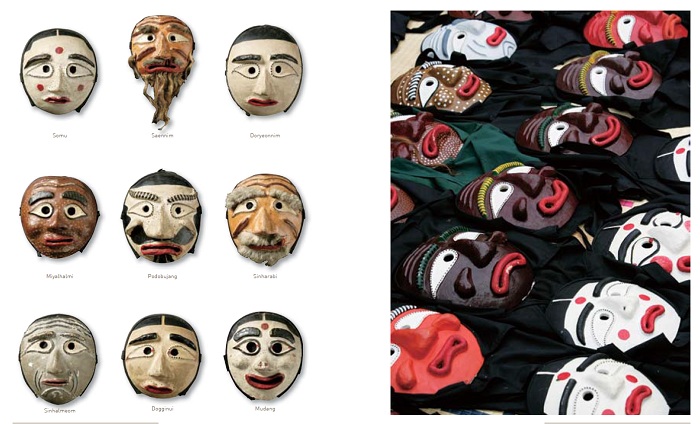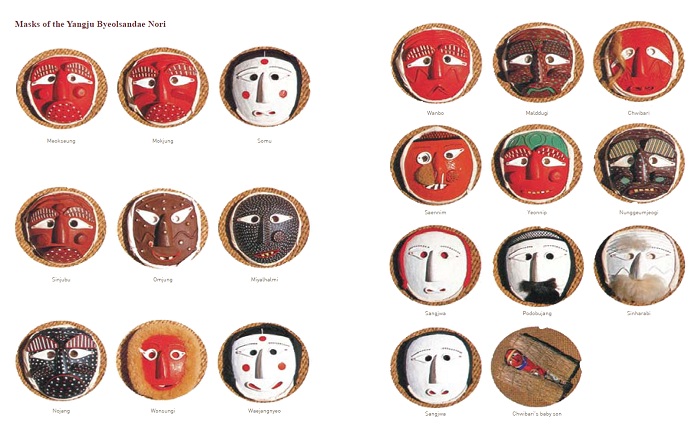 * This series of article has been made possible through the cooperation of the National Research Institute of Cultural Heritage. (Source: Intangible Cultural Heritage of Korea)