Omegisul: the traditional alcoholic beverage of Jeju Island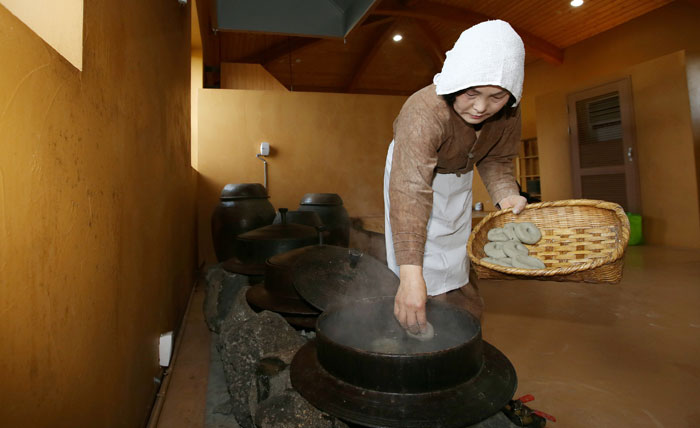 A woman gathers omegitteok from a large vat of boiling water.
These cakes are then battered with a wooden spoon until all the clumps are gone.
This is omegitteok, the traditional millet cake of Jeju Island. The cakes are made from millet, a staple grain of the island. The Jeju people consumed millet instead of rice as the island does not have soil suitable for rice farming due to the effects of ancient volcanic activity. The omegisul beverage is the traditional alcohol of Jeju Island made from fermented omegitteok. This liquor is commonly known as "millet rice liquor," or jopssal makgeoli.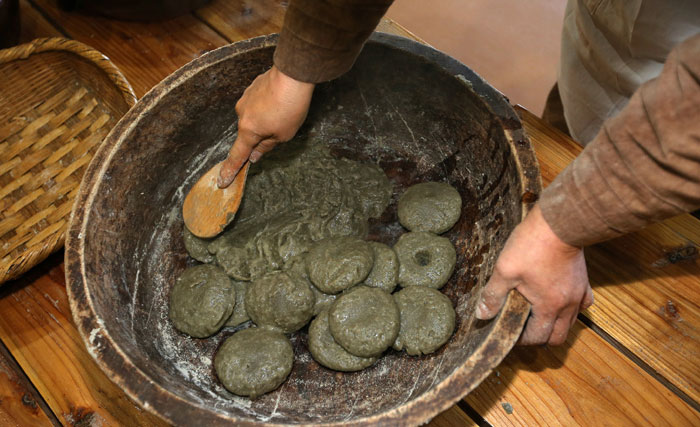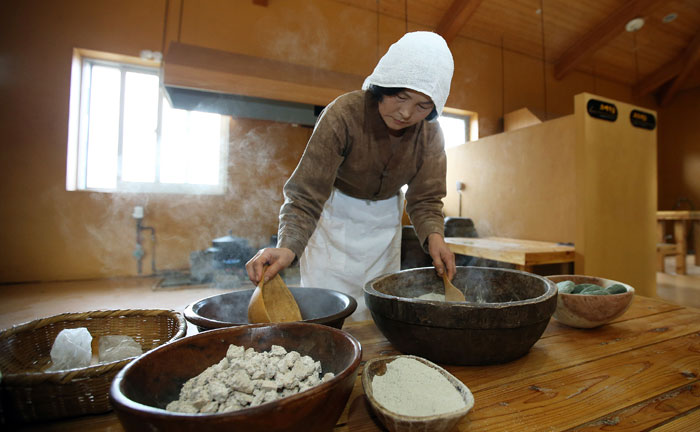 Clad in a garot, the traditional article of clothing worn by Jeju locals, Kang demonstrates how to make theomegitteok cakes and how to mix the yeast into the omegitteok batter. She is an individual of intangible cultural heritage, registered with the Jeju provincial government. She inherited the method of making omegisul from her mother. The master omegisul maker teaches the brewing process at the Seongeup Folk Village. She introduces the traditional liquor to eager students and teaches them how to make the delicious tipple.
Kang repeatedly emphasized the importance of the temperature and the quantity of water while making the millet liquor. The omegitteok cakes need to be put carefully in the pot of boiling water and then a small amount of cold water needs to be added to make the cake batter. During this procedure, maintaining the proper temperature and quantity of water is essential, otherwise it can spoil everything. Powdered yeast needs to be mixed in with the batter until it becomes less sticky and somewhat thinner. The mixture is then put into a jar with good ventilation for a week of fermentation.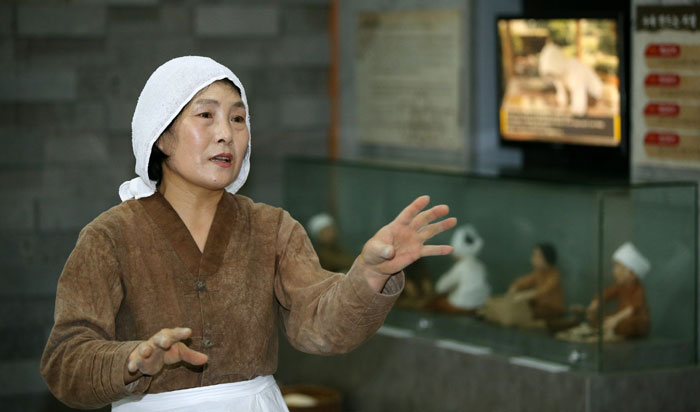 Kang recalls that she was scolded quite often by her mother who taught her strictly how to make omegisul. Thanks to such teachings, however, she says that she was able to become an individual of intangible cultural heritage for the making of omegisul and that she can now teach younger learners.
"My wish is to make omegisul in my own workroom, in a traditional Jeju home, and to introduce omegisul to more people," she said.
Article by Yoon Sojung
Photos: Jeon Han
Korea.net Staff Writers
arete@korea.kr