Travelling will set you free: encounters on Jejudo
People who take a trip and brave to leave their daily routine behind share something in common.
They look peaceful, composed and enjoy their freedom. Travelers to Jeju Island who spoke with Korea.net in the island province were also "open," just like the island itself, known for its houses with no gates. Without a moment of hesitation, they share their own stories with people they meet for the first time. The stories that we share with new people always makes a trip more pleasant and meaningful.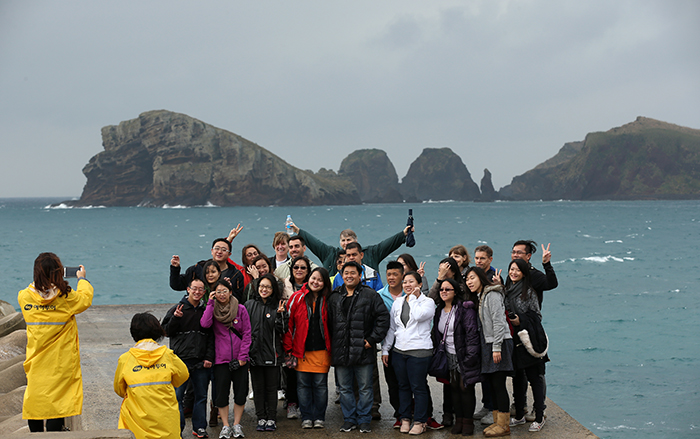 Martha McIntyre, a traveler from Maryland in the suburban Washington, D.C., area, was one of the travelers Korea.net met along the Jeju Olle Trail No. 12. "I am becoming Korean," she said, talking about her life in Korea as a teacher for the past six years. The charms of the island, she thinks, are, "All in the blues and greens that make the island's beautiful landscape." Visiting the island for the second time, McIntyre brought an old friend with her this time to share the beauty.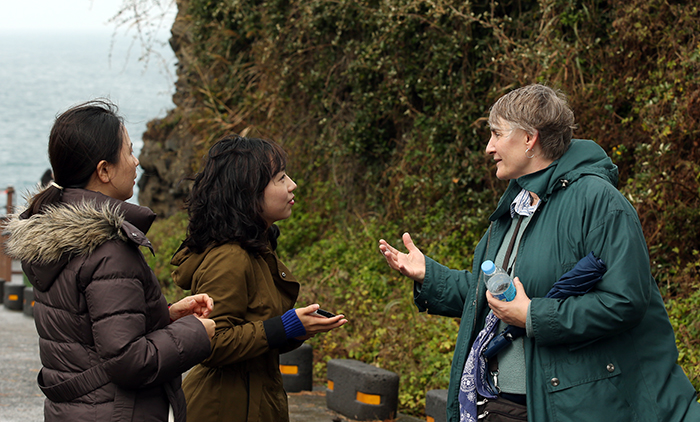 Rolen and Shira from Israel are visiting Jeju Island for their honeymoon. "People recommended we visit the island. We're looking around the island, starting from the eastern part through to the west, south and north." The couple said that they were most impressed by the Seongsan Ilchulbong, the Sunrise Peak in Seongsan, by the female haenyeo divers and by the beautiful beaches that make them want to visit the island again in the summer to swim. They also added, "Everybody here is really nice and friendly."
The Israeli newlywed couple were not staying at a five-star hotel or in a luxurious condominium, but at a guesthouse near Jeju City Hall.
The guesthouse was crowded with a number of travelers, individuals and groups alike, as well as the couple.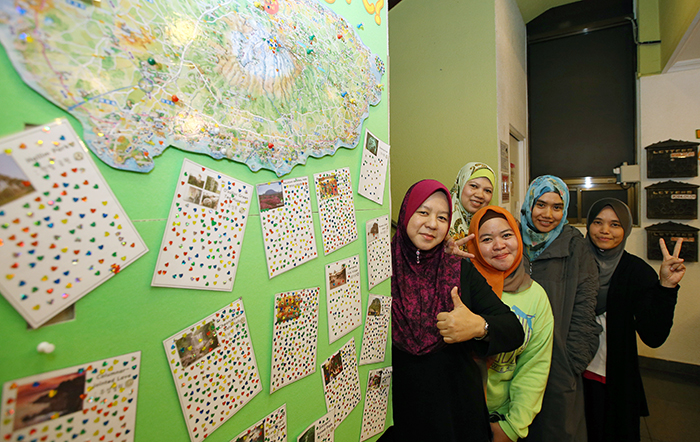 A group of five Malaysian travelers are visiting Korea for 11 days, making stops in Seoul, Busan and on Jeju Island. "The trip was planned and organized by a few of us, great fans of Korean soap operas and movies," said one of them in a pleasant voice. They were travelling around the island by taxi, only visiting spots to which they chose to go. "Every single thing we saw on the island was beautiful," they agreed. The Muslim group added that, "We were touched that the guesthouse owners prepared separate cooking utensils, specifically for Muslims."
Yoo Ji-jeong, in her late 20s and from Seoul, was one of the guests in the general room. She has visited the island more than ten times. Yoo said, "I worried about the rain last night, but it was great to see the Saryeoni Forest in today's mysterious fog," and added that, "Jeju Island shows different charms every time I visit." She also talked about her plans for the next day. "I am planning to try paragliding tomorrow at the Geumakoreum to get a panoramic view of the island from up in the sky."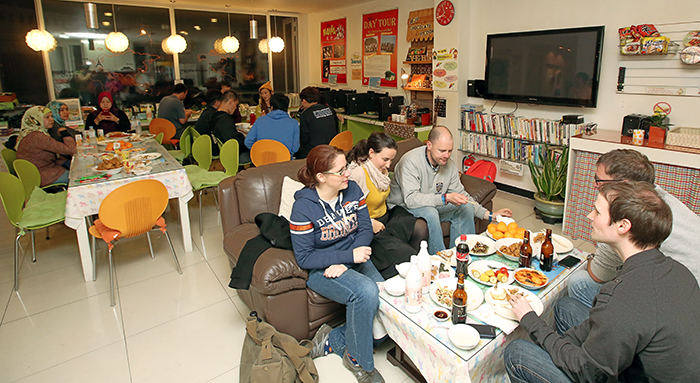 Heo Yun-sun, owner of the Yeha Guesthouse, said, "Until the early 2000s, there were lots of Japanese tourists, mostly fans of actor Bae Yong-jun, but these days we see an increasing number of tourists from Southeast Asia, particularly Malaysia and Indonesia."
She added, "I am always happy to spend my life with these open-minded tourists who visit us."
By Lee Seung-ah
Photos: Jeon Han
Korea.net Staff Writers
slee27@korea.kr