Korean literature in English: Windflower
A poet keeps her eyes on a windflower as it bends its back near a grave.
"Intimate with those in despair, grown old," says the poet, while portraying the purple breath of the flower with the words, "Windflower into your purple the sun reclines."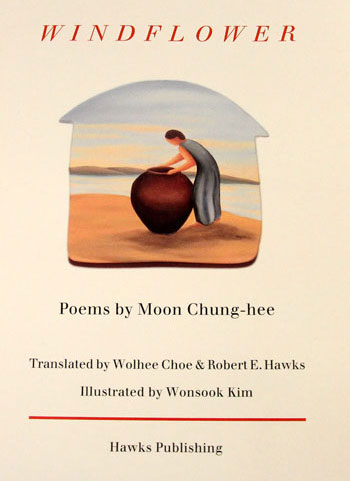 This is part of a poem titled "Windflower" which was included in the book of the same title published by Hawks Publishing in 2004. This book introduces the poems of Moon Chung-hee which she wrote over the course of three decades.
The collection is composed of three parts: "Windflower," "In Another Country" and "Fresh Sorrows." In the first part, the poet expresses her feminine view of seeing men as an object to accept, not solely as an object of love or with which to have a conflict. This can be seen in her works such as "Big Brother (Oppa)," "Songs of Hwang Jini" and "When I See a Tall Man." On the other hand, however, words of criticism and provocation co-exist in her works.
Such views are particularly well seen in her poem "Big Brother (Oppa)." Moon wrote the poem in her collection "For Men" published in 1996. For her, an older brother, or an oppa in Korean, does not only mean an older male sibling who "has the most money" or who will "inherit what could have been mine."
The writer says that, "I call all men Big Brother. Like the fog opportunely lifting to reveal roads and skies, men of the world have all become my oppas in memory of broken enchantments."
The following is part of her poem "Big Brother."
Oppa! Once sounded
The beastliness vanishes,
panting subsides.
Fat purses and hearts
Pounding to buy me silk shoes
oppas abound.
Remarkably I now know.
According to Moon, a professor at U.C. Berkeley, Jordan Smith, praised the English title of her poem "Big Brother," not "Brother," as he focused on the symbolic meaning of the title oppa.
The title of the second part of the collection, "In Another Country," is derived from a poem of the same title by the poet who wrote about her stay in New York for two years from 1982 to 1984. Another poem in this section includes "The Fountain." In this poem, Moon looks back on her oeuvre and reflects upon herself while watching the strong movement of water drops falling from a fountain.
The third section, "Fresh Sorrow," includes poems like "Jewel Song," in which the poet compares sorrow to a jewel, and "Youthful Days," where she wrote about the beauty of youth and its frailty.
Moon was born in Boseong, Jeollanam-do (South Jeolla Province), in 1947. She graduated from Dongguk University in Korean Language & Literature, where she also did her Master's Degree. She published her first book of poetry, "Kkotsum" ("Breath of a Flower") when she was a highschooler, receiving recognition for her talent. She currently works as president of the Society of Korean Poets and has been active on the writing scene.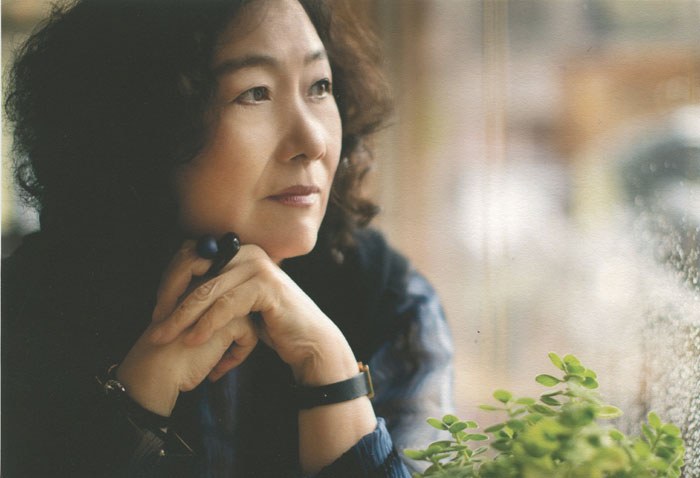 "Windflower" was jointly translated by Choe Wolhee and Robert E. Hawks. Choe translated other works, such as "Songs of the Kisang" and "Poems by Chong Hyon-jong." Hawks is a U.S. poet and is the president of Hawks Media, a publishing company focusing on Korean art and poetry.
Moon's other works can be found in English, French, German, Spanish, Indonesian, Swedish and Albanian. They include "Woman on the Terrace," "I Must be the Wind," "To Young Love" and "I am Moon."
By Yoon Sojung 
Korea.net Staff Writer
Sources: Literature Translation Institute of Korea, Moon Chung-hee
arete@korea.kr