Mado 1 launched 800 years after sinking
An ancient cargo ship sank after it was launched from Mado Island off the west coast of Korea some 800 years ago during Goryeo times (918-1392). The cargo ship was full of goods to trade, including pieces of blue celadon and food to be sent to those in power. The ship, the Mado 1, has now been restored to its original form.
The National Research Institute of Cultural Heritage (NRICH) held a ceremony on November 26 to launch the Mado 1, a life-sized recreation of the ancient sunken vessel. The original ship was discovered underwater off Mado Island in Taean County, Chungcheongnam-do (South Chungcheong Province), in 2010.
The newly-built ancient ship resembles a typical Korean traditional ocean-going vessel, with its curved, flat deck. The ship's walls are made of bent logs and its sail is made of bamboo. The nails are made of oak and are used to fasten the logs together. The ship itself is made of pine and other large trees. The ship is designed to have wide sides so that a large amount of cargo could be loaded onboard. The ship is 15.5 meters long and 6.5 meters wide and can carry up to 30 tons of freight.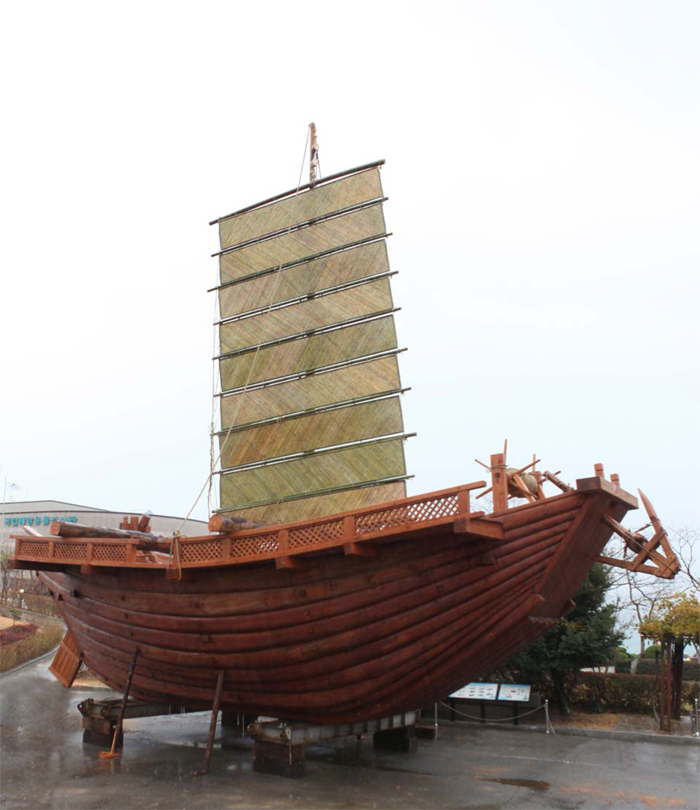 When the original ship was discovered in 2010, it contained many artifacts that were used in daily lives, such as different types of grain, ceramics, bamboo-made goods and other foodstuffs. According to inscriptions on wooden pieces found on the ship, the original Mado departed from port in 1208 carrying pieces of blue celadon, food and salted fish, among other goods. These items were presents given by regional government officials in Haenam, Naju and Jangheung in Jeolla-do (Jeolla Province) to the people in power in Kaesong, the ancient Goryeo capital.
The new Mado was built after careful examination of and comparison with other ancient ships and was based on historical research and various other primary documents. Ship designers provided much of the advice used during the reconstruction. Basic and reinforced designs were used and a marine engineering analysis was conducted. Finally, a miniature model was created and a three-dimensional drawing was made based on the research.
The ship will be moved to an information center for artifacts found underwater in the Yellow Sea, to be built on Sinjindo Island in Taean County. It will be on display for viewing and used for educational purposes.
"The Mado 1 is the first Goryeo ship whose chronology is confirmed. It is a meaningful reference point to study the development of ship-making technology throughout our history," said a researcher at the NRICH.
By Limb Jae-un
Korea.net Staff Writer
Photos courtesy of the NRICH
jun2@korea.kr