Korean film via stamps: the unfaltering love of 'Chunghyanngjeon'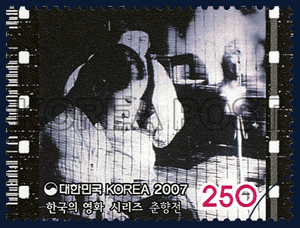 The film "Chunhyangjeon" was released in 1935. It was the first Korean film to have sound added to the motion picture, made by Gyeongseong Productions. The story was adapted from the traditional pansori lyrical opera "Chungyangga." Lee Philwoo, the first Korean filmography engineer, laid out the production plans and his brother, Lee Myeongwoo, took the megaphone.
The "Chunhyangjeon" is a widely popular story, with works ranging across many films and theatrical productions. Notable recent productions include the film "Chunhyangdeon" (2000) by Im Gwon-taek and the TV series "Sassy Girl Chun-hyang" (2005) produced by KBS 2TV.
Key characters in the story are the protagonists Seong Chunhyang and Lee Mongryeong, the villain Byeon Hakdo, the people on the sidelines Hyangdan and Bangja and then Chunhyang's mother, Wolmae.
As a love story that transcends the hierarchical social classes of Joseon times, the "Chunghyangjeon" has as its backdrop the city of Namwon in Jeollanamdo. Seong Chunhyang is a giseng's daughter and Lee Mongryeong comes from an upper class yangban family who comes to promise marriage to the young woman. However, Lee eventually moves to Seoul, separating the two. Lee promises to pass the official civil servant's exam and to return to take Seong's hand in marriage. Meanwhile, she passes other suitors while waiting.
A new official in town, Byeon Hakdo, is more interested in entertainment than work. Hearing about the beautiful Seong, Byeon summons her to his office and, since she is only the daughter of a giseng, orders her to submit to him. Being a person of honor, however, she refuses. Being thus denied, he puts her in jail while giving her time to think.
As the story progresses, Lee returns from Seoul and visits the home of Wolmae, Seong's mother. Wearing the clothes of a very poor upper class person, he asks for her. He then visits her in prison but is unable to save her.
The final days come and Byeon asks Seong for her final answer. She defers and waits for her final punishment.
However, Lee, in fact, did pass his exams and has since become a secret auditor for the king who has to prove Byeon's crimes, all while hiding his real identity. In the end, he saves the day by revealing himself and saving Seong.
The "Chunhyangjeon" appears on the last stamp of Korea Posts's first edition of Korean film series stamps, printed in 2007.
By Paik Hyun
Korea.net Staff Writer
cathy@korea.kr