Cross-country exploration, part 1: Tongyeong, a city of military, music and the arts
Tongyeong, a southern coastal city of Gyeongsangnam-do (South Gyeongsang Province), is known for having been the childhood home to many historic figures, artists, musicians and literary people.
Their roots are concentrated alongside Gangguan Port, the city's main harbor.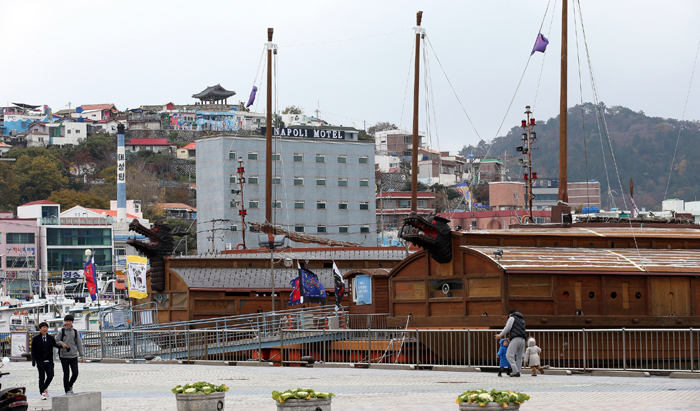 There sit turtle ships, the geobukseon, floating on the waters just off shore. Turtle ships are famously featured in the recent mega-hit "The Admiral: Roaring Currents." They are a type of ancient large battleship used by Admiral Yi Sun-sin (1545-1598) in a series of successful naval battles during mid-Joseon times (1392-1910).
The turtle ships were used on the other side of the peninsula, too, during the famous 1597 naval battle of Myeongnyang. There, Yi and his navy beat back an encroaching samurai army off the coast of Jindo Island, in Jeollanam-do (South Jeolla Province). Tongyeong, however, where the turtle ships were also used, is famous for the 1592 battle of Hansando, a fierce naval clash that took place near Hansando Island in waters just beyond Tongyeong itself.
Yi is known as having been the very first naval commander of the province, a position that after his death morphed into the Tongyeong Samdo Sugun Tongjeyeong. It was a military district that served as the central naval station for three provinces: Gyeongsang, Jeolla and Chungcheong. This military position was one of Joseon's main lines of defense ever since it was established in the coastal city in 1604.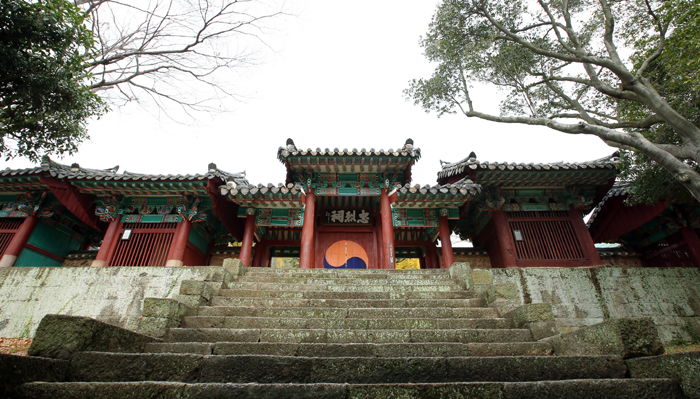 To commemorate this warrior's historic deeds, in 1606 the king ordered that there be built in Tongyeong the Tongyeong Chungryelsa Shrine. This altar houses Yi's spiritual tablet and tombstone, as well as records that trace his meritorious achievements as a naval commander.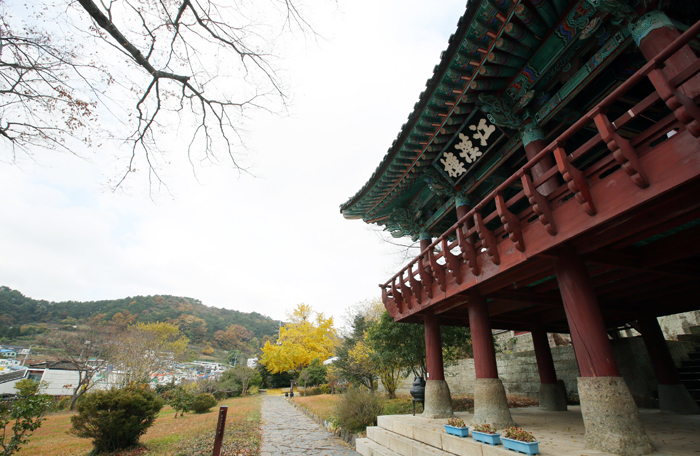 Beyond military figures, however, quite a number of literary people and artists were also born in or had connections with the port city. Poets Yu Chi-hwan (1908-1967), Kim Chunsu (1922-2004) and Kim Sang-ok (1920-2004), as well as novelists Park Kyung-ni, (1926-2008) and Kim Yong-ik (1920-1995), and painters Lee Jung-seob (1916-1956) and Jeon Hyuck-lim (1916-2010), are all associated somehow with the city of Tongyeong.
Composer Yun Isang (1917-1995), who was born in Tongyeong, once said that, "All my music started in Tongyeong and it was all inspired by sights and sounds of nature that I heard and saw there, such as the sounds of waves and the wind and the glittering clear blue sea in the sun."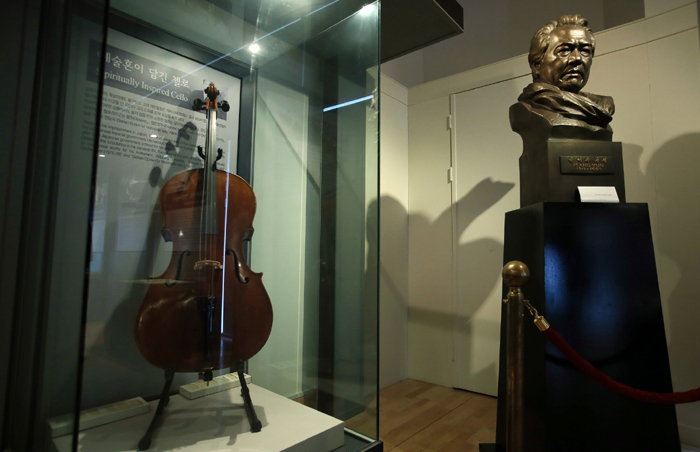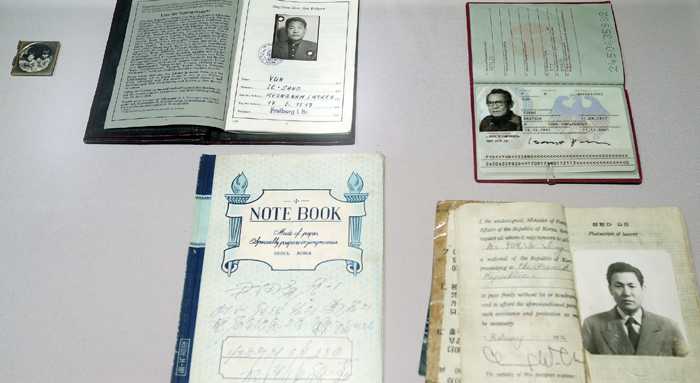 In 2010, the city of Tongyeong built the Isang Yun Memorial in the vicinity of the composer's childhood home. The museum features an array of historical records that chronicle the composer's musical career, as well as a set of items that give visitors a glimpse into Yun's music and life. Outside the hall lies a life-size replica of the house in Berlin where the composer used to live.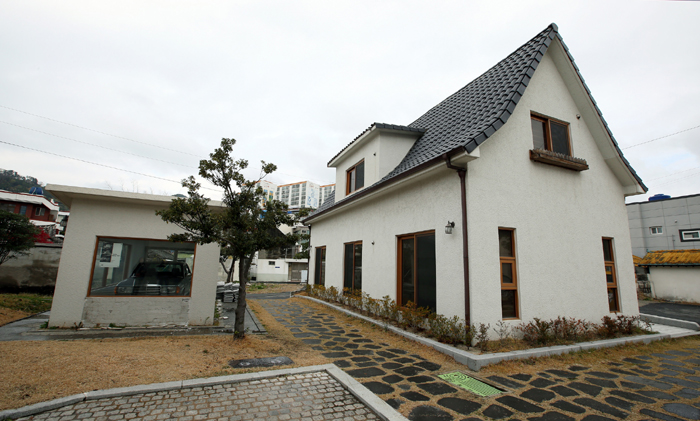 Born on September 17, 1917, in Tongyeong, composer Yun Isang went to the village school, known as aseodang. He went on to learn how to play the cello and studied composition at the Osaka College of Music for two years.
The composer then returned to his hometown where he taught music at the Tongyeong Girls High School and then at Busan High School. At the same time, he composed numerous school songs and children's songs.
Yun's musical talent finally received the global spotlight when he moved to Europe. In 1956 he studied first in Paris and then in Berlin. In 1959, his composition "Music for Seven Instruments" made it big at the Darmstadt Contemporary Music Festival. In 1972, his opera "Sim Tjong" premiered as an opener at the Summer Olympics in Munich and garnered lots of attention from the global audience that saw his show.
Afterward, he produced numerous musical pieces and gained fame on the international scene. Yun shared his composition expertise with his promising students as he taught composition at the Berlin University of the Arts from 1977 to 1987.
"Even the German audience, which is well-known for having booed and jeered at Beethoven when it found one of his musical works to be not good, rose to its feet and gave a big round of applause for all but one of Yun's musical pieces," said Associate Director Lee Jung-do of the Isang Yun Memorial.
"We've welcomed quite a lot of German visitors who already know Yun Isang and who come here to Tongyeong, far away from their home country, to find traces of the world-class composer."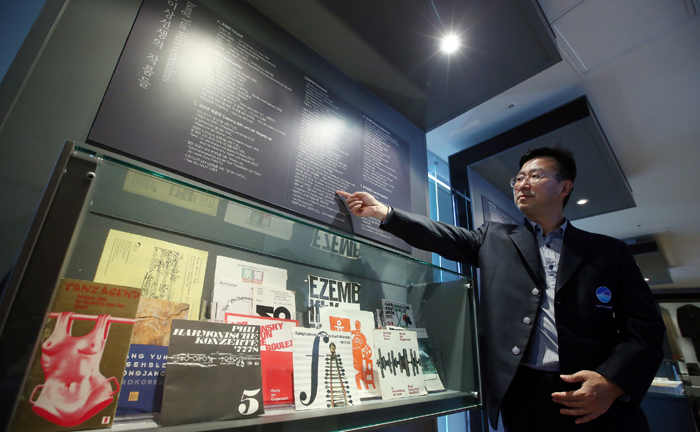 Along the eastern hills of Gangguan Port lies the Dongpirang Village, one of the city's must-see sites. It's famous for its wall paintings and outdoor artwork. The name Dongpirang comes from the words "dong," meaning "east," and "birang," which means "hill." The village used to be a deserted neighborhood. However, as one mural painting after another was created by artists on the neighborhood's walls, it started to attract a growing number of visitors and tourists. Mural paintings in a variety of patterns and colors now welcome visitors to the site.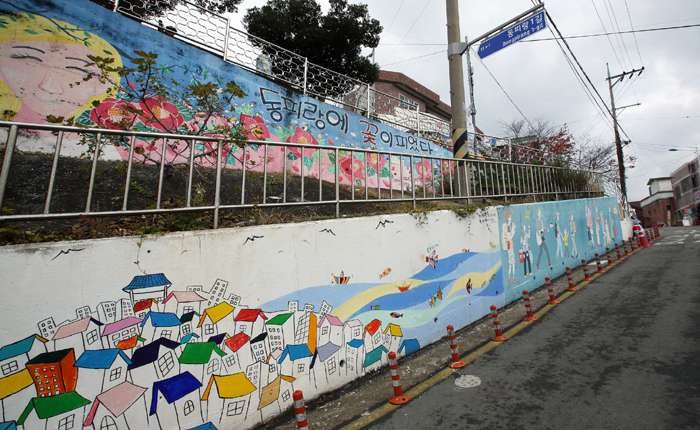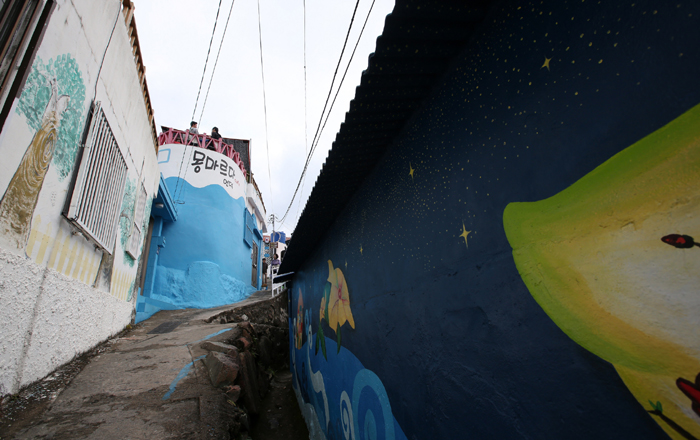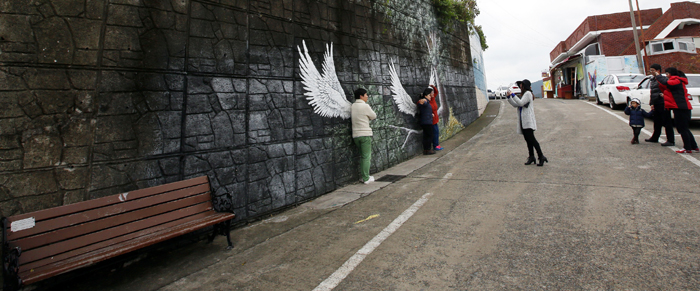 Another attraction of the neighborhood are the cozy rooftop coffee shops with scenic views of the sea where people can enjoy the view and leisurely sip their coffee.
On the opposite side of the village lies the Seopirang Village. Many efforts are being made to turn the village into a second Dongpirang, full of artistic things to enjoy.
"We're working to turn the 99-step stairway in Seopirang Village into one with a theme and a story. We are also planting flowers and other plants beside the stairs to make them look brighter," said village director Kim Yong-woo.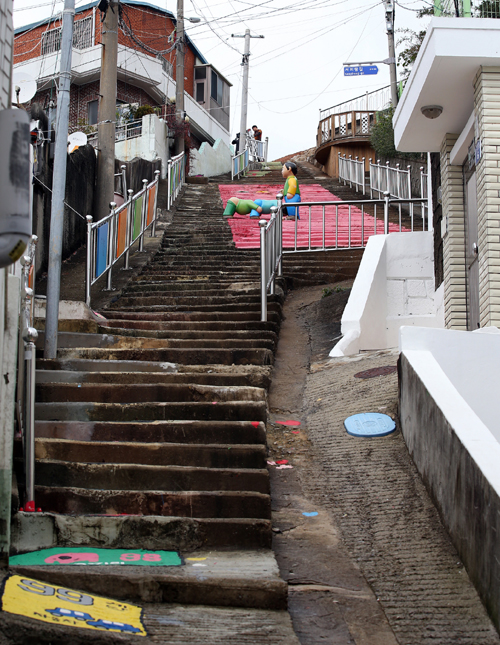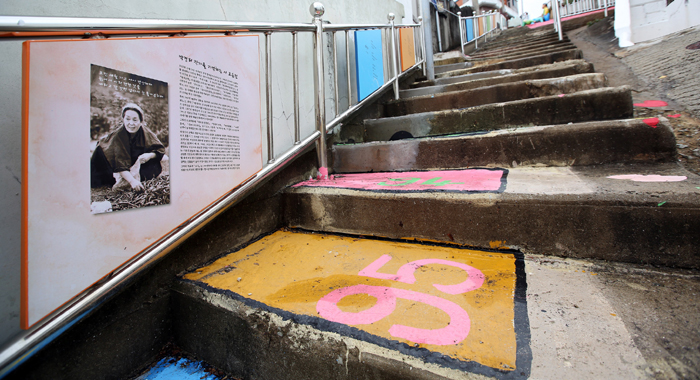 The stairs are colored red in the middle of the stairway, resembling a red carpet welcoming some celebrity. There are also chair-like works of art that allow visitors climbing the stairs to take a break on their way up.
Many of the dull, rundown houses and walls around the stairway have been repainted in brighter colors, adding to the neighborhood's fresh look. At the entrance, there's even an array of sculptures made from recycled materials, such as wood, spoons and chopsticks, welcoming visitors.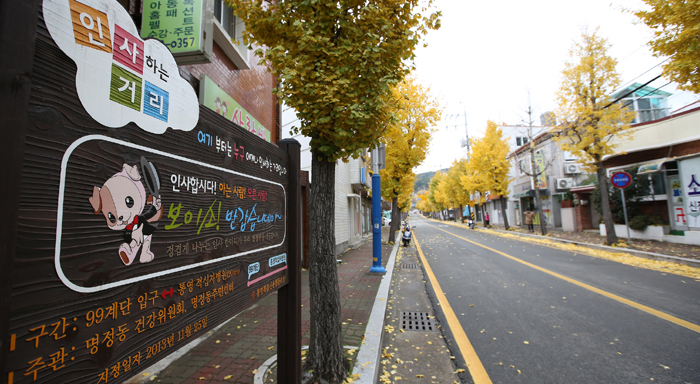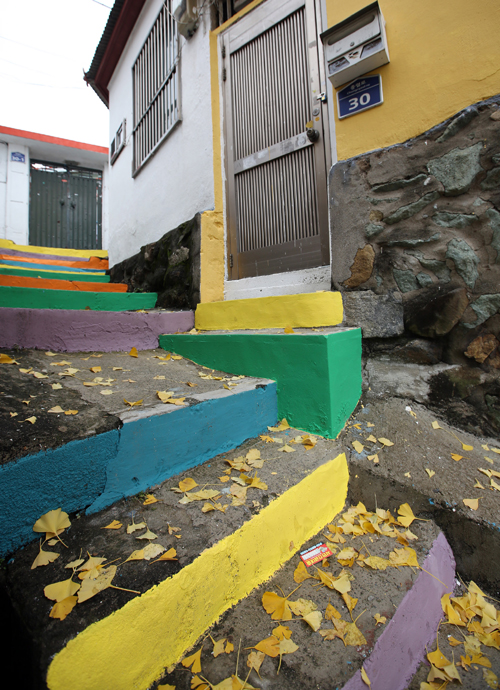 "We are working hard to make this neighborhood, once a poor neighborhood to which everybody turned a blind eye, into a place that brings together neighbors and into a place parallel with the Dongpirang Village," said the village director.
By Sohn JiAe
Korea.net Staff Writer
Photos: Jeon Han
jiae5853@korea.kr