Around-the-world yacht trip enters day 38
Sailor Kim Seung-jin hopped on his 13-meter yacht, the Arapani, on October 18 to start a worldwide sailing adventure with no physical aid, without making any landfall at any port and using only the power of the wind. Kim started the journey saying that it would send a message of hope to many people around the world.
By November 24, he had already travelled more than 3,000 kilometers to the south and to the east of Korea and is now some distance from Kosrae, an island in the Federated States of Micronesia, on his outward journey eastward around the globe.
Just over a month into his journey, Korea.net spoke with him on a satellite phone to hear about his current status and future plans. He answered in a bright and chirpy voice, and sounded even brighter than before he left.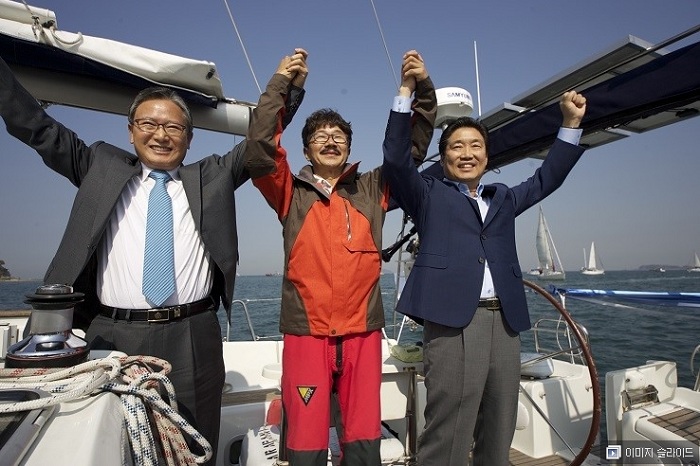 It's been more than a month now. You have already passed Japan and entered the Pacific Ocean and are now near the Federated States of Micronesia. You seem to be on course as planned.
I am currently near Nauru, famous for its phosphate rocks, located at around 161 degrees east longitude, and am about 3 degrees away from the equator.
Today, I plunged into a wind-free area and have been stuck in the same place all day long. So it has been a very calm and quiet day. I made bindaeddeok, a mung-bean pancake, and dived into the sea. I was swimming in a gigantic swimming pool that's about 3,700 meters deep.
How do you plan your daily routine? How do you sleep?
It's very hard to fall into a deep sleep. I have to always check where I'm going. It's normal for me to sleep for between 30 minutes and an hour. I slept for about two hours maximum once when there were no waves.
I was barely able to sleep last night. I passed an area with a flurry of wind, rain and thunder. It was the hardest part of the journey up until today. Normally, those areas go past in 10 to 20 minutes, but last night it lasted for about two hours. The wind was at speeds of about 35 knots. I was tired.
How do you feel being in a calm now after that bout of turbulence?
I am now floating in the sea, looking at the clouds far away and waiting for more to come. I need wind to make my yacht move. Wind will start blowing again tonight. I should prepare for it now.
We heard that your navigation light was broken and that you were traveling without spare lights. How do you deal with this?
I just travel without it. Lights indicate to other boats that my yacht is here. I turn on the main light at the top of my mast when I receive an alarm signal that some other vessel is around me. For more than the past ten days, however, I haven't seen anything other than the waves around my boat.
What made you challenge yourself to this worldwide sailing adventure?
I personally enjoy things that make me excited and nervous. It's been my long-cherished dream since I started learning about sailing. Lots of people told me that they have dreams and hope to watch me. It gives me an enormous amount of energy.
Do you often contact your headquarters? What kind of advice or encouraging messages have they sent you?
I talk to them on a daily basis to get updated weather forecasts. Thanks to them, I was able to avoid the big wind-free areas so far. It's not just forecast information. They also deliver me messages that my followers have sent. It touches my heart. It feels like I am travelling with them. It's really a shame that I couldn't afford to buy equipment for photographs and videos, and that I can't show them the vivid images of how I live at sea. I would like to share my story with them after all.
We wonder what's on your mind as you sail every day.
Lots and lots of things. From memories of long ago to family, friends and acquaintances. What's at the end of the thoughts are always the people around me, especially my family. They are like air and water as we take it for granted.
It seems really hard that you have to do everything alone. Back here, however, there are plenty of people who are worried about their economic difficulties, job or retirement. What would you like to say to them?
The world and your life can be really different depending on how you look at it and how you think about it. For sure, life has its ups and downs. How you spend your down days will determine how confident you are. I, too, have experienced many failures. I have ruined my own business and have been economically desperate. As a person who has failed, I would like to tell them that the world is a place for which it is worth living.
I look up to the sky and see the stars every night. We should know that it's a great fortune to be born on the earth, a large space full of water. I hope people enjoy their lives.
What do you want to do first when you hop off the yacht?
I am not able to eat my meals at a table while onboard because it is nearly always turbulent. Most of the time, I mix rice and soup in a bowl with a handle. When I get back to land, I would like to have a home-made meal. Also, I would like to sleep with my family in the same room.
You are scheduled to return to Korea next May. What kind of itinerary do you expect for the rest of your journey?
So far, it has just been the beginning of my journey. In a few days, I will cross the equator southward, and then enter the South Pacific and encounter typhoon season. Also, I will then pass Cape Horn in the south of Chile, the hardest part of the route. There is plenty to go over between now and then. There will be difficult times, but I am sure I can do well.
By Lee Seung-ah
Korea.net Staff Writer
slee27@korea.kr