Zoologist Jane Goodall visits National Institute of Ecology
Jane Goodall, the 80-year-old zoologist and environmentalist, visited the National Institute of Ecology (NIE) in Seocheon, Chungcheongnam-do (South Chungcheong Province) on November 23. Goodall is known for her life-long devotion to studying chimpanzees and other wild animals.
Goodall, often referred to as the "mother of chimpanzees," attended a ceremony to name a trail on the NIE's land as the "Jane Goodall Trail." It was named after Goodall to pay tribute to her achievements. The 1-kiometer long trail features a tent modeled after the tent where she used to live in the Gombe Stream National Park in Tanzania in the 1960s. There are also artificial objects that symbolize her relationship with chimpanzees.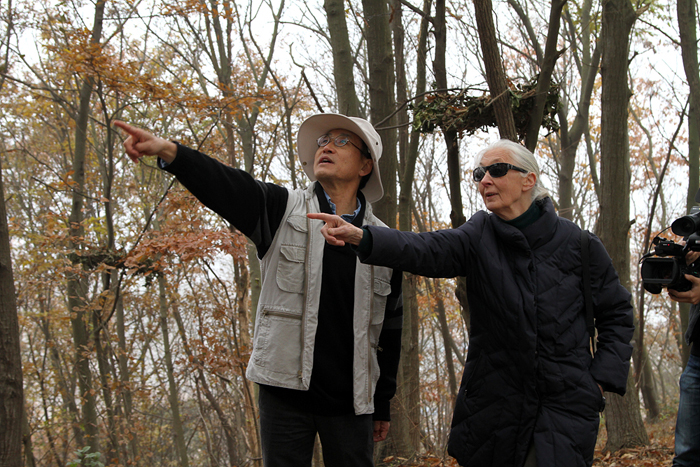 Goodall went into the chimpanzee sanctuary in the national park at the age of 26 in 1960 and started observing and studying the primates. She later discovered that chimpanzees stuck thin branches into ant mounds to capture white ants and she broke the conventional wisdom of the time that humans were the only animal that could use tools.
Now, Goodall works for "Roots and Shoots," a movement for animals and the environment. The movement started with 12 children in Tanzania and it has now spread to 110 nations with over 150,000 members. It focuses on raising awareness of the value of life and of the planet's environmental crisis.
After looking around the NIE, Goodall gave a "Seeds of Hope" lecture sending the message that we must create a future in which humans and nature co-exist.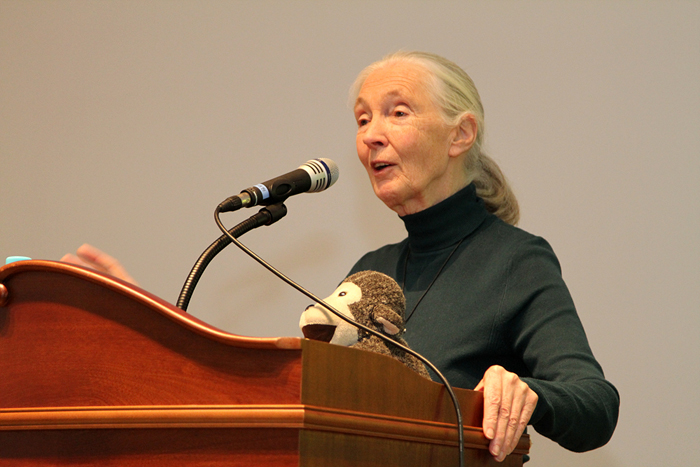 "The climate change caused by humans not only hurts biological diversity but also ruins humans themselves," said Goodall. "I believe we have lost our wisdom to think over how decisions we make influence future generations."
"I have witnessed how we cause damage to our environment while travelling around the world for 300 days per year. We need to think about the small things we can do for the environment, from choosing what we eat to what we wear."
By Limb Jae-un
Korea.net Staff Writer
Photos courtesy of the NIE
jun2@korea.kr