Paju Jangdan soybean festival ends in success
A festival celebrating the Jangdan soybean, a legume known to have been served to kings, was held last weekend at the Imjingak Plaza in Paju, Gyeonggi-do Province. Around 760,000 visitors flocked to the three-day festival between November 21 and 23 to enjoy newly-harvested beans and to participate in the wide range of activities on offer.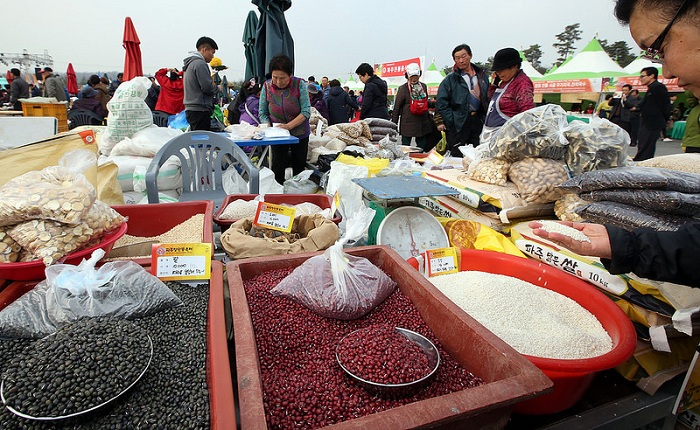 Jangdan soybeans are named after the region where they originated: Jangdan-myeon in Paju, Gyeonggi-do Province. This variety of legume has long been known for its great quality, both in terms of taste and nutritional value. The quality was officially recognized back in 1913 when it was selected by the government as an agricultural product whose supply needed to be encouraged.
The Jangdan region is known for its perfect natural conditions for soybean cultivation. It has a large daily temperature difference, low temperatures during the winter and the earth is made up of decomposed granite, good for drainage. For these reasons, soybeans grown in the Jangdan region are known to have twice as much or more organic substance and to have 50 percent more isoflavone, a polyphenolic compound with anti-cancer effects. Every November, during the soybean harvest season, Paju City hosts the annual festival, marking its 18th run this year.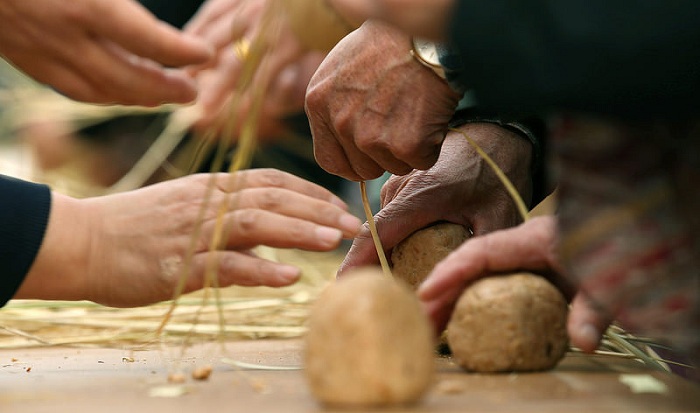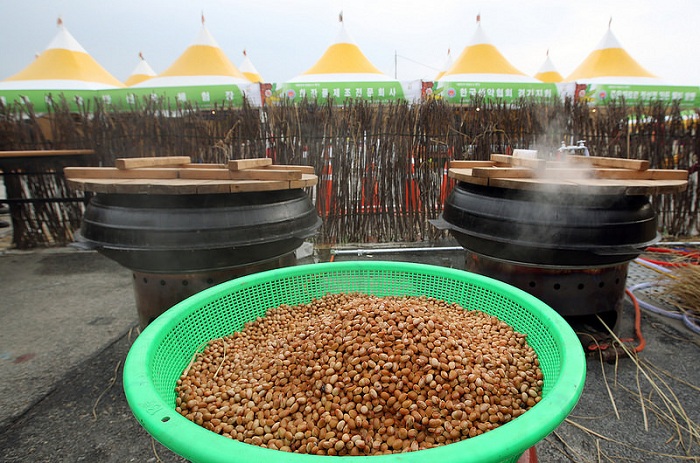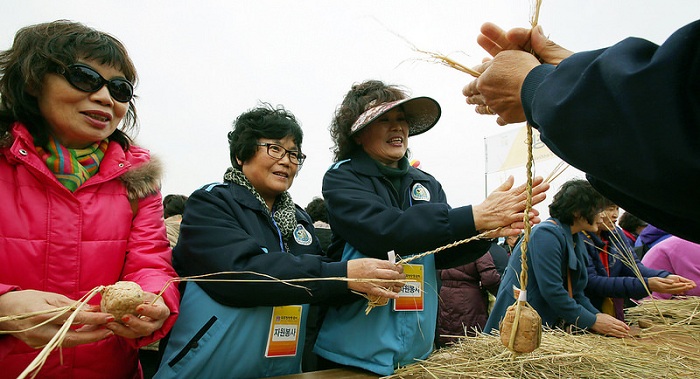 At the festival, people bought up a variety of soybeans — beaktae, jwinunikong and bamkong beans, among others — at a reasonable price. They also enjoyed various programs on offer, such as making mini meju, cakes of soybean that can be used when making soybean paste, sampling bean rice cakes and participating in traditional folk games. One elderly group seemed engrossed in their nostalgic thoughts. Jeon Sun-hwa in her 70s, from Gangwon-do Province, said, "This is the first time for me to make a meju in over 20 years. It reminds me of the past when I used to make these every day, from dawn until dusk. "
On the other side of the venue there was a soybean cooking contest. A number of chefs from various regions across the country introduced a wide range of soybean-based recipes. There were lots of unusual yet yummy-looking dishes on display, such as tofu pancakes, glutinous rice cake pies, soybean chicken and a soybean shake.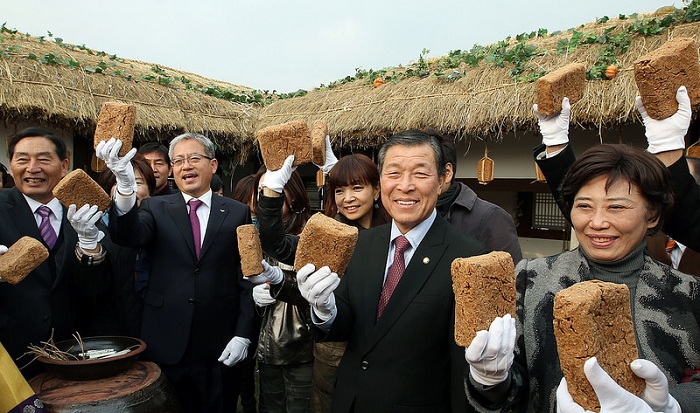 Paju City Mayor Lee Jae-hong said during his congratulatory remarks that, "I am glad to host the 18th Jangdan Soybean Festival. Today, we would like to introduce you to soybeans that are produced with pride by the 60,000 Paju farmers. I hope this festival becomes a place where farmers and consumers can share their love for this product."
The opening ceremony was also attended by Mayor Zareh Sinanyan of Glendale, California. "I heard that soybeans from this region are some of the best in Korea," he said, expressing his curiosity for Jangdan soybeans.
By Lee Seung-ah
photos: Jeon Han
Korea.net Staff Writers
slee27@korea.kr