First Korea-UK creative industries forum kicks off
Korea and the United Kingdom will strengthen their ties and cooperate on the cultural and creative industries.
Representatives of the two nations gathered on November 20 at the National Museum of Korea for the ROK-U.K. Creative Industries Forum 2014, the first of its kind, to discuss the future of the industry. Participants shared their experiences with previous policies and well-received projects and discussed ways to enhance professional networking in both countries.
Co-organized by the Ministry of Culture, Sports and Tourism and the U.K.'s Department for Culture, Media & Sport, the forum consisted of three sessions: the Business Forum, the Creative Eco-Systems in the Digital Era session and the Creative Industry Policy Discussion. Experts from the creative industries from both countries participated in the presentations and discussions during all three sessions.
The topic of the first session was the sharing of business experiences in the creative industries. CEO Kim Kwang-yong of Tuba Entertainment and Creative Director Robin McNicholas, founder of Lightfield, talked about videos, animation and digital visual effects, respectively.
During the second session, on digital technologies and their effects on the cultural and arts fields, researcher Park Geun-su of KBS's research institute, CEO Tim Davie of BBC Worldwide, Vice-Chancellor Nigel Carrington of the University of the Arts, London, and Director Hasan Bakhshi of the Creative Economy in Policy & Research center all participated in the discussion.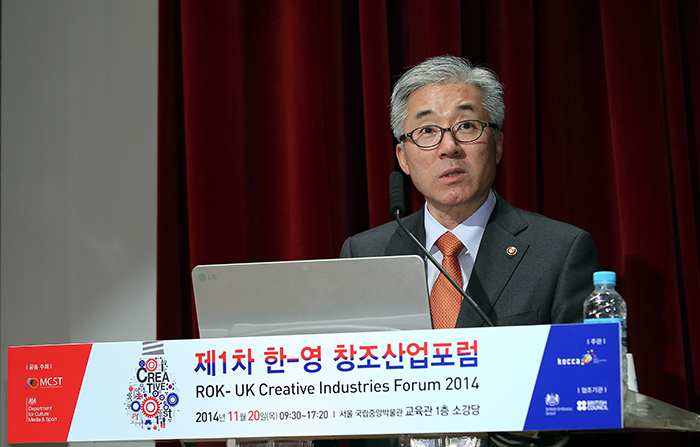 The highlight of the forum was the last session, the Creative Industry Policy Discussion. Minister Kim Jongdeok of the MCST and Secretary of State Sajid Javid from the U.K.'s Department of Culture, Media and Sport both participated in the event.
During his remarks, Kim said that, "This forum is being held as a follow-up to the MOU on cooperation in the cultural and creative industries that was signed by Korea and the United Kingdom last November. It will serve as an opportunity to expand the cultural content market through exchanges and cooperation, especially in the areas of exchanges of human resources, broadcasting, movies, animation, fashion and theater."
In return, Javid said that, "This summer, the Seoul Philharmonic Orchestra made the stage at the BBC Proms. Also, Psy's 'Gangnam Style' was in our Top Ten chart for nearly half a year. Now, two great countries get together to share ideas and expertise. It will provide us an opportunity to learn from each other and to foster cooperation."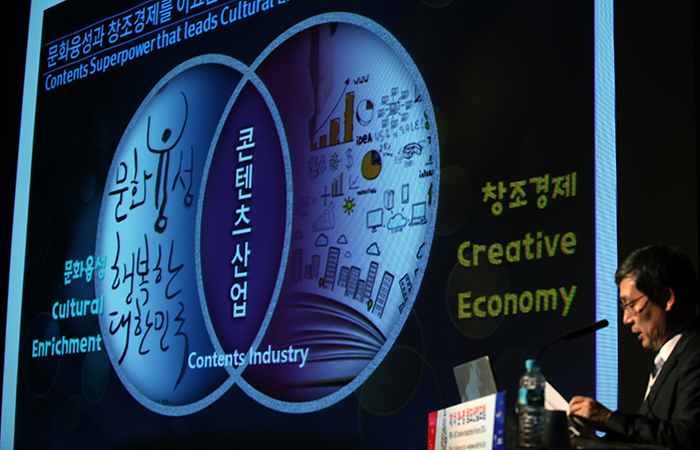 During the final session concerning policies, Yoon Tae-yong, deputy minister of the Cultural Content Industry Office, part of the MCST, CEO Joe Twist of the U.K. Interactive Entertainment Association and Secretary of State Javid all shared their views and thoughts about strategies to sustain the creative industries.
By Lee Seung-ah
Photos: Jeon Han
Korea.net Staff Writers
slee27@korea.kr