M-Pass enables public transport use from Seoul to Jeju
The Metropolitan Pass, or M-Pass, is a pre-paid transportation card designed for tourists in Korea. The card, which has been mainly used in Seoul and other metropolitan areas, will now be useable on Jeju Island starting in December this year.
In the past, the card was used to pay for public transport fares through the T-money system, such as on buses or subways in Seoul, Incheon and around Gyeonggi-do (Gyeonggi Province). Starting next month, however, it can be used on public transport on Jeju Island. The M-Pass is a pre-paid transport card which was introduced by the Ministry of Land, Infrastructure and Transport and the Seoul Metropolitan Government for the convenient use of public transport for overseas tourists. Currently, the cards are on sale at airports, including Incheon International Airport, Jeju International Airport, and tourist information centers at key sites across the country.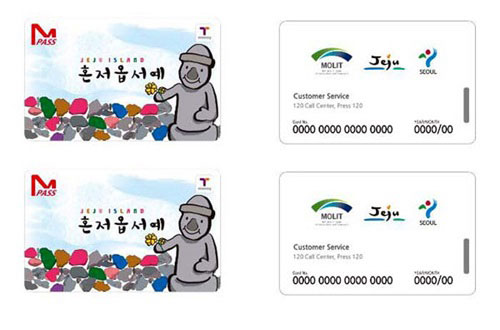 With one M-Pass card, users can use public transport, such as intra- and inter-city buses, subways and airport buses, up to 20 times a day. The price of the card is KRW 18,000 for one day, KRW 18,000 for 2 days, KRW 25,500 for three days, KRW 42,500 for four days and KRW 59,500 for seven days, with an additional deposit of KRW 5,000 for the card itself. Users can receive the remaining balance and their deposit when returning the card after deducting a service charge of KRW 500.
People can use the card from the first time they swipe it until midnight of the end-day. The card can be used like cash at any shop that accepts T-Money, such as almost all convenience stores, bakeries, cosmetic stores and other places, as long as the card has a remaining balance on it and that the time has not yet expired or that the number of uses has not yet been used up.
A staff member at the Jeju Special Self-Governing Province said, "We will extend the range of T-money use to enhance the convenience of overseas sightseers who visit Jeju Island. We hope the extended use of M-Pass can help tourists use public transport with convenience, at anytime and anywhere in Korea."
By Yoon Sojung
Korea.net Staff Writer
arete@korea.kr