Taekwondo enjoys growing flow of adherents
The Taekwondowon is a global training center for taekwondo that opened its doors in September in Muju, Jeollabuk-do (North Jeolla Province). Since launching its training classes, it has been welcoming one visitor after another.
More than 140,000 people, both from home and abroad, have so far come to the venue and completed a variety of training programs. Although most of the visitors are taekwondo practitioners, ordinary tourist numbers are constantly on the rise, too.
Encouraged by the growing number of visitors, especially from other countries, the Taekwondowon has held a series of interesting events, including international competitions and taekwondo training camps. The 6th World Youth Taekwondo Camp, a festival for global taekwondo practitioners, took place here too, from July 19 to 25.
A total of 128 youth from 17 countries from around the world, including Brazil, Croatia, Malaysia, Tonga, Australia, South Africa and El Salvador, were part of a variety of training programs throughout the one-week camp. They learned new taekwondo moves (poomsae) and practiced board-breaking(gyeokpa) in the traditional manner. Also, they were paired up and pitted against each other using taekwondo skills that they'd honed over the course of their classes.
"Its facilities and food are as great as those served at a nice hotel. Many of my students [young practitioners from the U.S.] are very satisfied with their stay here," said taekwondo master Kim In-seon who was leading a group of youth from Dallas, Texas.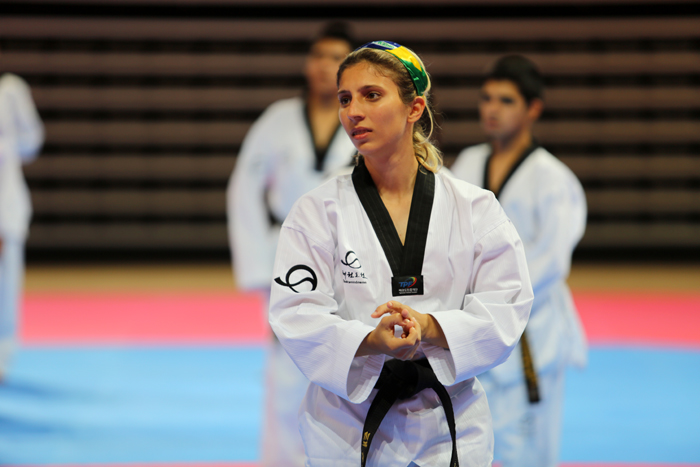 The Taekwondowon is situated on a 2.3 square kilometer piece of land aside Baekwoonsan Mountain in Muju. The complex houses the T1 Arena which can accommodate up to 4,500 spectators, the Taekwondo Museum, an experience center and facilities for learning taekwondo.
Starting next year, the complex also plans to offer a new set of experience programs under the theme of, "Hallyu, or The Korean Wave, of Taekwondo," targeting its increasing number of international visitors.
By Sohn JiAe
Korea.net Staff Writer
Photos: the Taekwondowon
jiae5853@korea.kr