Thousands of people make kimchi with hands, heart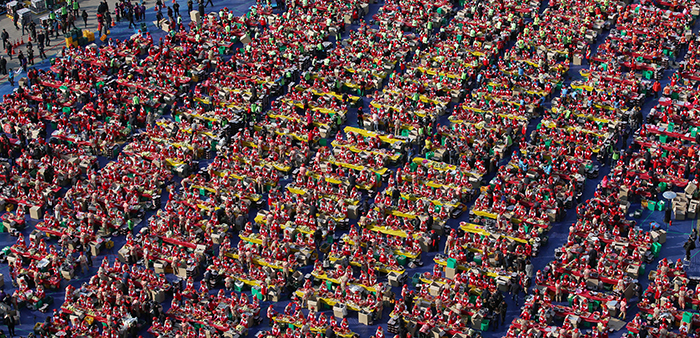 During this time of the year, families, their relatives and next-door neighbors sit around together and prepare kimchi, the range of seasoned vegetable dishes based around the cabbage.
The making and sharing of kimchi, known as kimjang, has been part of people's lives for many generations. Indeed, last year the practice of kimjang was inscribed on the list of UNESCO's intangible cultural heritage items.
Making kimchi is more than just following a recipe. It embraces the spirit of sharing and one's sense of identity and belonging to the community.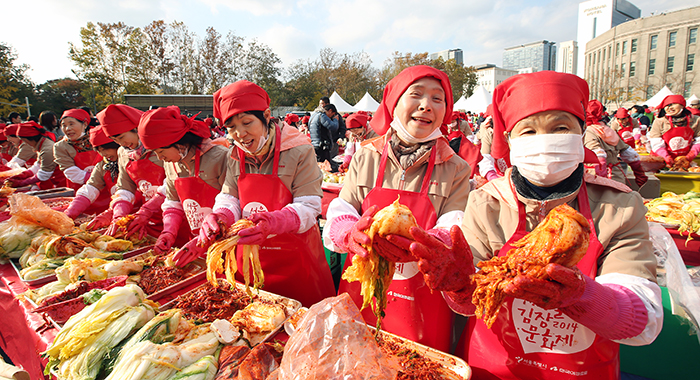 The city of Seoul played host to the 2014 Seoul Kimchi Making & Sharing Festival from November 14 to 16. It stretched from Seoul Plaza in front of City Hall, reached northward to Gwanghwamun Square and spread eastward down the Cheonggyecheon Stream.
The festival welcomed high-ranking officials, including Minister of Agriculture, Food & Rural Affairs Lee Dong-phil, Seoul Mayor Park Won-soon, Gwangju Mayor Yoon Jang-hyun, President Kim Soon-ja of the Kimchi Association of Korea and U.S. Ambassador to Korea Mark Lippert, as well as other celebrities and public figures.
Approximately 2,300 volunteers made over 130 tons of kimchi. Between November 15 and 16, more than 3,000 tourists joined in the grand kimjang event, too.
On November 16, about 2,000 mainland Chinese tourists, clad in traditional Chinese garments, also indulged themselves in the kimchi-making event.
More than 130,000 heads of cabbages, weighing 265 tons, were turned into kimchi by more than 9,000 kimchi-makers over the course of the three-day festival. All 265 tons of kimchi went to charities and to the needy.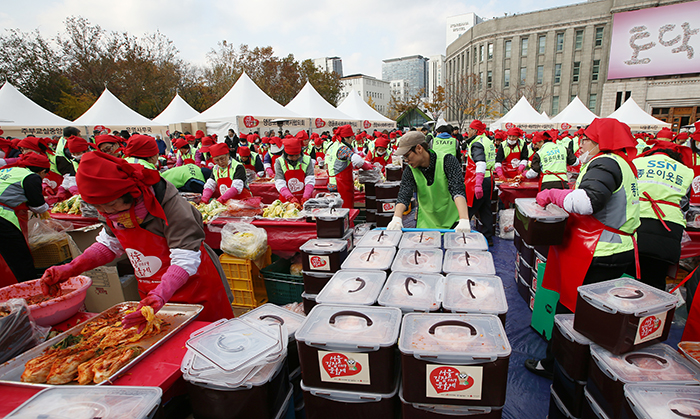 Many people flocked to the venue to find thousands of people making kimchi side-by-side. Some of them had their mouths stuffed with fresh samples. They tasted not only the standard spicy kimchi, but also the feeling ofjeong (情) which can be defined as, "love, sentiment, sympathy, sharing and human nature."
Many of the non-Korean kimchi makers said that, "We are so happy to be part of this kimjang event, with everyone coming together as one. It's so fun."
By Jeon Han, Sohn JiAe
Korea.net Staff Writers
Photos: Jeon Han
hanjeon@korea.kr