Popular snacks for more than 50 years
Across the cities of Korea, we can find many bakeries on the street. It is easy to see people enjoying well-baked buns and coffee or drinks of their choice inside the bread and pastry shops. Bread has become an essential part of the Korean diet, which was traditionally dominated by rice or other grains.
It has been only 50 years since bread became popular in Korea, as it is mainly made from wheat flour. The popularity of bread, which anyone can enjoy today, is mainly attributed to the Samlip General Food company.
The history of Samlip General Food goes back to the liberation of Korea. In October 1945, Hur Chang-sung, the late founder and honorary chairman of Samlip, established Sangmidang, the precursor of today's Samlip General Food. Hur changed the name of his firm to Samlip Bakery Corporation in 1959 and laid the foundation for a modern company. In 1964, he concentrated on developing a cream bun after witnessing the advancement of the bakery industry in Japan during his visit to Tokyo for the Tokyo Olympics. Equipped with automated production facilities, in the same year Samlip developed Korea's first-ever mass-produced bread, the Samlip Cream Bread.
With its launch, Samlip's cream bun dropped a bombshell on the Korean bakery market, which was mainly dominated by retail bakeries. Samlip's factory in Daebang-dong, Seoul, was swarmed with people queuing to buy the company's Cream Bread, even early in the morning. Sales of Cream Bread accounted for one third of total production at Samlip. The sweet, white cream coming from the dotted bun pleased people, especially when sugar was considered a luxury food item. The bread became one of the top snacks in Korea. It cost KRW 10 when first launched in 1964, and costs KRW 800 today, maintaining a low price compared to its portion size.
Since its launch in 1964, more than 1.7 billion Cream Breads have been sold as of 2013. If you were to stack every bun sold on top of each other, the line would circle the earth more than 5 times. Approximately 15,000 cream buns are sold each day. Considered one of the best sellers in Korea, Samlip Cream Bread is loved by customers of all ages, ranging from teenagers to the older generations who have memories of their own with the bread stretching back more than half a century.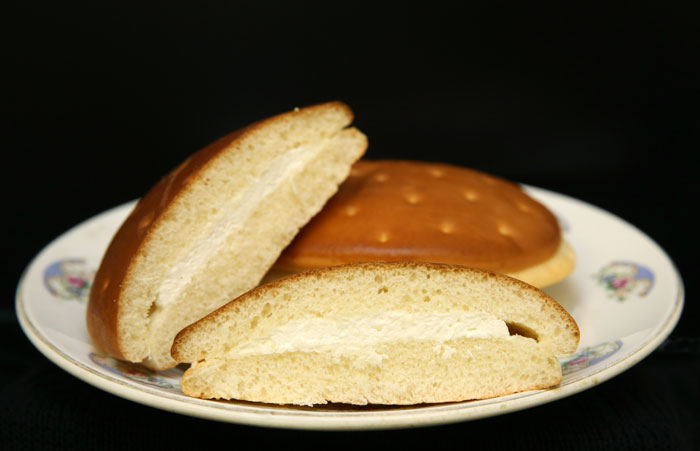 Samlip continued developing new products, not settling merely for the success of Cream Bread. One of its other top-selling items is Hopang. At the time, steam buns were the most popular snack item in winter. Hur thought about how people could eat steamed bread at home. The outcome of his brainstorming was Hopang, a hot, steamed bun with a red bean paste filling that people can eat as they blow on it to cool it down. Since its launch in October 1971, Hopang has enjoyed great popularity. Hopang sales during its first four months, from October 1971 to February 1972, accounted for 15 percent of total sales at Samlip that year. Sales of Hopang during the three-month winter season accounted for almost half of total sales at Samlip. Hopang became a top snack item for winter in Korea.
Since its launch, more than 5.5 billion Hopangs have been sold as of 2013. This averages 130 million Hopangs per year, meaning that each and every Korean citizen consumes at least three Hopangs every winter.
Today, Samlip satisfies its customers' needs with new bread varieties such as the Hoi Hoi Chinese Pancake and its Full Moon Cake, both popular snack items. The company added more flavors — pizza, vegetable and milk — to the original red bean paste Hopang. The company uses natural ingredients, such as Korean rice powder, and keeps up with its research and development to improve the quality of its products and to meet the growing tastes of its customers.
Samlip became the mother company of the SPC Group, a leader in Korea's confectionery and bakery industry. Sales at SPC in 2013 hit KRW 3.45 trillion. SPC launched a bakery franchise, "Paris Baguette," in 1987, which has since become the top bakery chain in Korea. SPC has now become a global company that sells bread in many shops overseas, including locations in the U.S., China, Vietnam and Singapore.
By Yoon Sojung
Korea.net Staff Writer
arete@korea.kr