'Hamlet' wraps up year of celebrating Shakespeare
Starting earlier this year, timeless pieces like "Macbeth," "The Tempest," "King Lear," "Romeo and Juliet," "Othello" and "Julius Caesar" took to the stage to perform for local audiences on the occasion of the 450th anniversary of William Shakespeare's birth.
From the famous to the lesser-known, his works have swept from Seoul's marquee performance halls, like the National Theater of Korea, the Seoul Arts Center, the Myeongdong Theater and the Sejong Center for the Performing Arts, to the smaller, more intimate venues, covering a variety of forms of theater, opera, explanatory lectures and many other types of events.
These performances were not just replicating the original stories and form, but also transformed the plays to include new perspectives, with titles like "Singing Shylock" from "The Merchant of Venice," and a story seen from the woman's eyes, the play "Ophelia," based on "Hamlet."
Also, the now-classic Baz Luhrmann 1996 youth film "Romeo + Juliet," starring Leonardo DiCaprio and Claire Danes, reopened in theaters, drawing the local audience down memory lane.
With the year now coming to a close, November is left with a new production of the tragedy "Hamlet."
With a script originally made for theater, this production of "Hamlet" is garnering the most interest among modern, young audiences with its mixture of opera, musicals and theater, calling itself an "opera drama."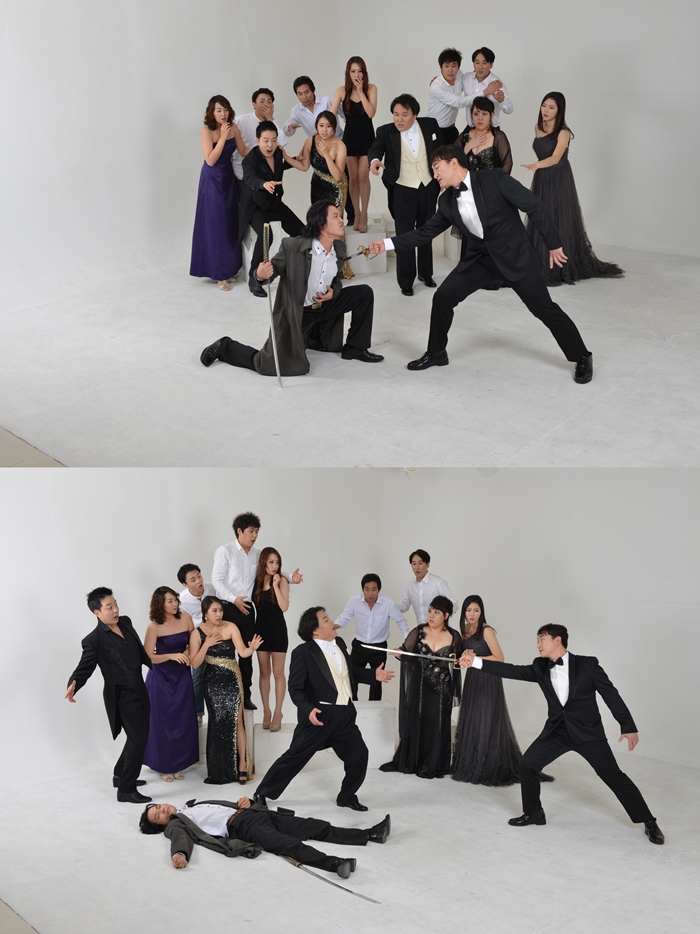 The dramatic parts are portrayed with sometimes comical acting, and the more touching moments are expressed in song.
The protagonist, Hamlet, is played by baritones Cho Byeong-joo and Jung Byeong-ik. Ophelia is played by sopranos Lee Hyun-joo and Kim Ji-young. The menacing Claudius, Hamlet's uncle, is played by basses Lee Jae-pyo and Lee Se-young. Hamlet's mother who weds his uncle, Gertrude, is played by mezzo-sopranos So Ra and Youn Na-ri.
Produced by the Inno Company, 'Hamlet' opens on November 20 and runs until December 28 at the Yongsan Art Center.
Shows are performed twice per day from Tuesday to Friday at 10:30 a.m. and 1:30 p.m.. There are also shows on Friday at 8:00 p.m., Saturday at 3:00 p.m. and 6:00 p.m. and on Sunday at 4:00 p.m. More details are available at www.hamlet2014.co.kr or by calling (02)-714-2001.
By Paik Hyun
Korea.net Staff Writer
*All photos and images are courtesy of Inno Company.
cathy@korea.kr