New twist on ancient love tale: Chun-hyang on the stage
The classical tale of the "Chunhyangjeon," the love story between Seong Chun-hyang and Lee Mong-ryong, is a much-read and familiar story to the Korean world.
Now, a U.S.-based theater director is telling the love story from a different point of view.
Theater director Andrei Serban from Columbia University has turned the famous tale into a chaggeuk, a form of traditional Korean opera. Titled, "Andrei Serban's Different Chunhyang," it runs from November 20 to December 6 at the National Theater of Korea, in Jangchung-dong, Seoul.
The Romanian-born director made his debut in 1968 and since 1984 has directed many operas and stage productions, including a thirty-year run of "Turandot." He also wowed audiences worldwide with his production of "Lucia di Lammermoor" that was on stage until last year.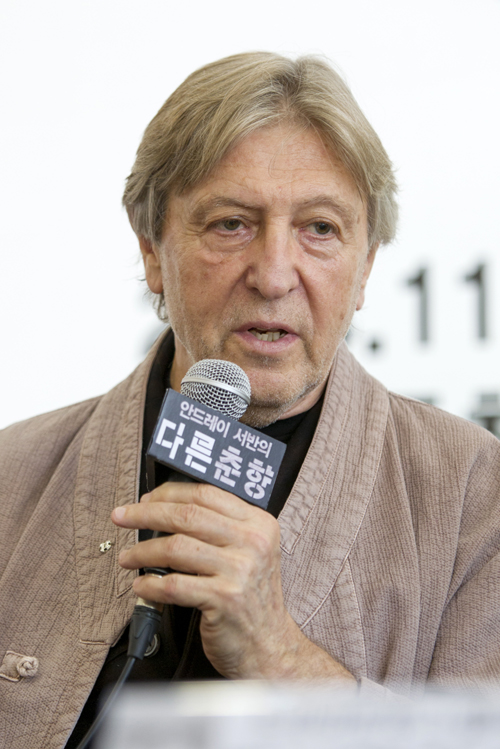 Serban's changgeuk keeps intact the pansori music in it, a form of traditional narrative song. His production includes the songs"Sookdae Mori," in which Chun-hyang longs for her man Mong-ryong when she is in prison, and "Chunhyangga," in which she sings her ardent love for him.
Meanwhile, the libretto, lyrics, acting, settings and costumes in Serban's version are replete with modern touches.
He portrays Chun-hyang as a woman who has the guts to be ready to face anything, or even to die, if she has to maintain her love, instead of just focusing on the love story between the couple.
In the story, Mong-ryong, the son of a high-level government official, follows his father to Namwon and there falls in love at first sight with Chun-hyang, the daughter of a poor family. However, as his father is then assigned to a new position in Seoul, Mong-ryong has to move to the capital. The newly-appointed mayor, who is rumored to be a womanizer, has designs on Chun-hyang and threatens her since she would not sleep with him. Thus denied, the mayor wields his power and falsely accuses her of defamation and treason, landing her in jail. When told that Chun-hyang in prison, Mong-ryong, who by then had become a public prosecutor, immediately returns to Namwon to save her.
Serban sees the character of Chun-hyang as being ready to sacrifice herself for her love, while he depicts Mong-ryong as an untrustworthy man who instantly falls deeply in love with Chun-hyang, but who soon lets his love lose steam. That's why Serban's show ends as Chunh-yang grows old waiting for Mong-ryong, who may not come back to her ever again.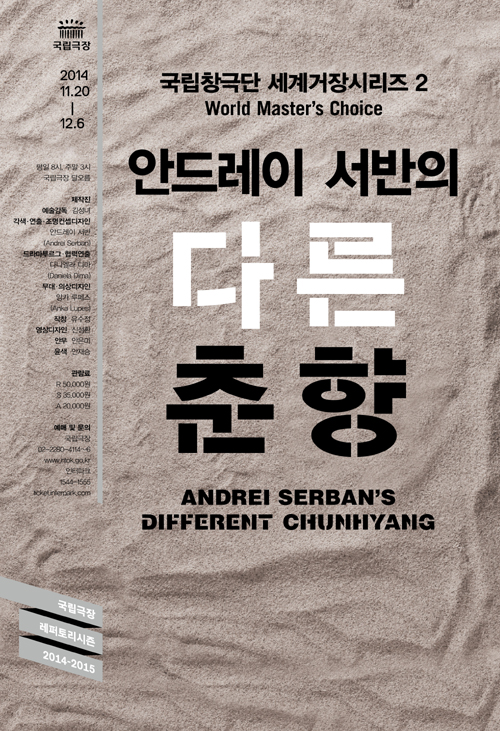 "The story of Chun-hyang is a story that has been deeply embedded in Koreans' psyche," said Serban at a press conference on November 5. "It sounds quite challenging for a person who is from a different culture to direct the story. It took me about one year to shake off that fear, as I felt as if I was going into an unknown world."
"The reason that I was invited to do this work is that they believed I could view Chun-hyang from a different point of view," he added. "This story is so familiar to Koreans, but as this is my first encounter with it, I could tell the story differently, in a more open-minded manner, and could twist it to make it more modern."
"The first time I read the libretto, I thought that it was already perfect and that there was no room for me to transform the tale. However, as I looked deeper into it and studied it more, I found that I was wrong. I realized that, like a Shakespeare story, you can twist it, improvise it and attempt some variations on it to recreate it."
By Sohn JiAe
Korea.net Staff Writer
Photos: the National Theater of Korea
jiae5853@korea.kr